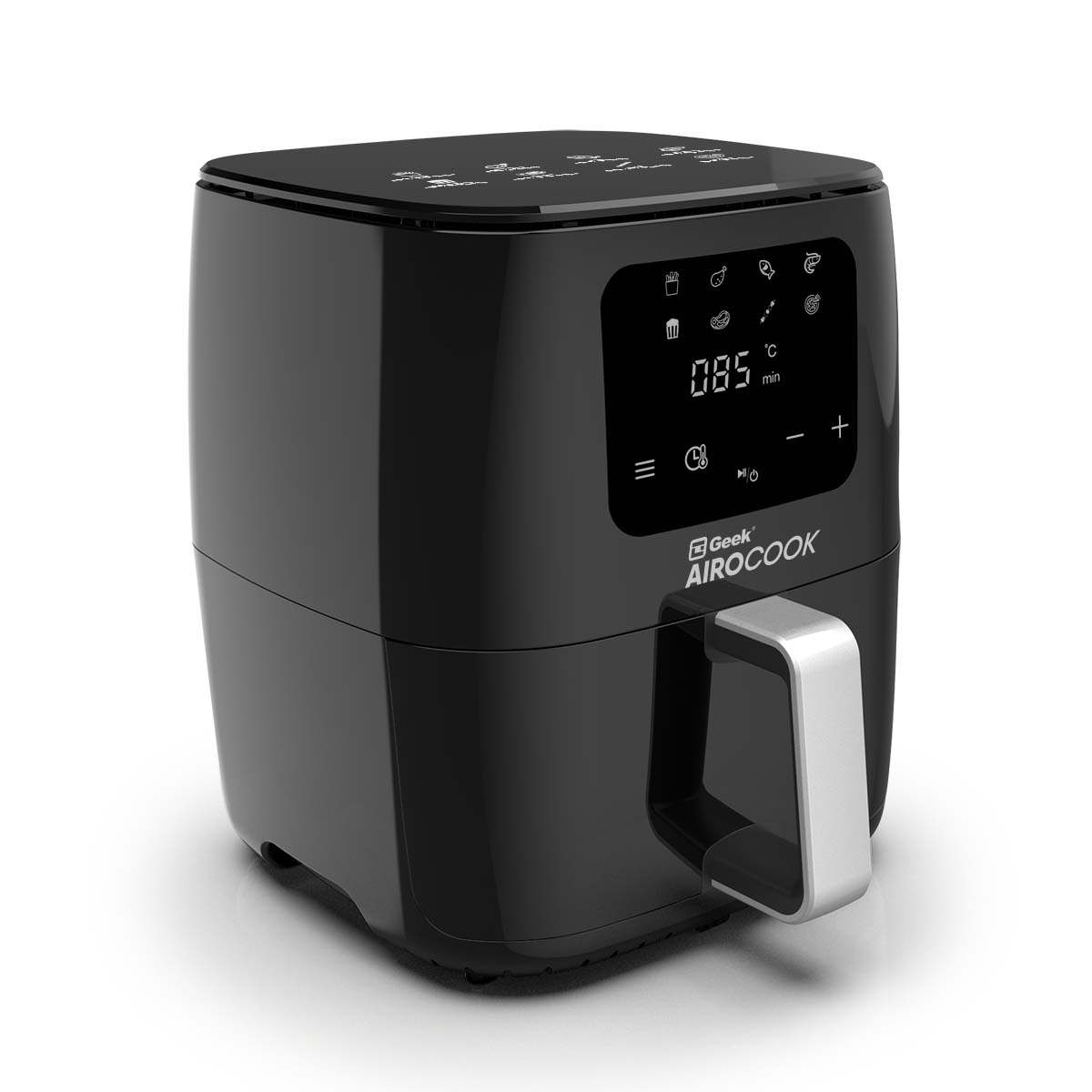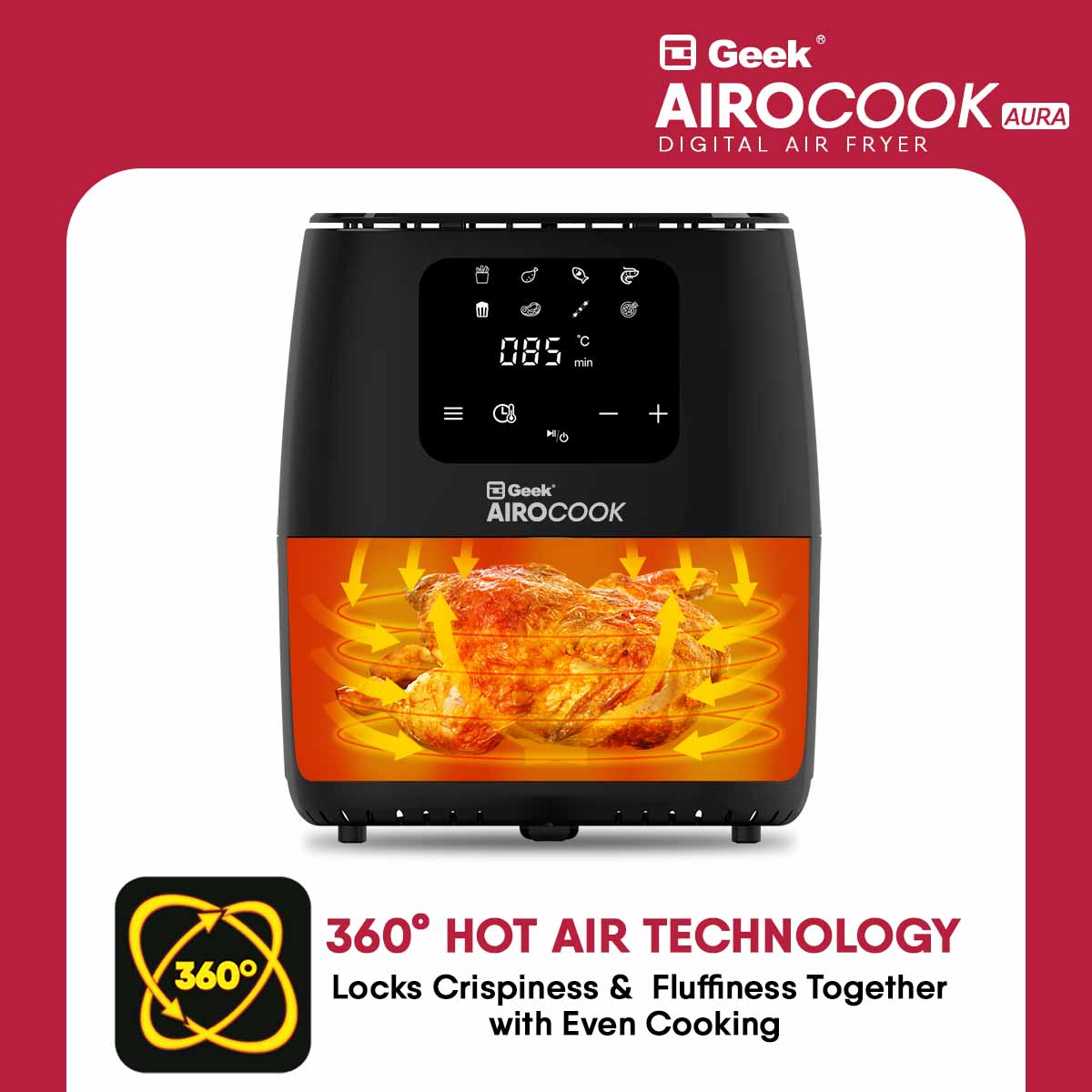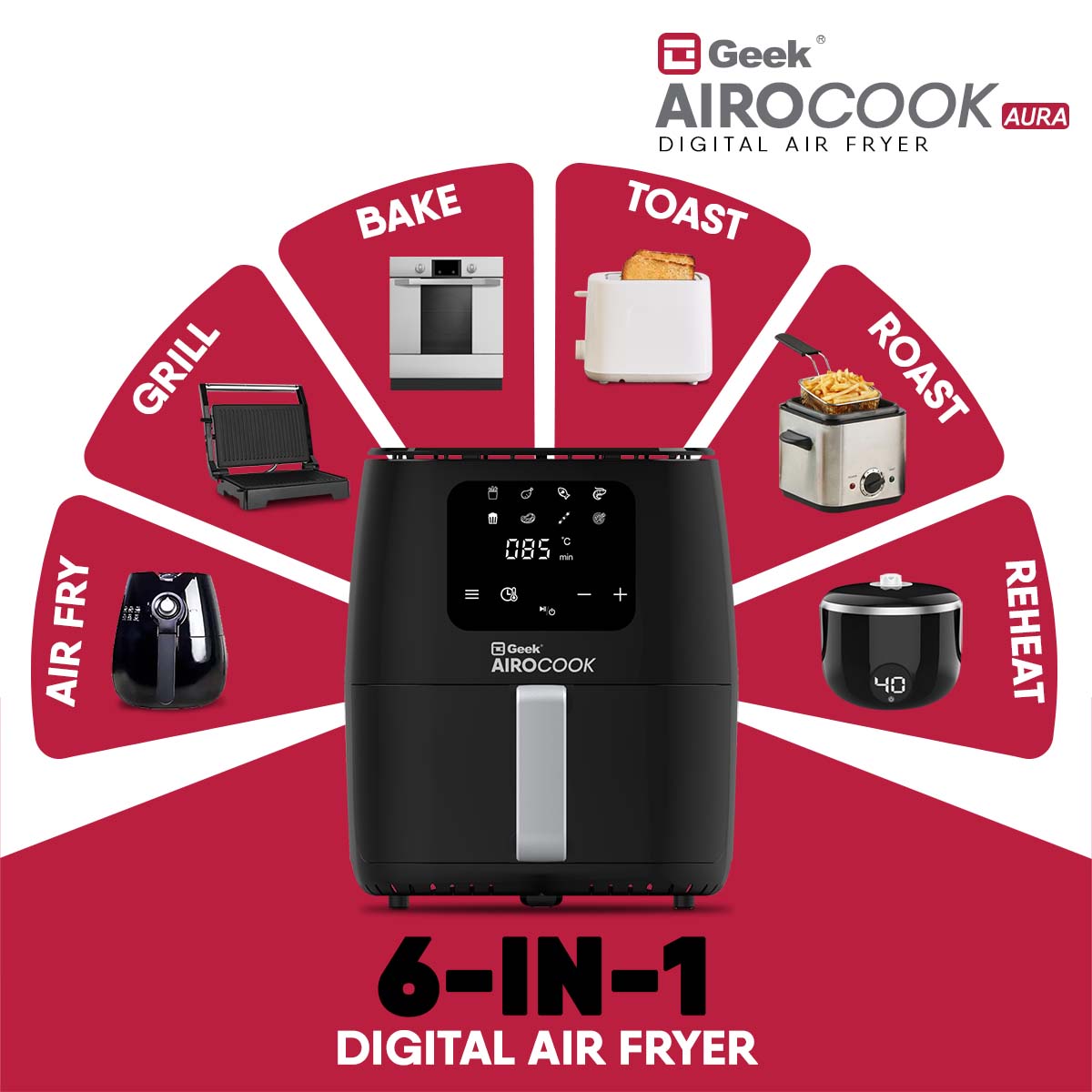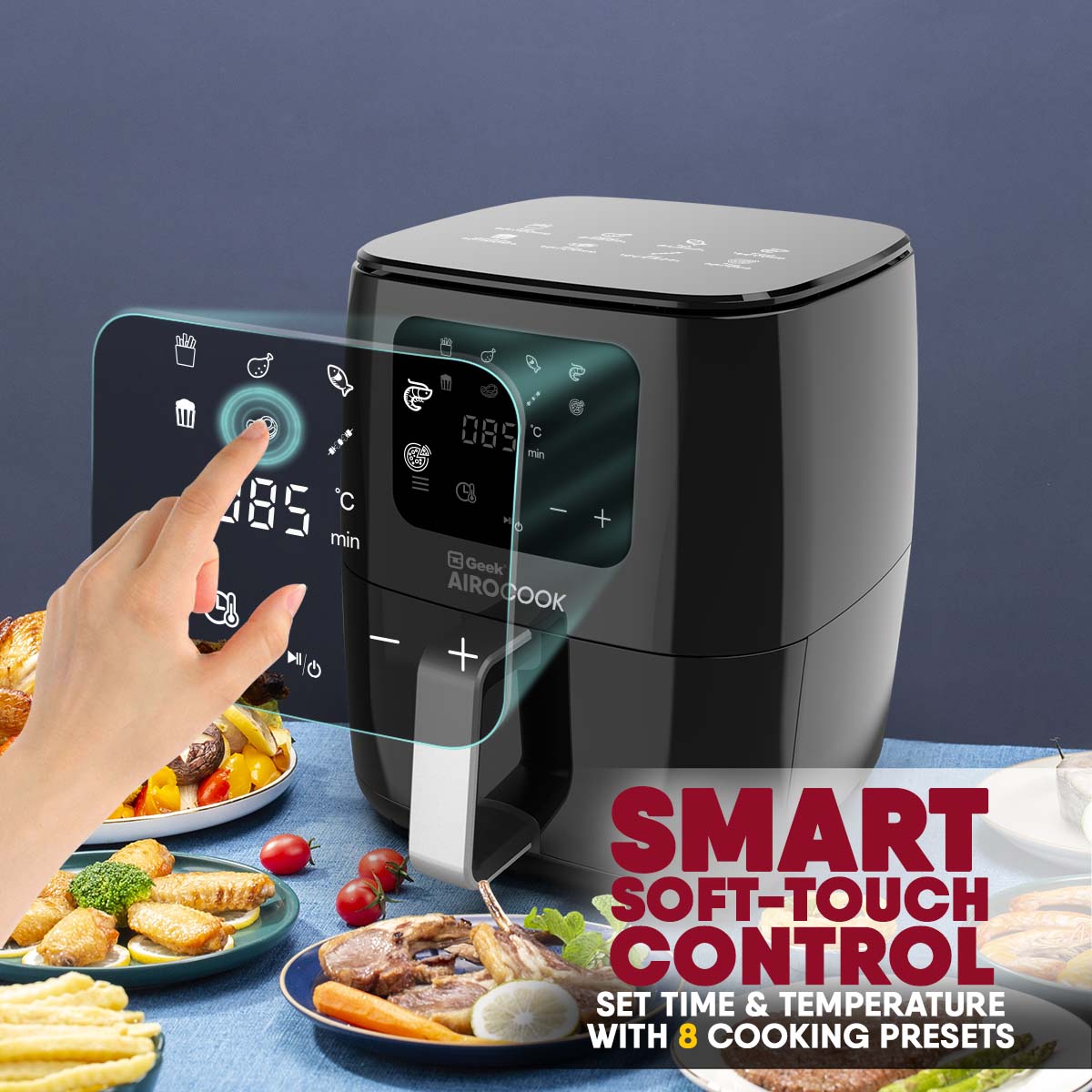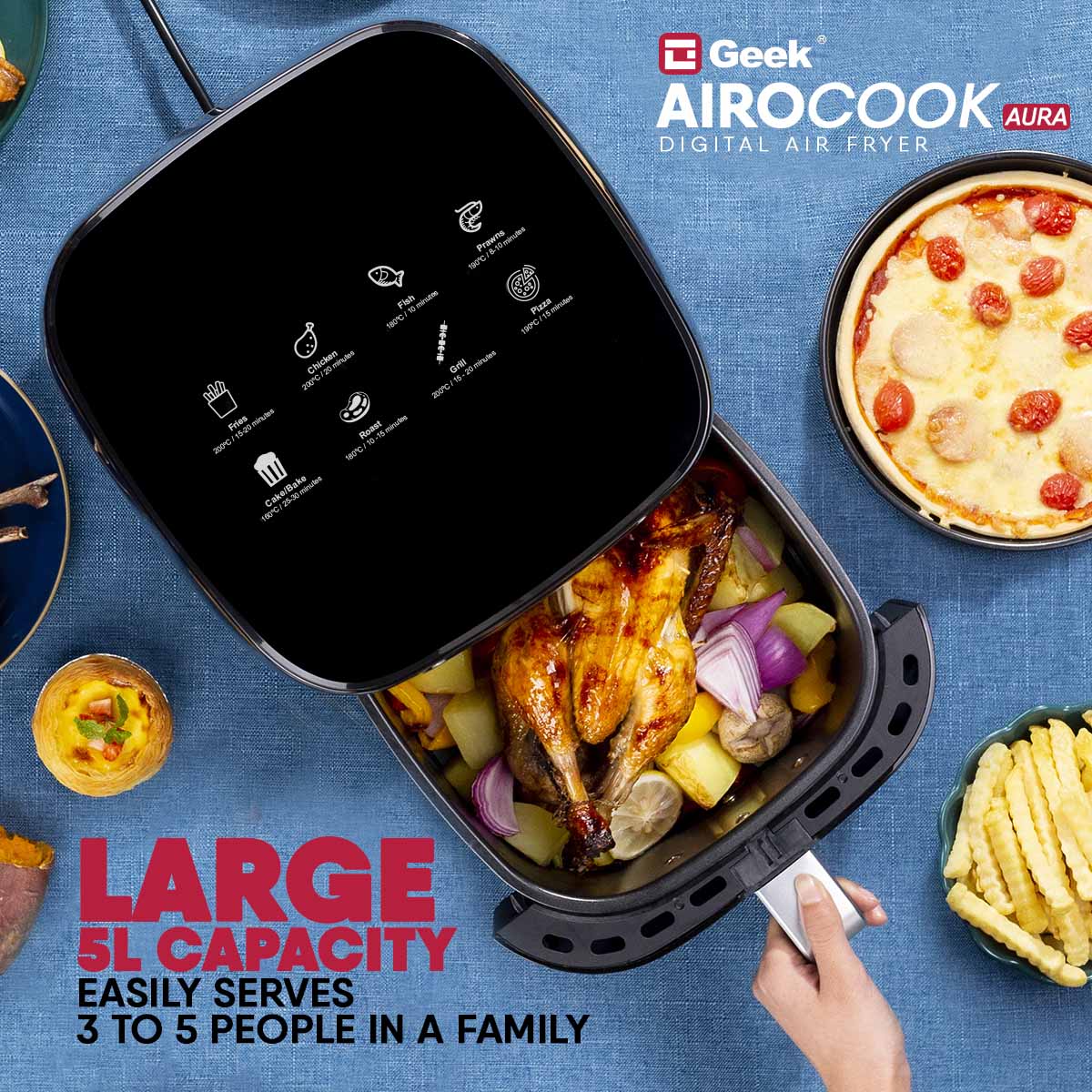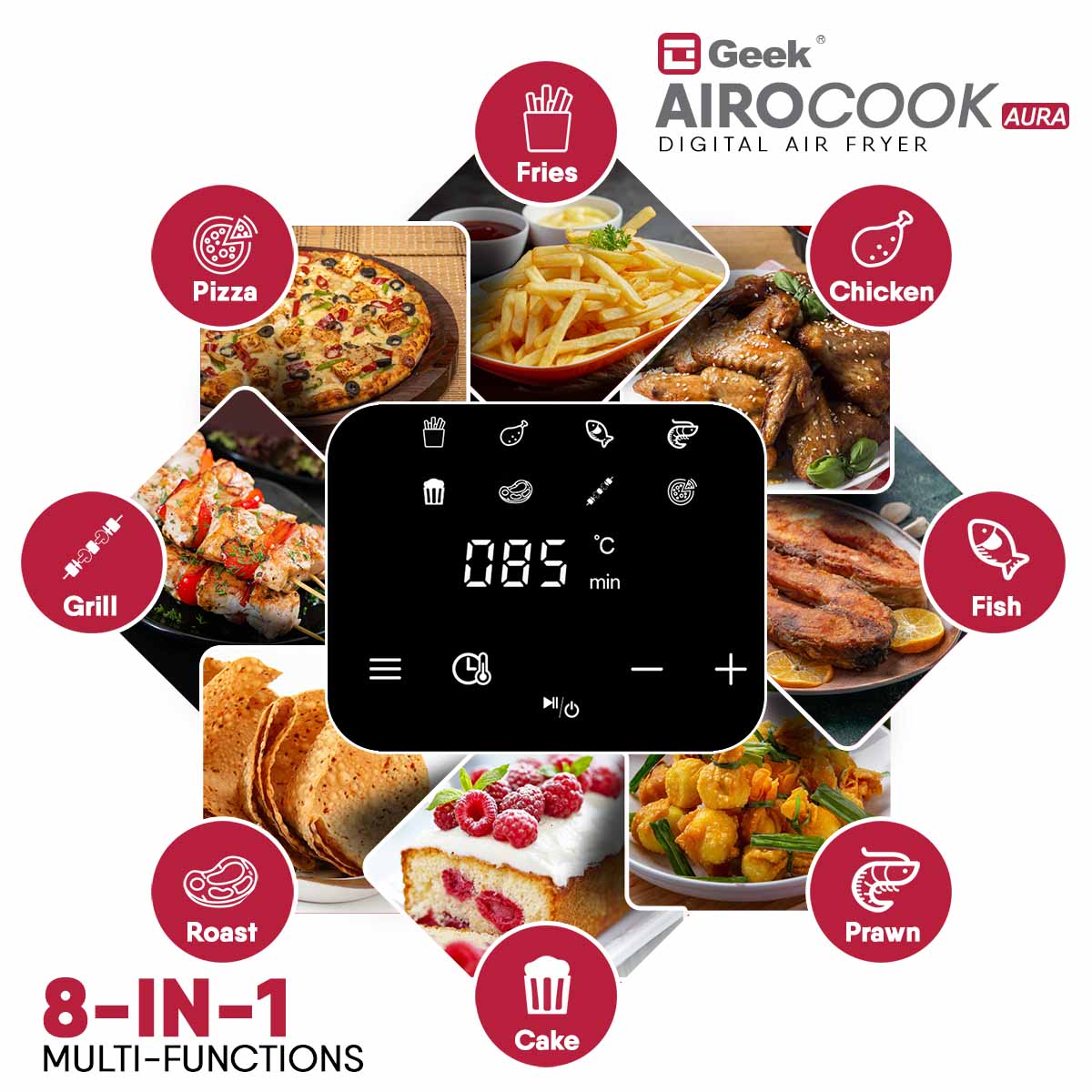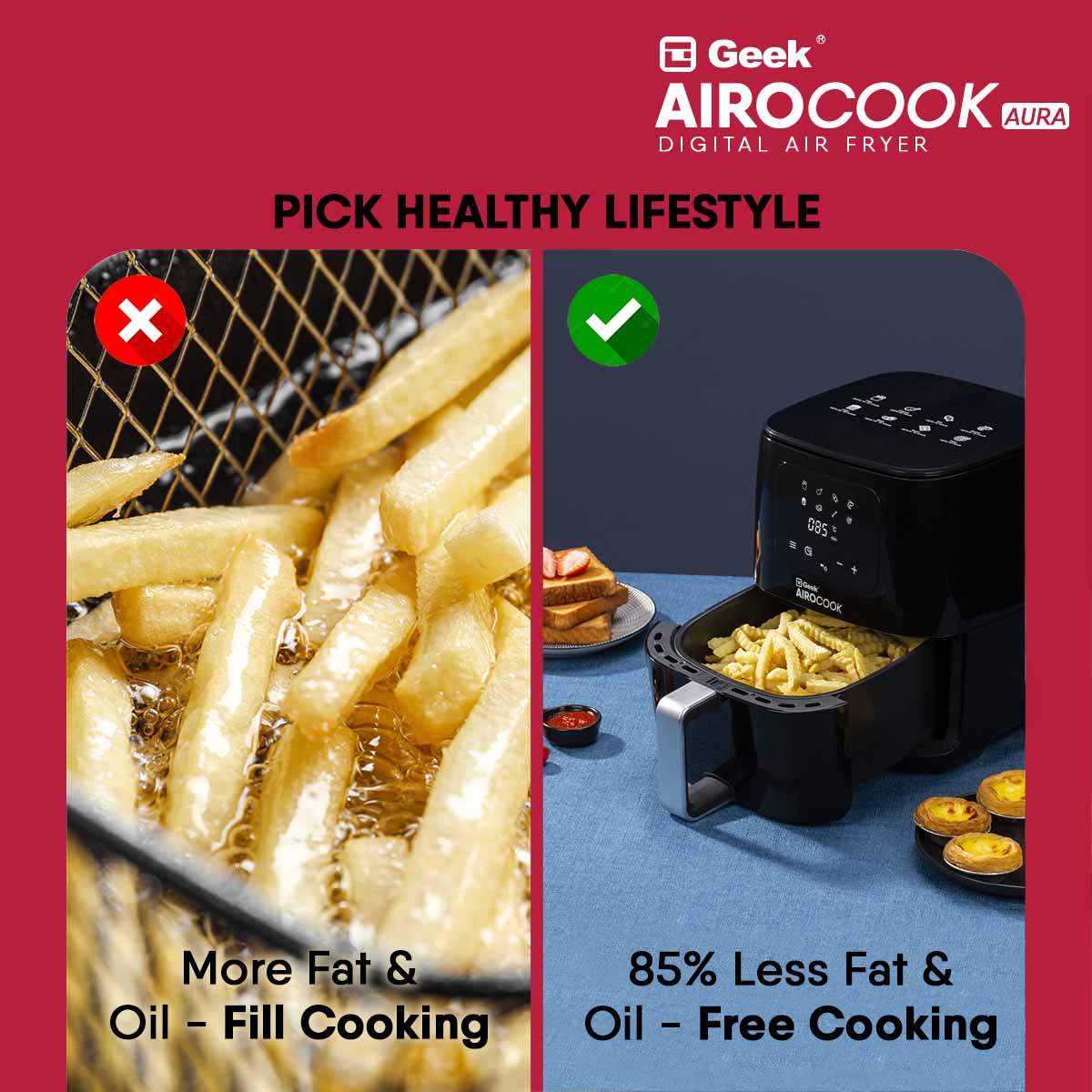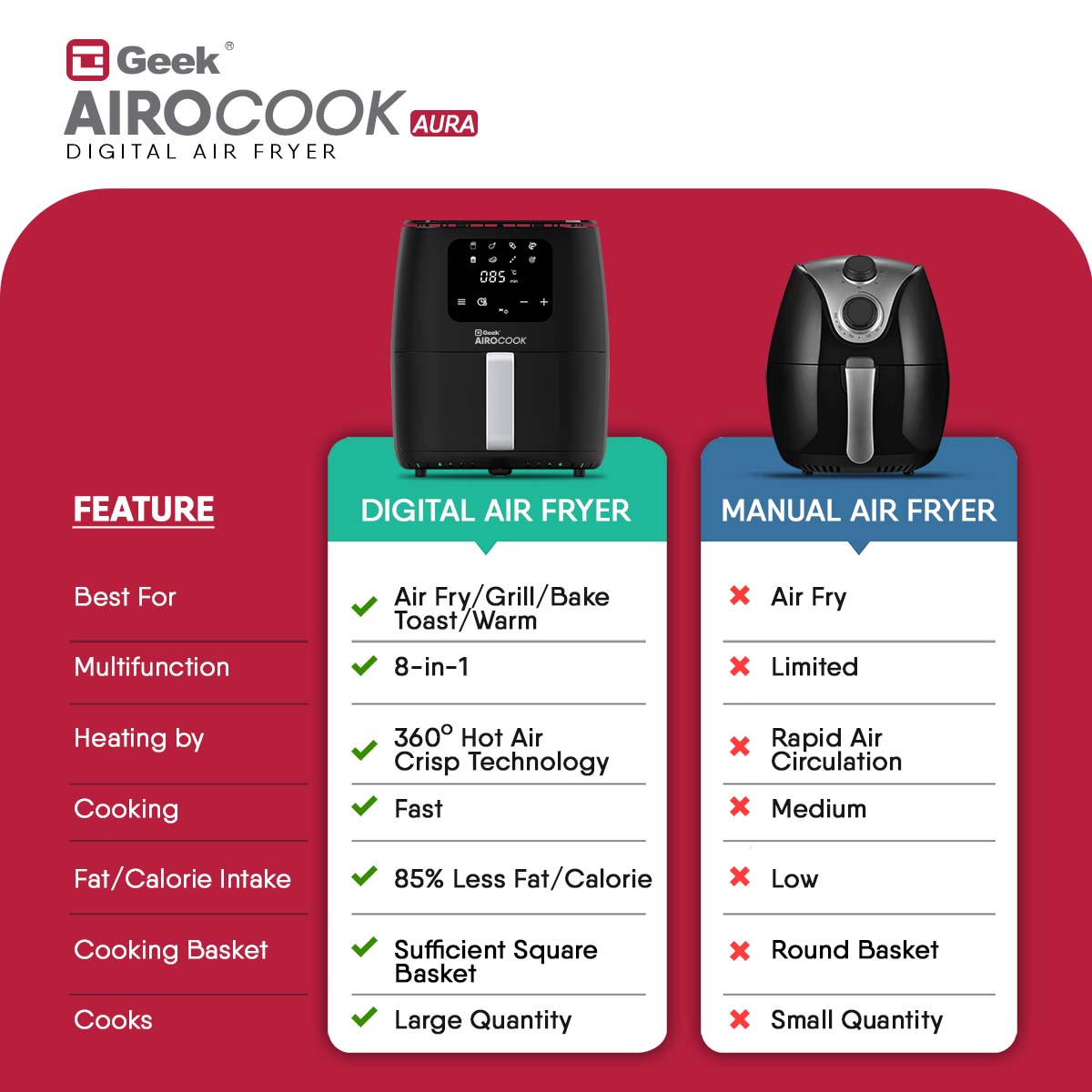 Geek Airocook Aura 5L Digital Air Fryer
Inclusive of all taxes
Virtual Demo Timing Every Monday - Friday 2.30 PM
Order now and get Free Shipping
COD
Available
EMI
Available
Shipping
Free
Service @
Doorstep

Virtual Demo - Pre & Post Purchase
Still sceptical about the product? Attend our Virtual demo session with our product specialist and get a detailed brief about the product in 1-1 interaction.
Assured with 2 years warranty. Just register the product and stay worry-free.
Get free door step service covering 28+ States, 440+ Cities, 19000+ Pin-codes.
Geek Products is ranked as the best sellers on Amazon with 4500+ Reviews and 4.2 Star Rating.
1000+ Home chefs/Influencers
Genuinely Recommended by multiple Celebrities/Chefs/Entrepreneur's/Doctors/Moms/Working Professionals/Dieticians and Fitness Enthusiast's
Geek Airocook Aura
Why Geek Air Fryer
How to Use & Maintain Properly
NEW-AGE AIR FRYER: Cook your favourite dishes in Geek AIROCOOK AURA 5L Digital Air Fryer with 85% less fat & Oil-Free than traditional deep oil fried foods. Built with latest technology and modern design.

8 PRE-SET MENU/MULTI-FUNCTIONS: The Digital Air Fryer offers 8 Preset cooking menus that let you cook all kinds of veggies, fries, chicken, desserts, pizza, fish, and prawns and much more in a soft feather touch. This One Fryer does Air Fry, Grill, Toast, Roast and Bake which replaces appliances like griller, toaster & sandwich maker.

360° HOT AIR CRISP TECHNOLOGY: The 360° Hot Air Crisp Technology locks the Crunchiness, Fluffiness & Crispiness of your food by evenly cooking.

COOK MORE IN ONE GO: Comes with a large 5L square basket that serves delicious recipes to your Family & Friends. The cool silver touch handle supports you to take over the cooked foods at your convenience.

SET YOUR OWN TIME/TEMPERATURE: The 1500W Digital Fryer is easy to use & cook with white LED touch screen. Prepare your dishes at a stretch with time & temperature control—set your time between 0 to 30 minutes and temperature from 80°c to 200°c.

EASY CLEANING: No Stress or Mess! The detachable air fryer basket is featured with a friendly non-stick coating which is easy to wipe and clean with a soft damp cloth and use it quickly for fresh cooking.

WHAT'S INSIDE?
The Geek AiroCook Aura includes Digital Air Fryer Body with LED touch screen, 5L Cooking Basket and Manual.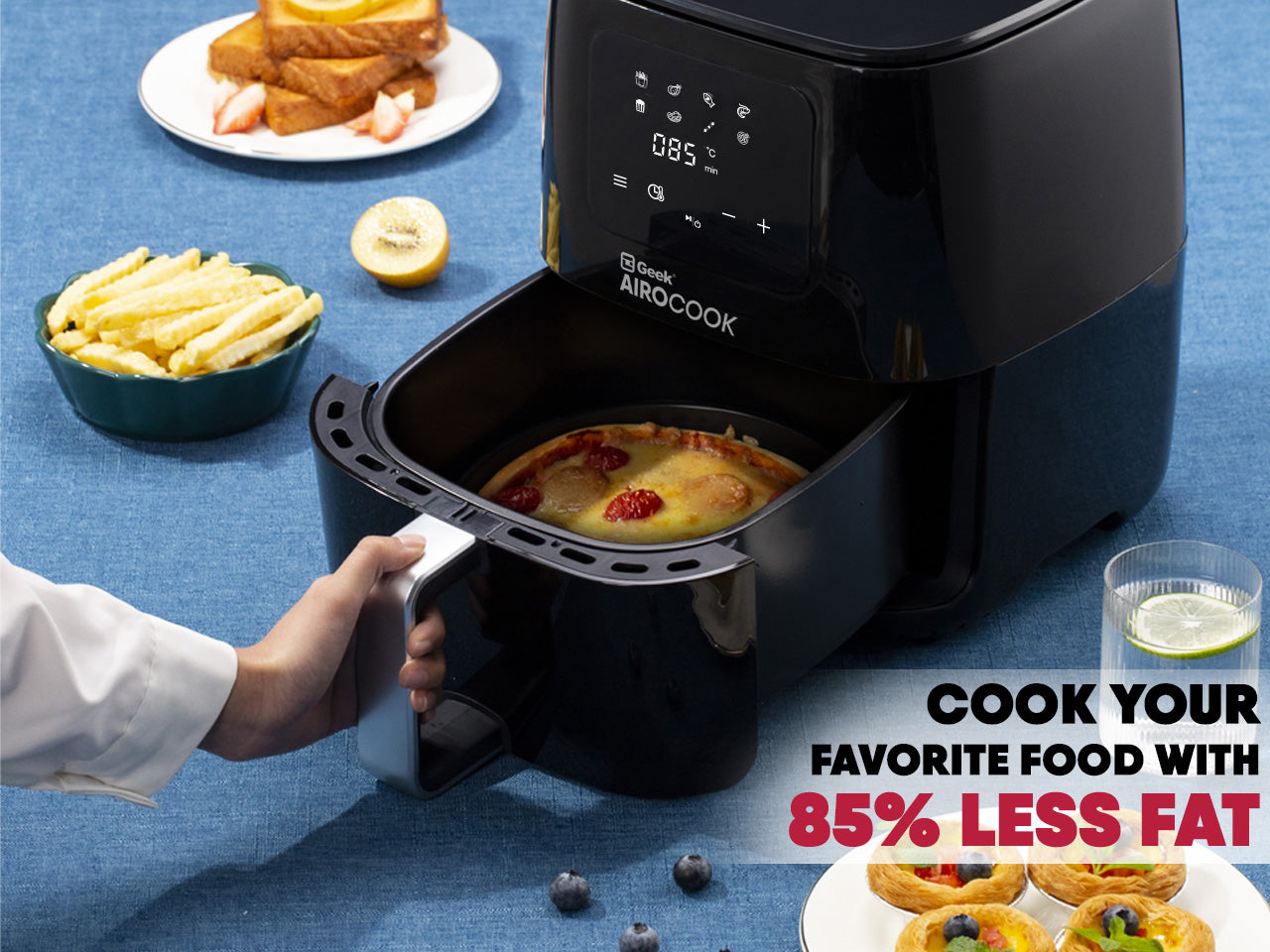 CALORIE FREE FOODS
No more skipping your beloved dishes because of oil fill & fatted insufficient foods. In presence of Geek AiroCook Aura, you can cook and have Light and defatted protein-rich healthy foods with 85% less fat & Absolute oil-free cooking every day.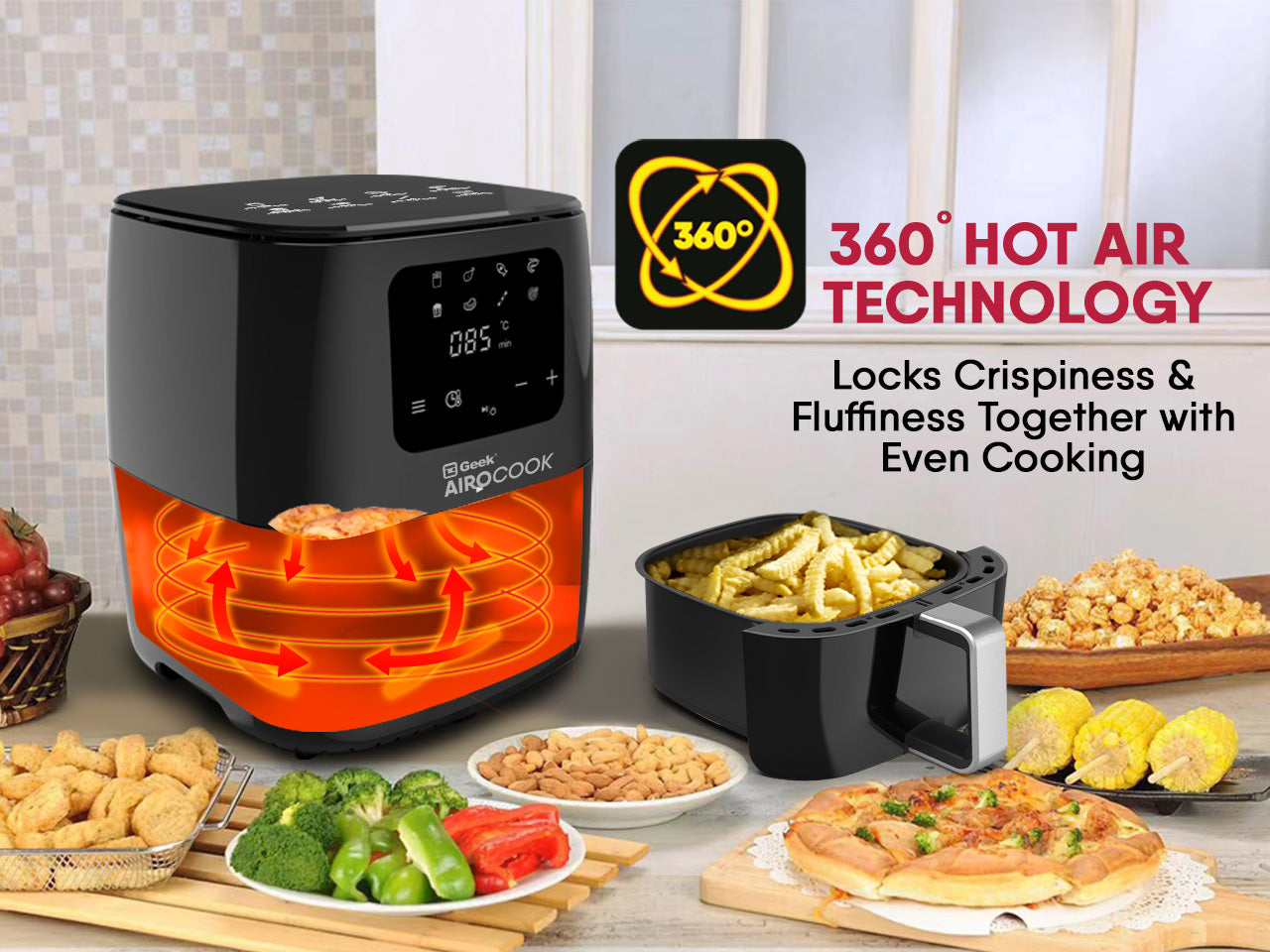 ALL-ROUND TECHNO
360° Hot Air technology circulates hot air all over the basket and makes the food fully & evenly cooked. Simultaneously locks the crispiness, fluffiness & crunchiness of your favorite foods.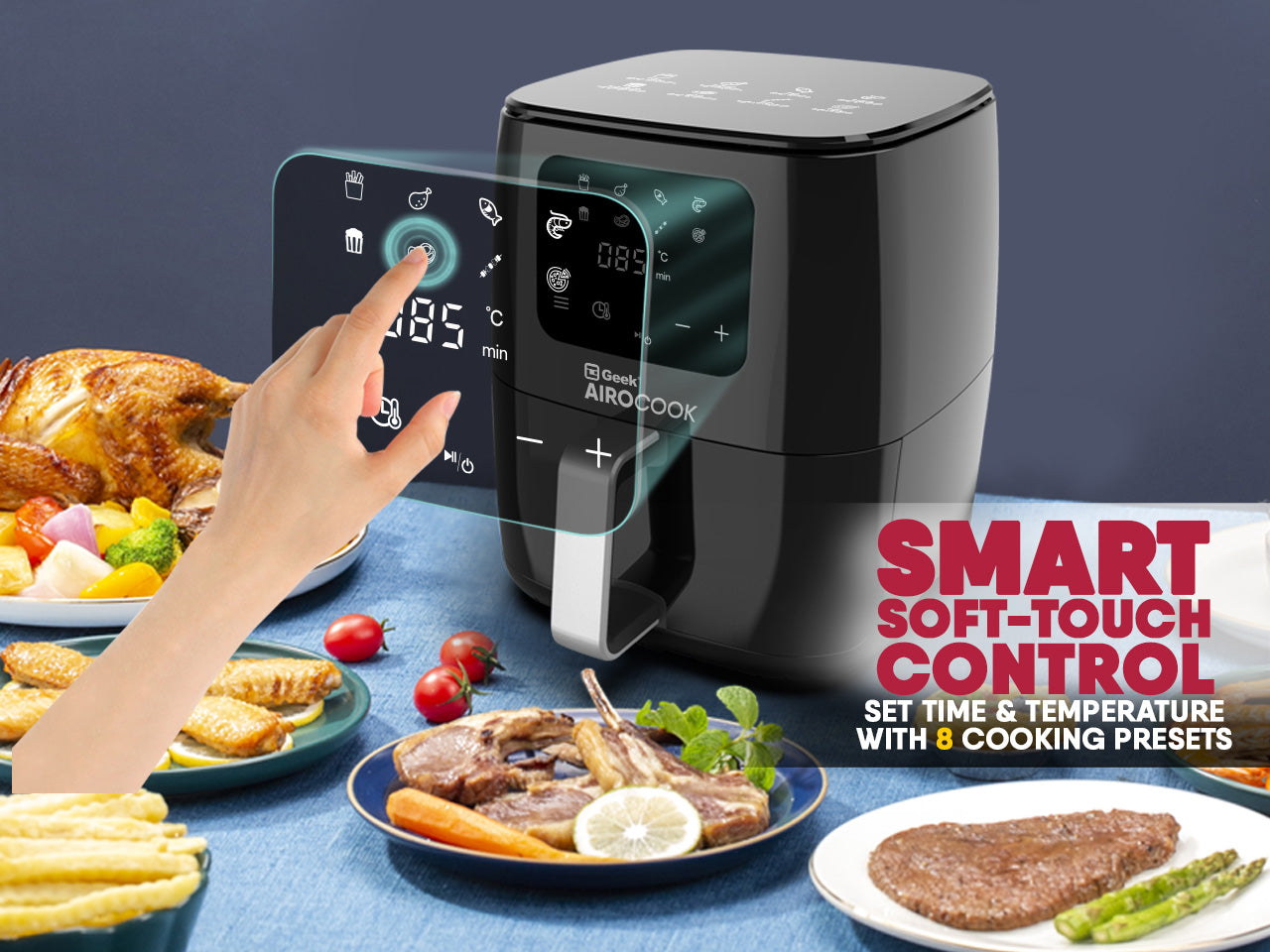 TOUCH & TASTE
Geek AiroCook Aura, the Smart Digital Air fryer makes your lifestyle even simple by just a soft TOUCH over the preset menus, set time and temperature for cooking & TASTE your delightful recipes with your friends and fam!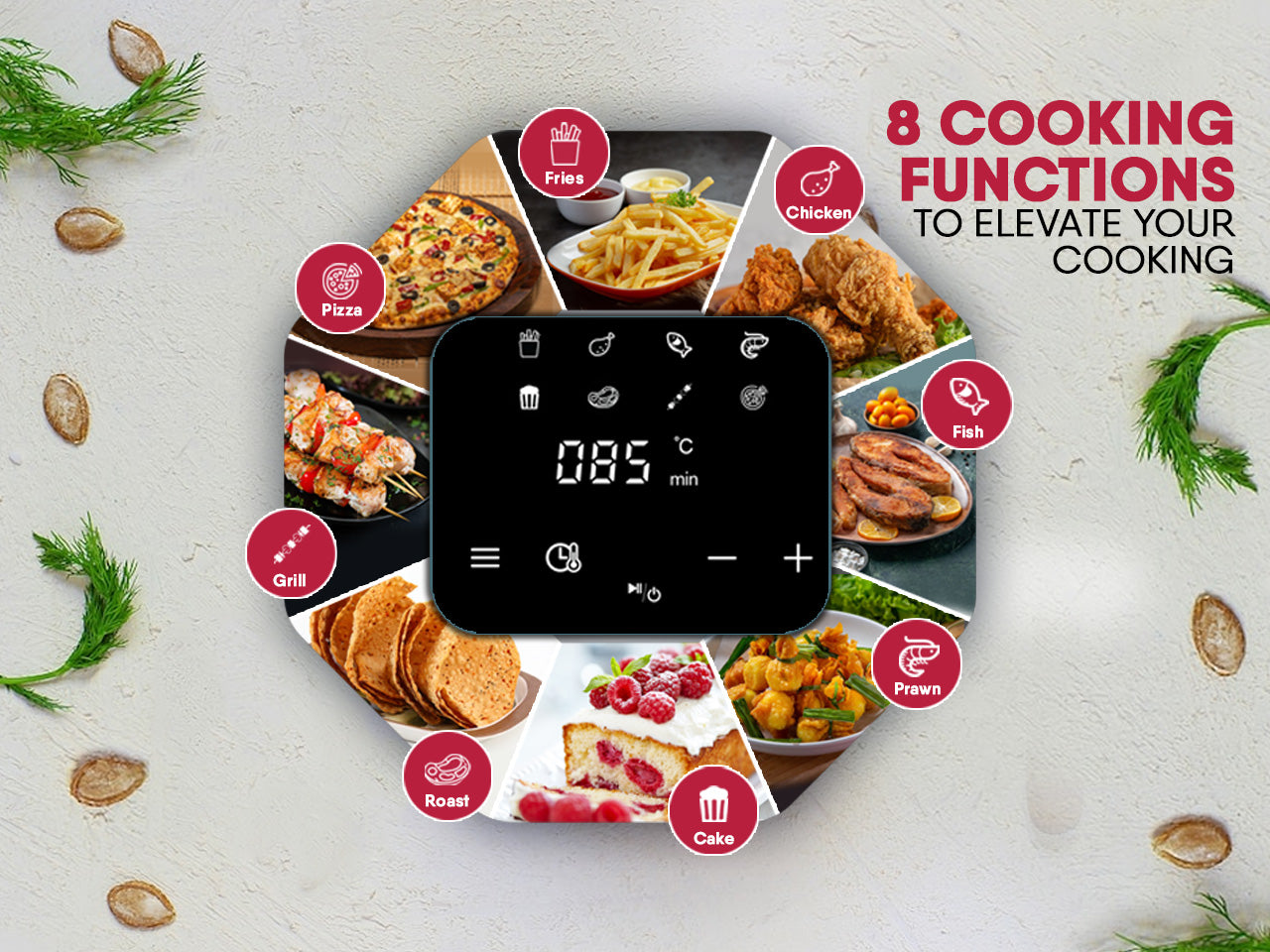 NOT FRYER IT'S MULTI-FRYER
Elevate your cooking in 5L Aura which can fry, Toast, Grill, Roast, and Bake. Makes day complete with Roasted bread, sandwich, grilled chicken, fish, veggies, Fries, chicken wings, panner tikka, prawns, varieties of pizzas, and cupcakes.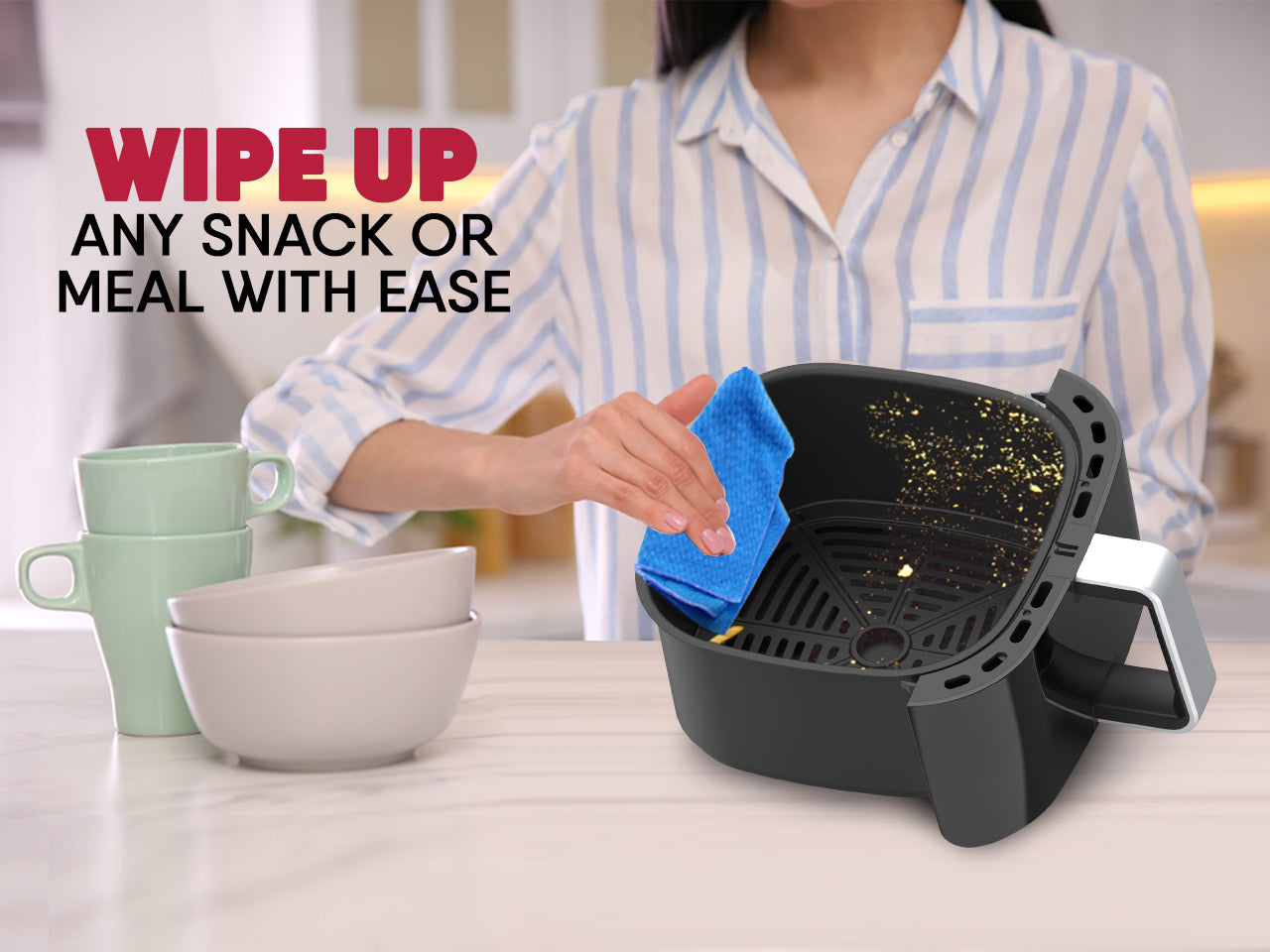 JUST A WIPE
Made with Stainless steel non-stick interior, the digital air fryer minimizes the effort of cleaning the inner body and accessories by just wiping it with a soft damp cloth after use. If needed water the basket alone and dry it well for further cooking.

About Geek
Geek was founded in 2017 in New Jersey, USA and has its presence in 5 Countries - USA, Canada, Australia, China & India.

Our main objective is to disrupt the Home & Kitchen space through emphasis on customized smart integration and technical innovation in our products/solutions.
Vision: Bring the Future Home
Achievements
In The News/Awards
Best D2C Game Changer Brand
Home Appliances
Most Promising D2C 100 Brands
2023
India's Fastest Growing D2C Brands
2023
Most Prestigious Brands of Asia
2023
Awards
Best D2C Game Changer Brand
Home & Kitched Appliances
Most Promising D2C 100 Brands
2023
India's Fastest Growing D2C Brands
2023
Most Prestigious Brands of Asia
2023
Very nice
It works perfect. I made few things like garlic bread, chicken Tikka etc and result was delicious. 😁. Go for it..
Great Deal
I recently purchased this Geek air fryer through Amazon. The delivery from amazon was smooth and packaging was excellent with a double carton boxInitially we were a little worth every money spent. For a family of 3 to 4 this is sufficient and serves the purpose of instant healthy cooking. It's very easy to use and the menus areapprehensive about buying an Air fryer online for home use. But based on first hand experience, I would say, it's an all-rounder and self-explanatory. Touch controls are superior and also accurate. This saves a lot of my time and also feels better than cooking using a gas stove. Regarding the outcome, I tried cooking French fries and chicken roast. Both came out very well and tasted much better than the normal gas cooking,So far, we have always avoided eating fried items due to health considerations, but this Air fryer is very helpful in almost oil free cooking and works great. So far it's an excellent buy and makes sense in terms of value for money.
Top class
Sleek & elegant design. High in performance, low in Price.
Very nice
It works perfect. I made few things like garlic bread, chicken Tikka etc and result was delicious. 😁. Go for it..