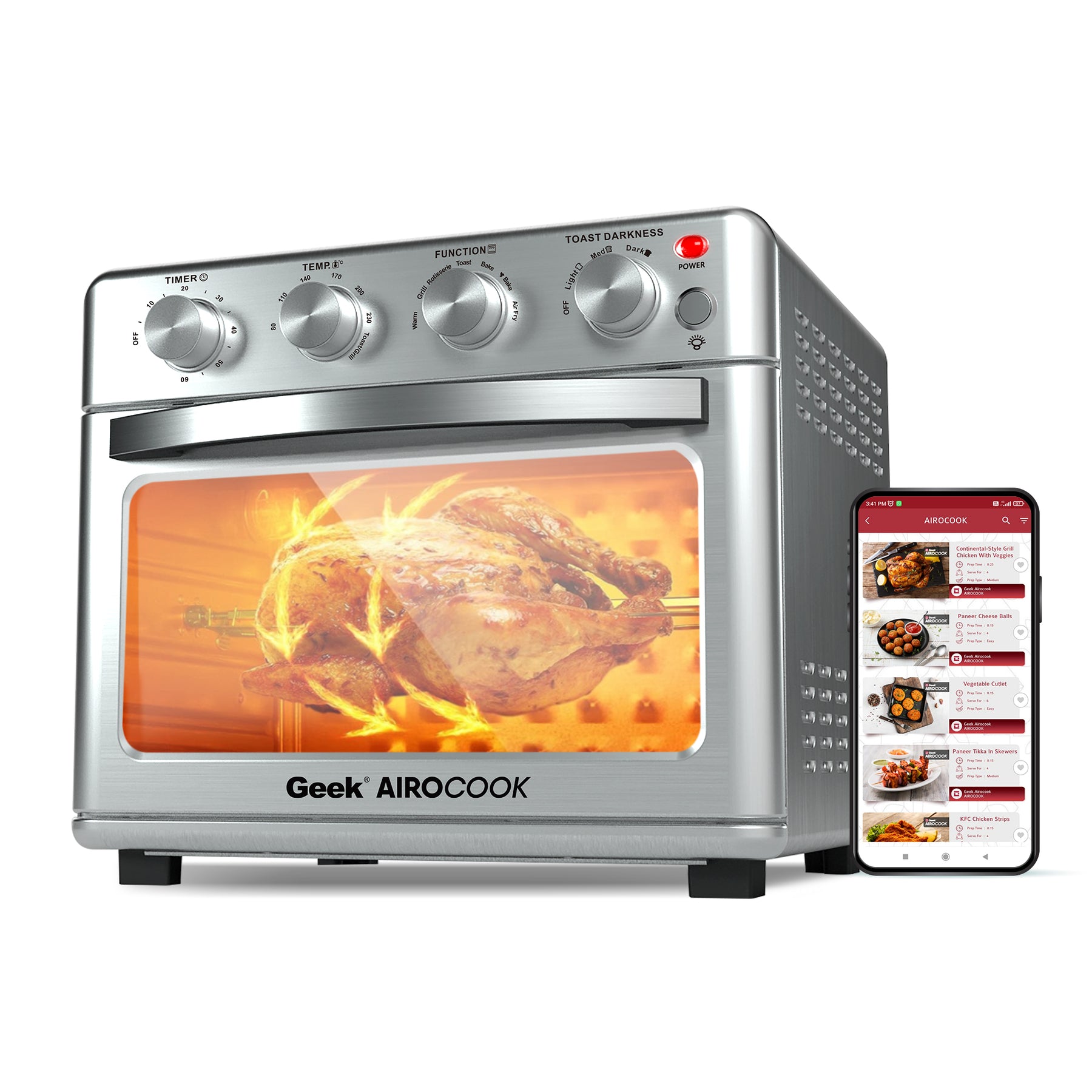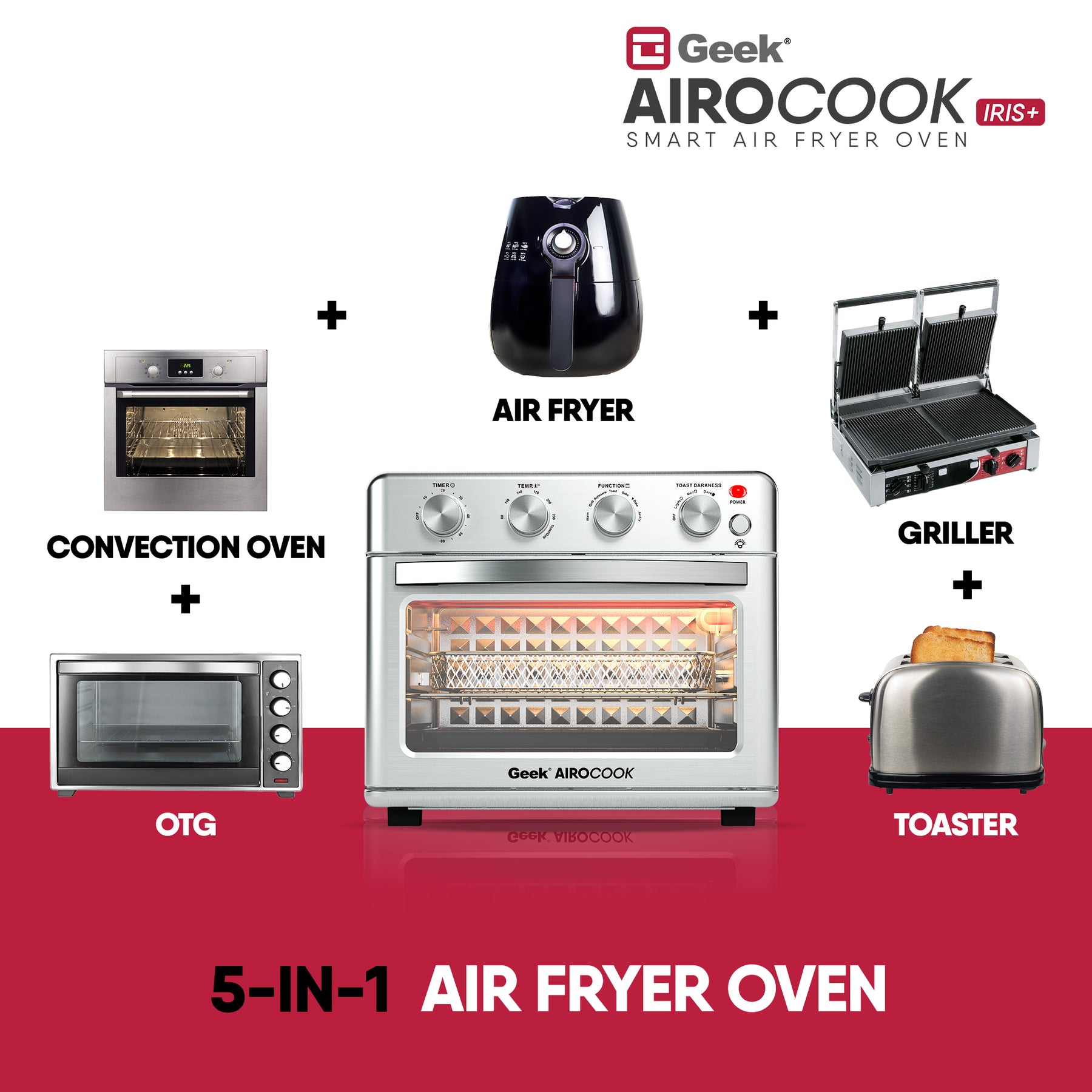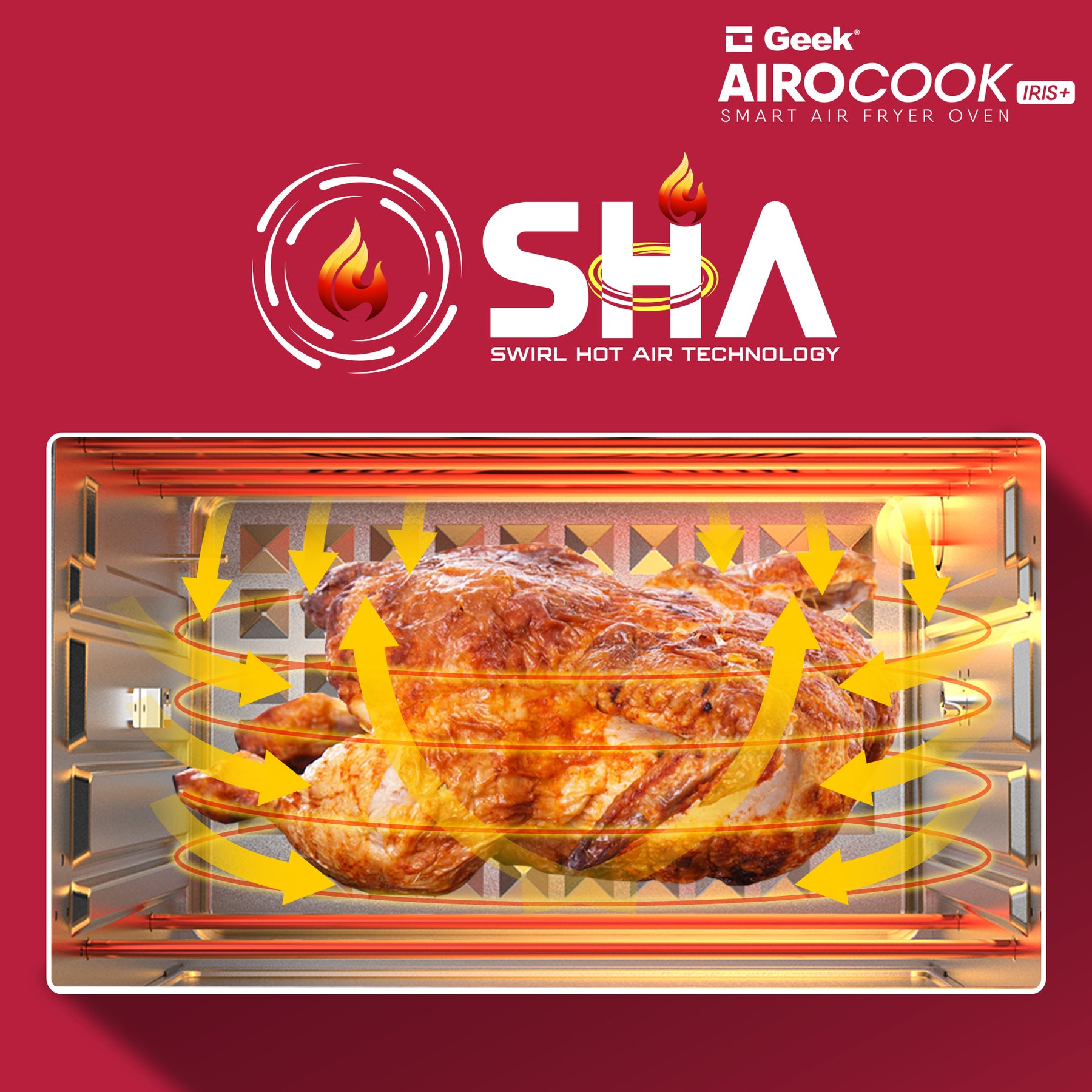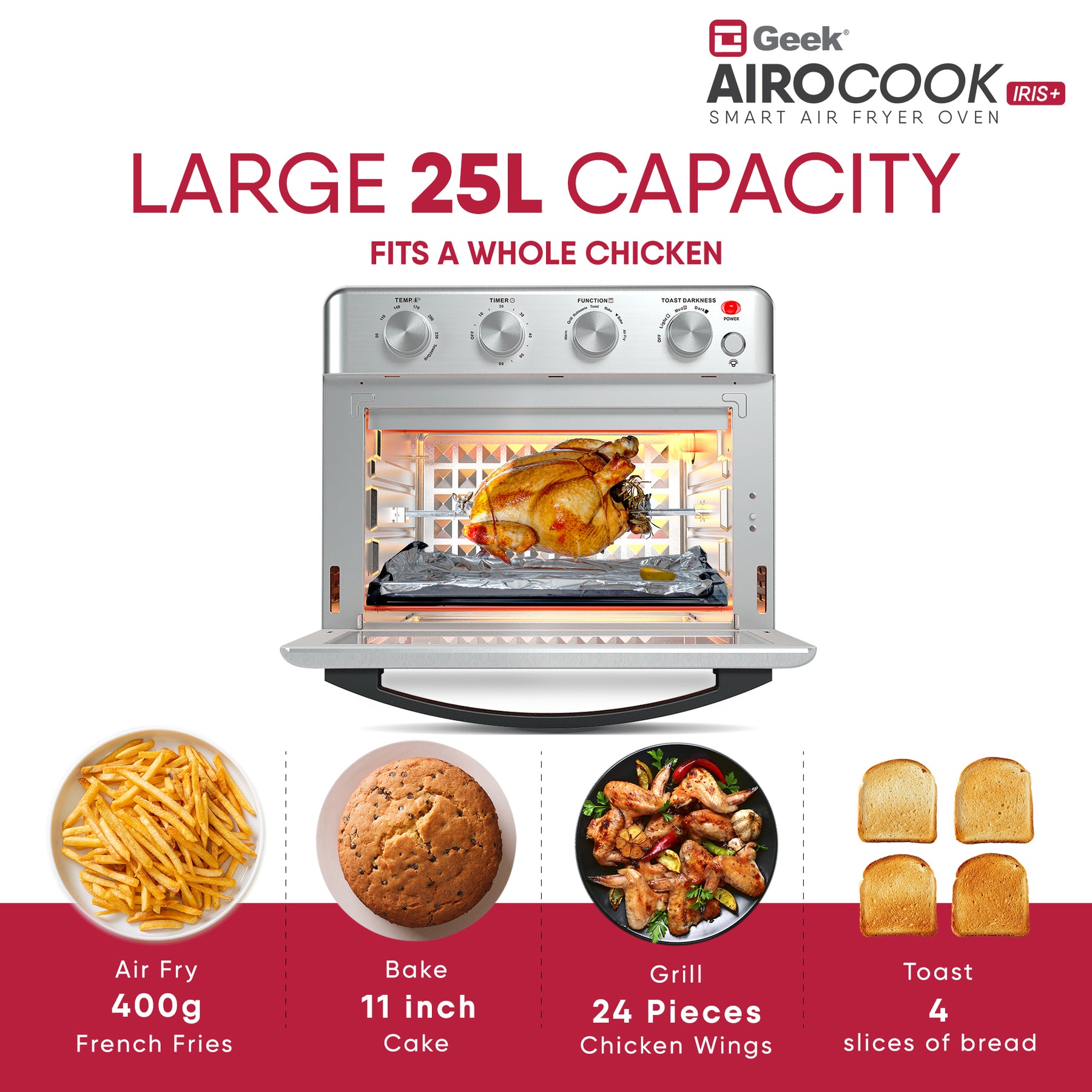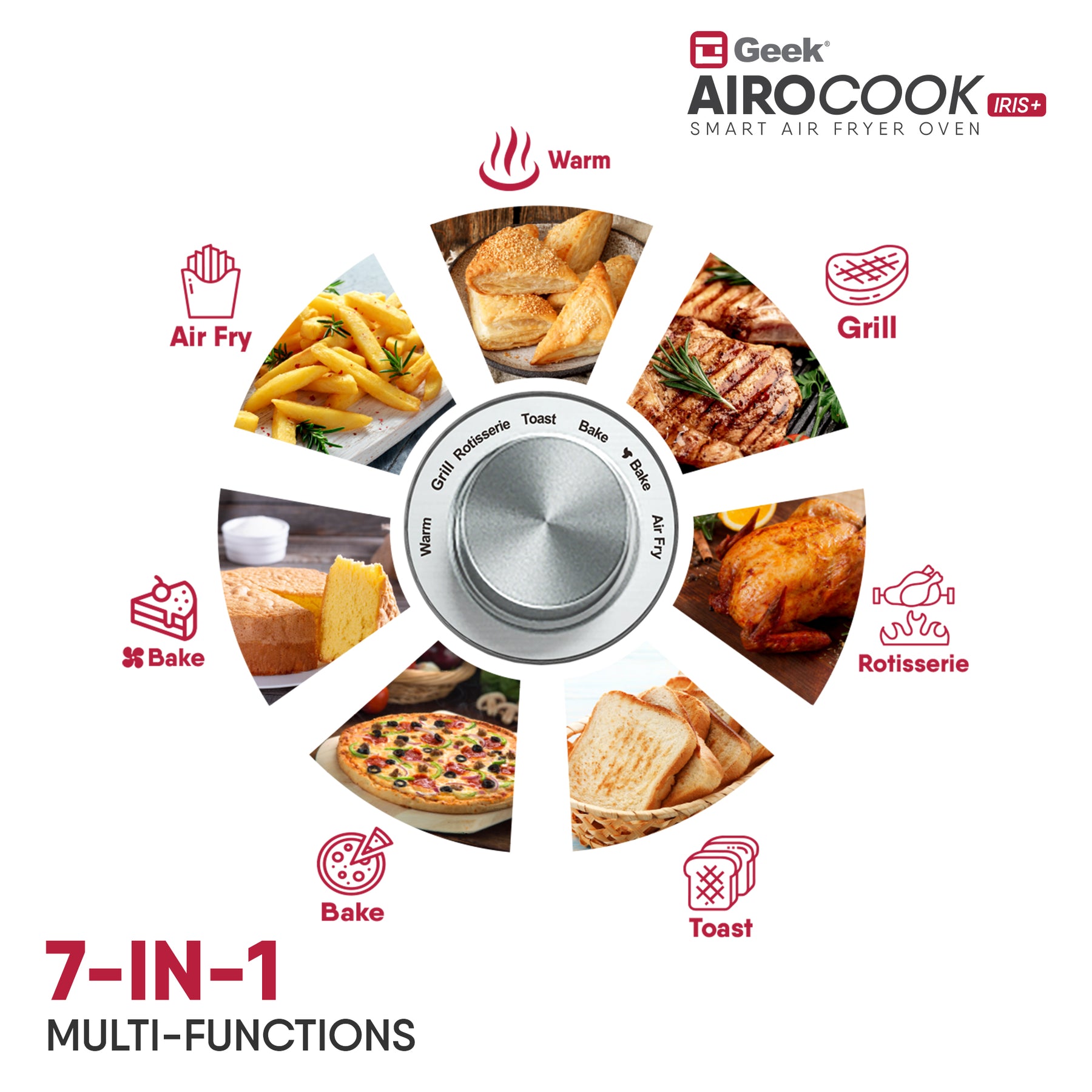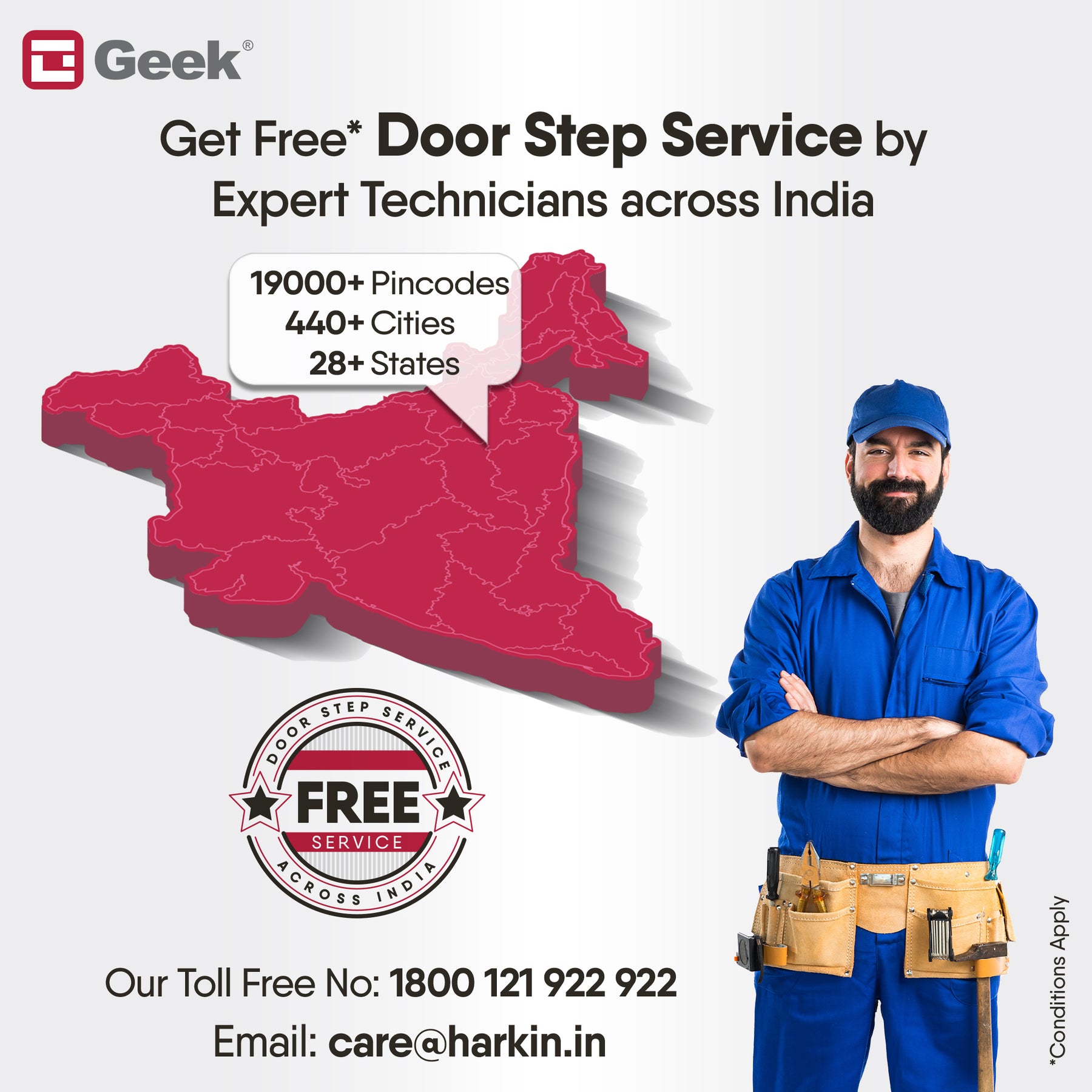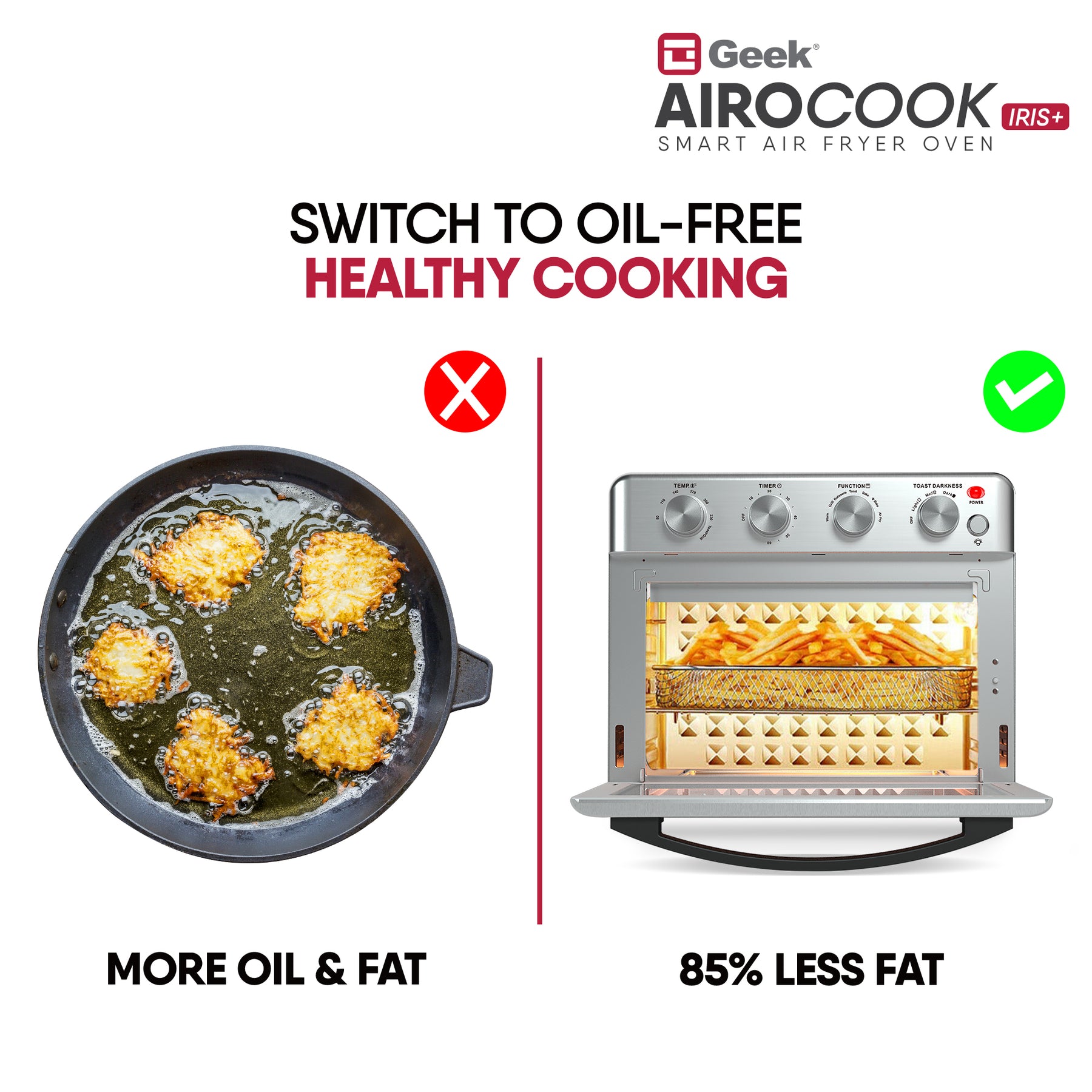 Geek AiroCook Iris Plus 25 Litre Electric Air Fryer Oven | 8 Preset Functions - Toast, Bake, Grill, Air Fry, Rotisserie & Warming | Recipe Book with 7 Accessories (1600W)
Inclusive of all taxes
Virtual Demo Timing Every Monday - Friday 4.30 PM
Order now and get Free Shipping
COD
Available
EMI
Available
Shipping
Free
Service @
Doorstep

Virtual Demo - Pre & Post Purchase
Still sceptical about the product? Attend our Virtual demo session with our product specialist and get a detailed brief about the product in 1-1 interaction.
All Geek products are assured with warranty. Just register the product and stay worry-free.
Get free door step service covering 28+ States, 440+ Cities, 19000+ Pin-codes.
Geek Products is ranked as the best sellers on Amazon with 4500+ Reviews and 4.2 Star Rating.
1000+ Home chefs/Influencers
Genuinely Recommended by multiple Celebrities/Chefs/Entrepreneur's/Doctors/Moms/Working Professionals/Dieticians and Fitness Enthusiast's
Related Video
Why Buy Geek AiroCook Iris Plus?
How to Use & Maintain Properly
Geek AiroCook Iris+ 23L Smart Air Fryer Oven with Rotisserie
Paneer Cheese Balls Recipe in Air Fryer Oven
Prepare Delicious Crispy Cocoa Cookies
Cheese stuffed French Toast Sausage
Roasted Chestnut in Air fryer Oven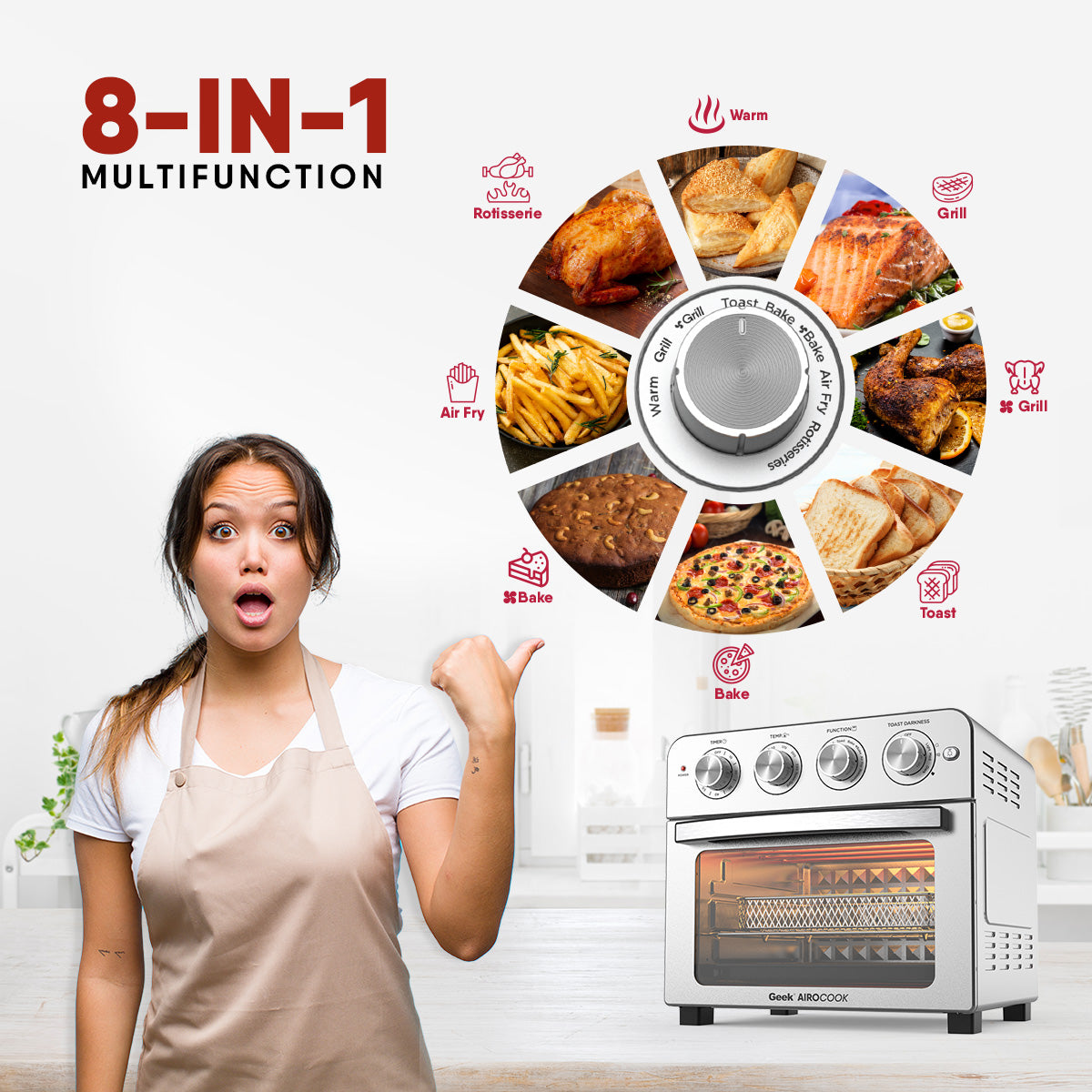 8-In-1 Function
With eight functions in one compact machine, you can air fry, roast, bake, broil, grill, reheat, and toast all your favorite dishes with ease. The spacious interior can fit a whole chicken or a large pizza, making it perfect for family meals or entertaining guests.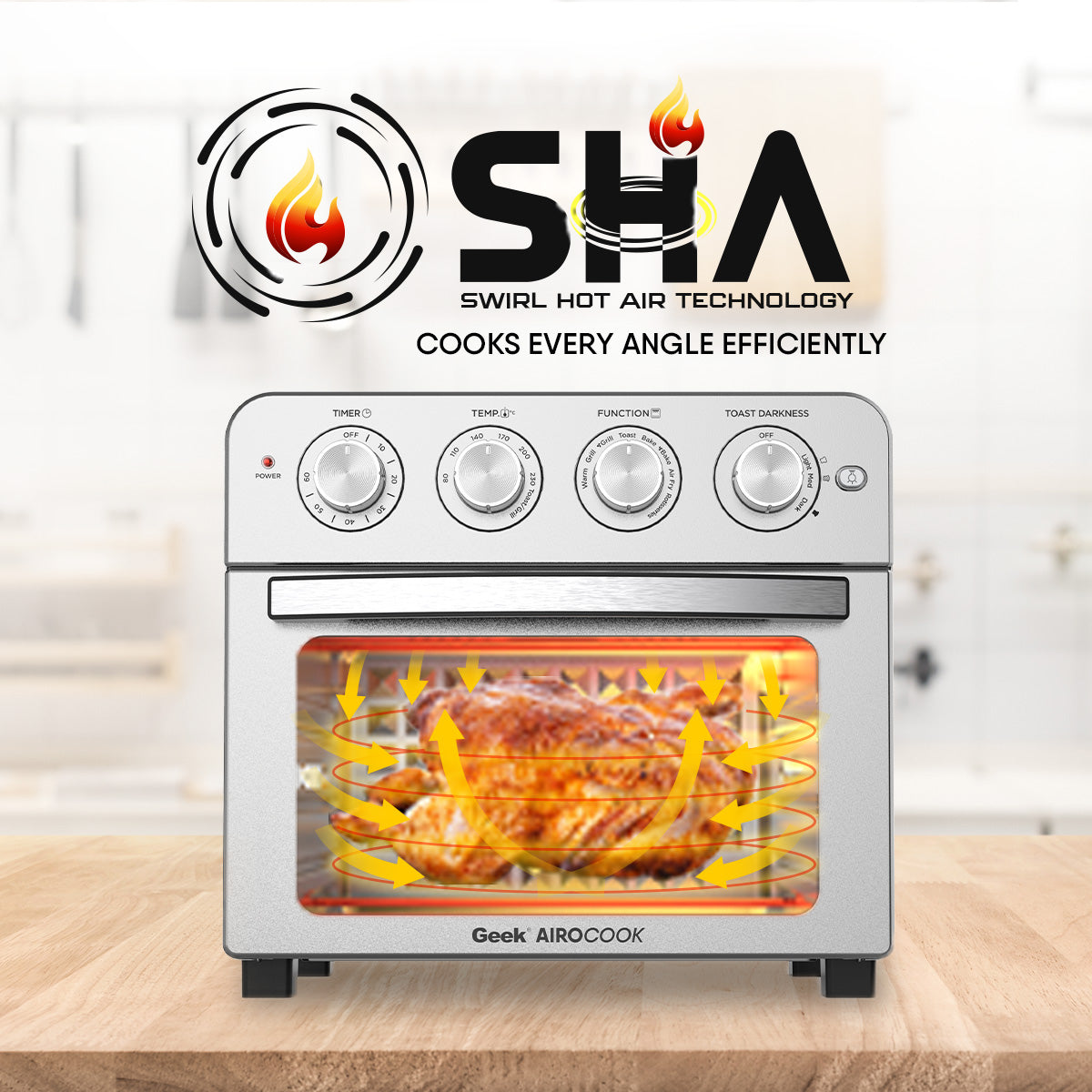 SHA Technology
Introducing the latest technology in oven cooking - Swirl Hot Air Circulation! Say goodbye to unevenly cooked meals and hello to perfectly cooked dishes every time.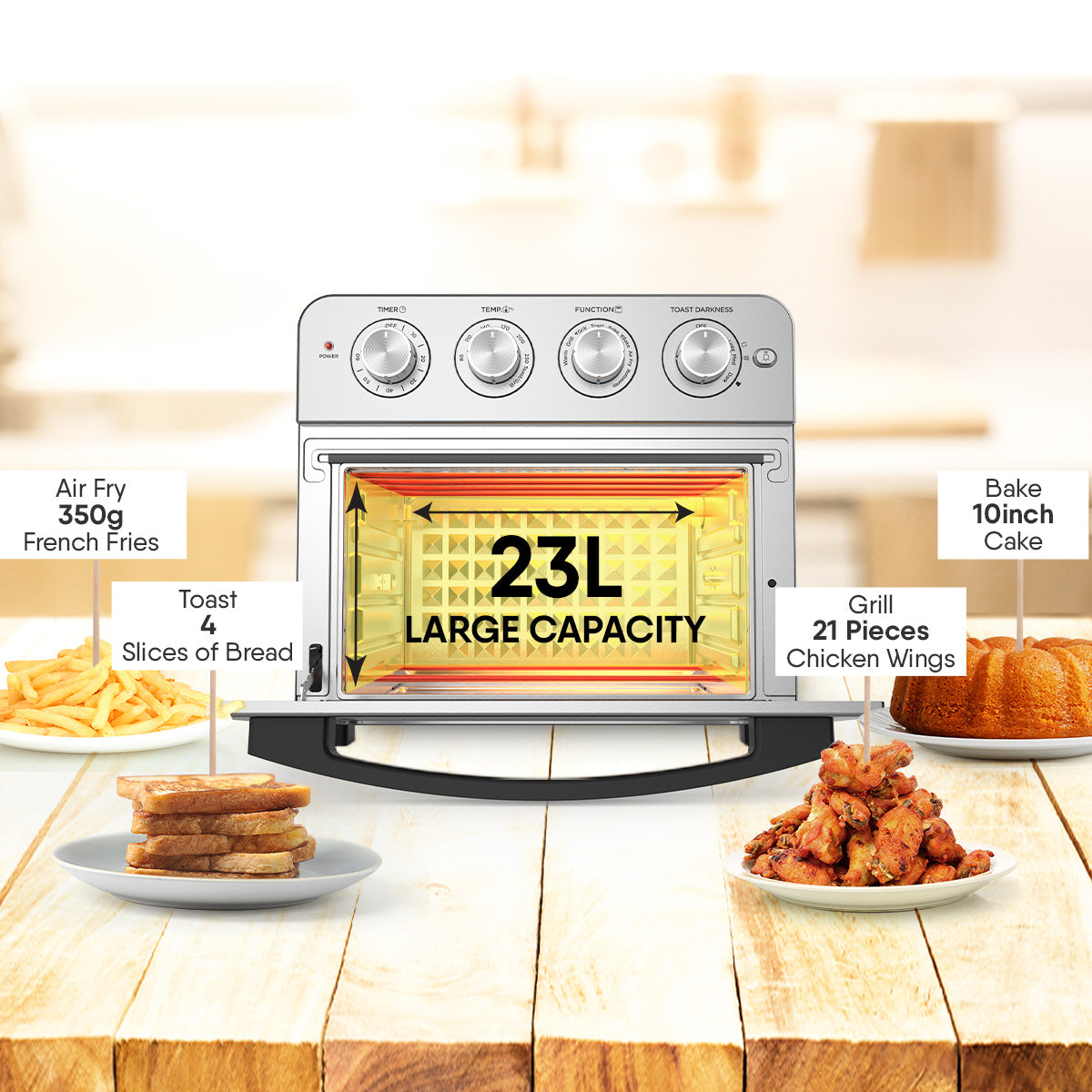 Large 23L Oven
With our Geek Airocook Iris+ large 23L oven, you can bake your favorite cookies, grill whole chicken, toast your bread, or any reheating leftovers. This oven is perfect for all your cooking needs.
Switch To Healthy Cooking
Fan of Deep-Fried foods and worried about the calories then Airocook Iris+ is your perfect partner cooks your favourite snacks/meals with less than 85% less Oil/Fat.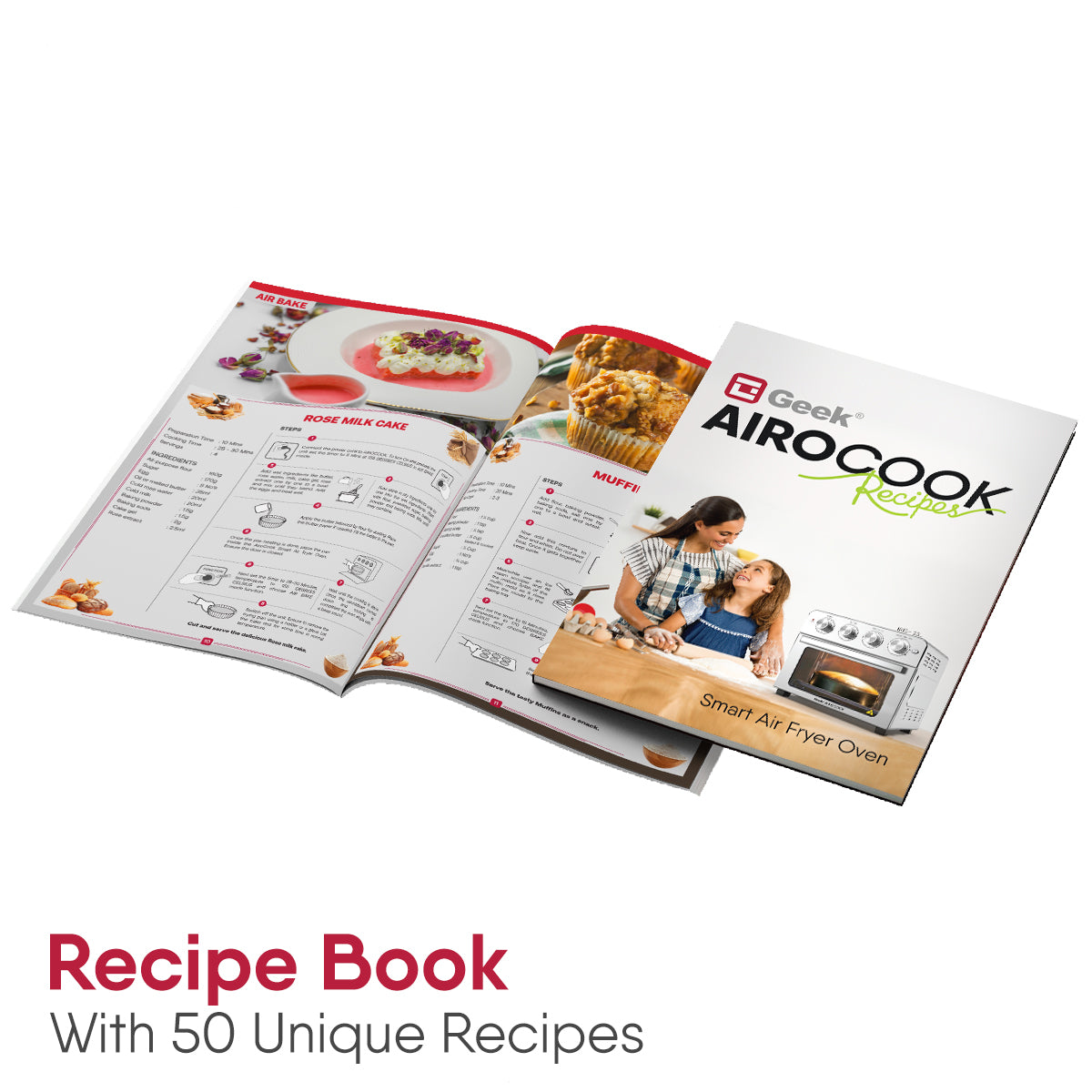 RECIPE BOOK
Get exclusive access to 50 unique recipes and start cooking with it. The Geek AiroCook Iris+ accompanies you with a specially made Recipe booklet to help you explore various recipes at your kitchen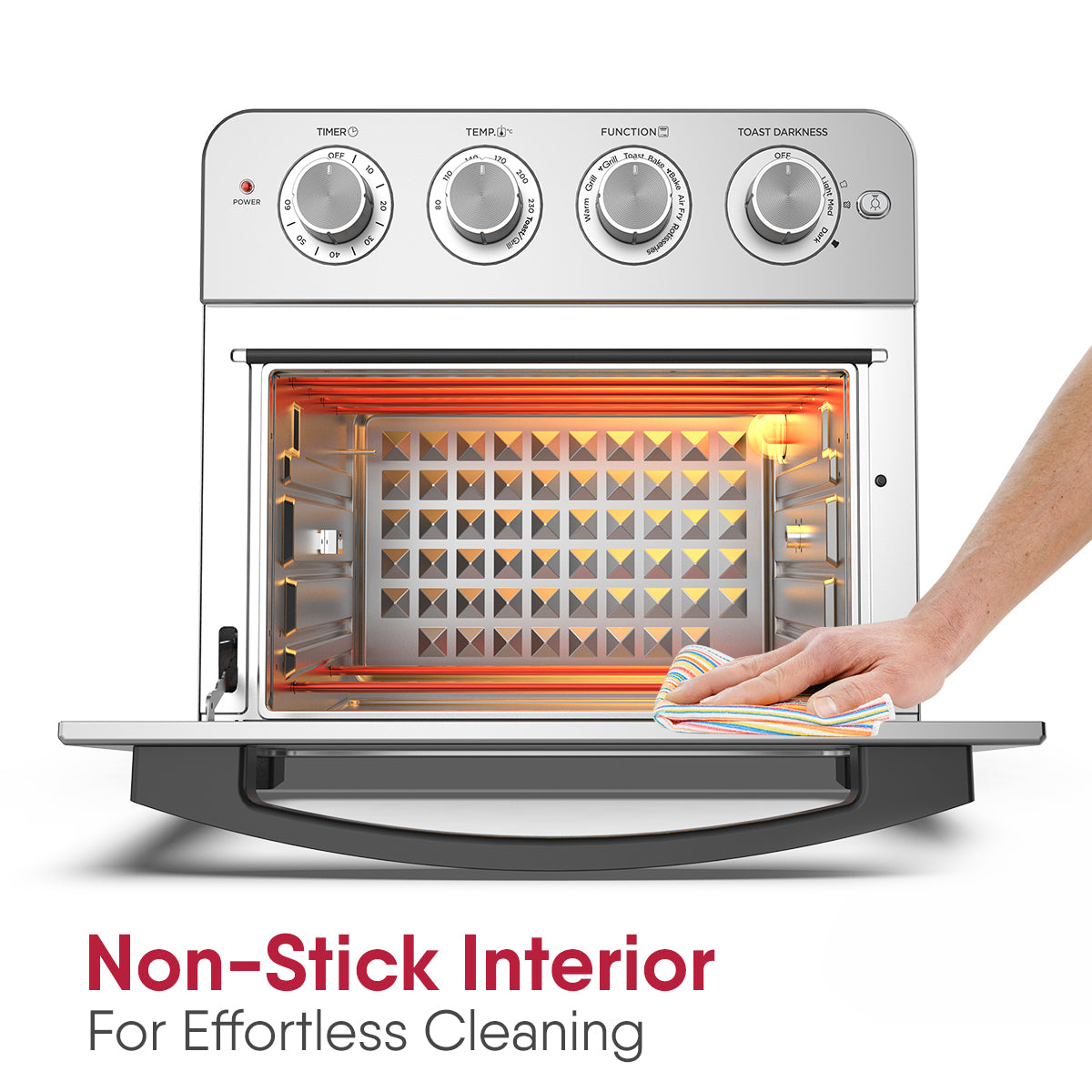 CLEANING COMFORT
Made with stainless steel non-stick interior, the air fryer oven minimizes the effort for cleaning the inner body and accessories.
The product carries a ratted wattage of 1700W.
The product comes with 1 year standard replacement warranty.
The maximum temperature we can set in Geek Airocook Iris+ is 230-degree Celsius.
Utensils made of glass, silicon and microwave-safe plastic can be used for cooking in this air fryer oven.
Select the toast function and choose the toast darkness option from the fourth knob as per your like light, medium and darker.
The Geek Airocook Iris+ have a convection fan in the top layer of the oven for 360-degree hot air circulation technology.
Yes, you can heat the food in this air fryer oven.
Yes, you can select the broil function to roast your food.
No, the Airfryer oven is designed to function one mode at a time.
The Geek Airocook Iris+ comes with 4 additional accessories like Crumb tray, air fryer mesh basket, oven rack, and baking pan .
About Geek
Geek was founded in 2017 in New Jersey, USA and has its presence in 5 Countries - USA, Canada, Australia, China & India.

Our main objective is to disrupt the Home & Kitchen space through emphasis on customized smart integration and technical innovation in our products/solutions.
Vision: Bring the Future Home
Achievements
In The News/Awards
Best D2C Game Changer Brand
Home Appliances
Most Promising D2C 100 Brands
2023
India's Fastest Growing D2C Brands
2023
Most Prestigious Brands of Asia
2023
Awards
Best D2C Game Changer Brand
Home & Kitchen Appliances
Most Promising D2C 100 Brands
2023
India's Fastest Growing D2C Brands
2023
Most Prestigious Brands of Asia
2023
Smarter than a typical oven
It will make your cooking easier and better.
looks great
Feeling good and happy to have brought this product.
practical product
It's an all-in-one product, oven, toast, bake and airfry. Made of stainless steel which is good for food quality and less harmful than the teflon or aluminum. the entire product is light which creates a doubt on the quality, but the fit and finish on the rotary knobs and accessories are good.
It serves the purpose.