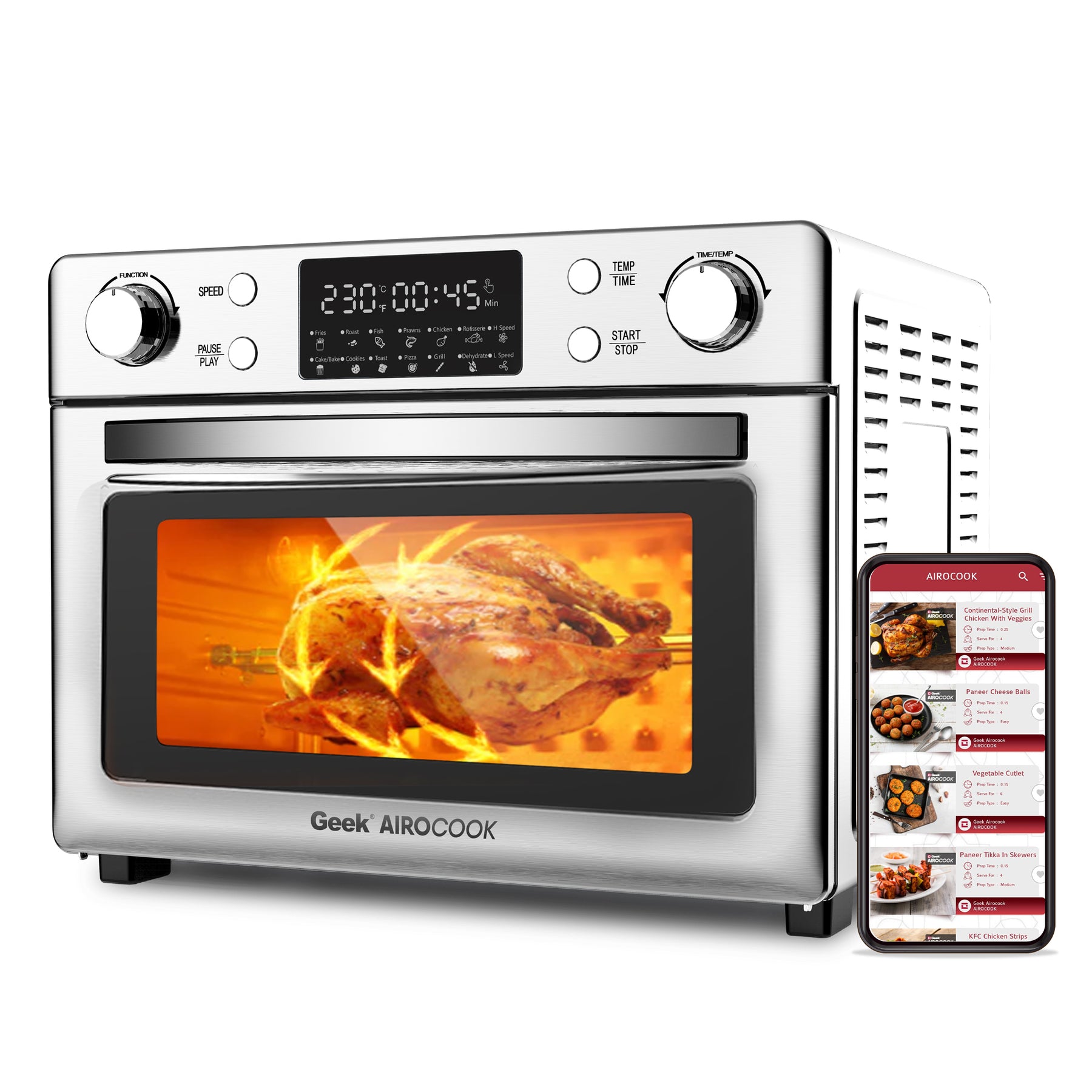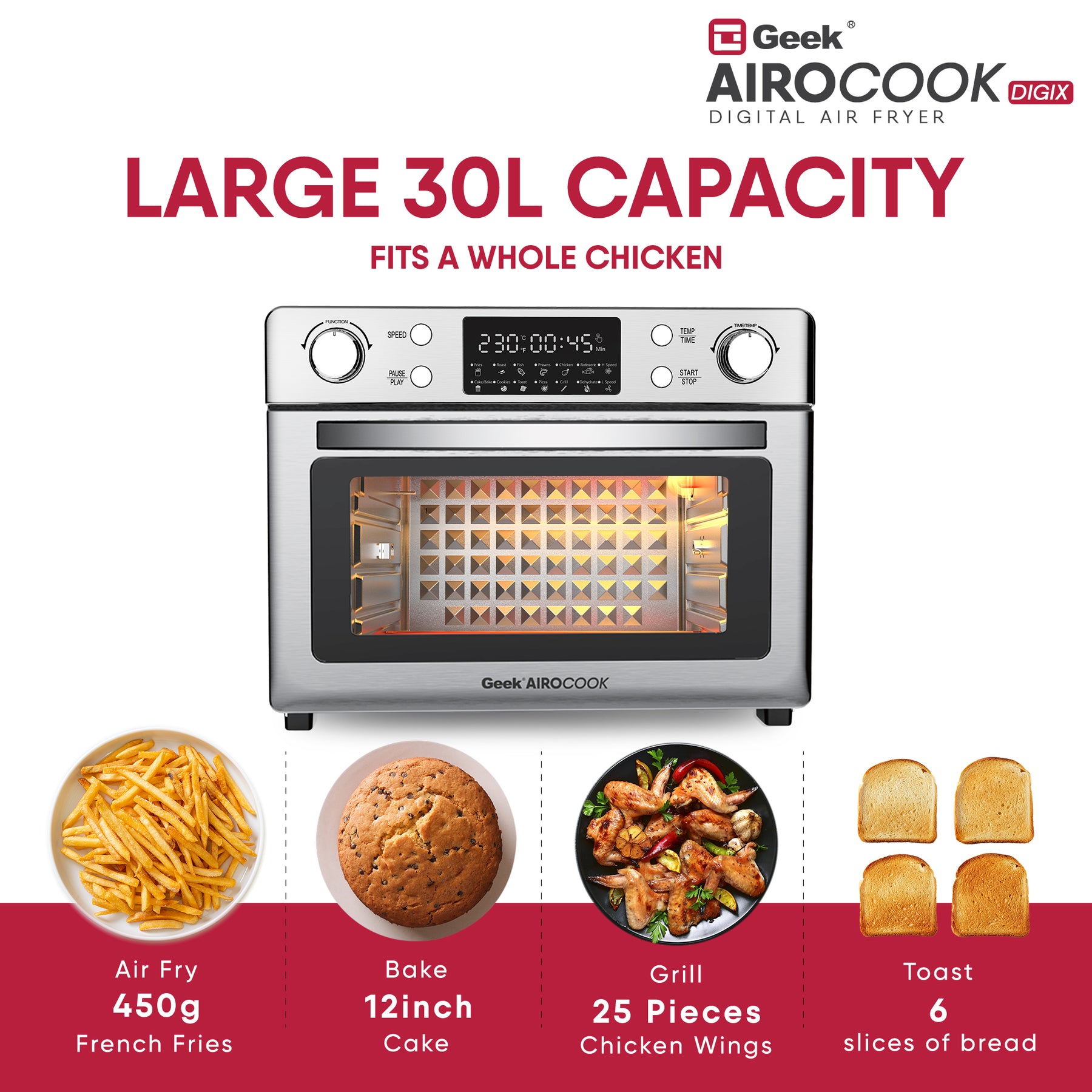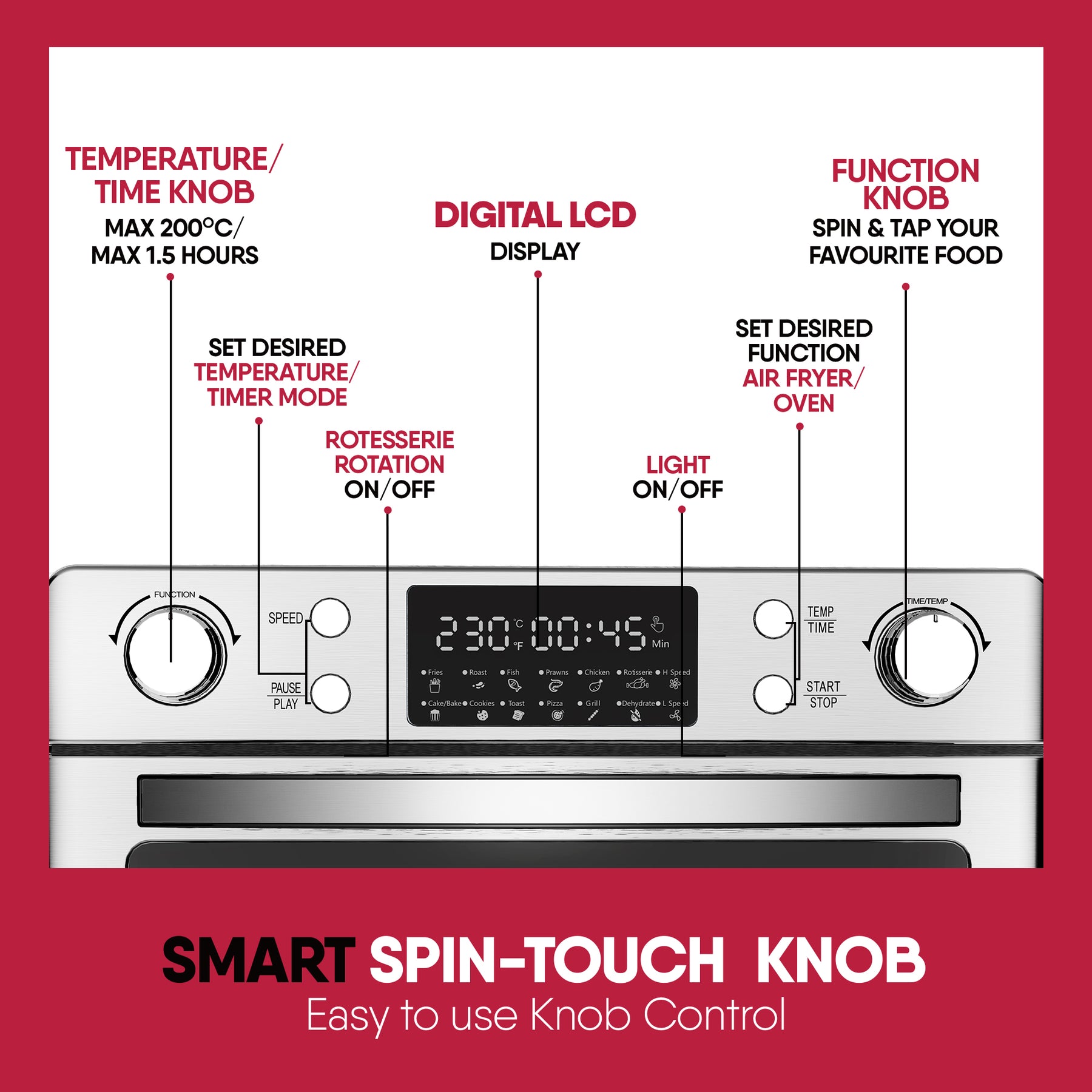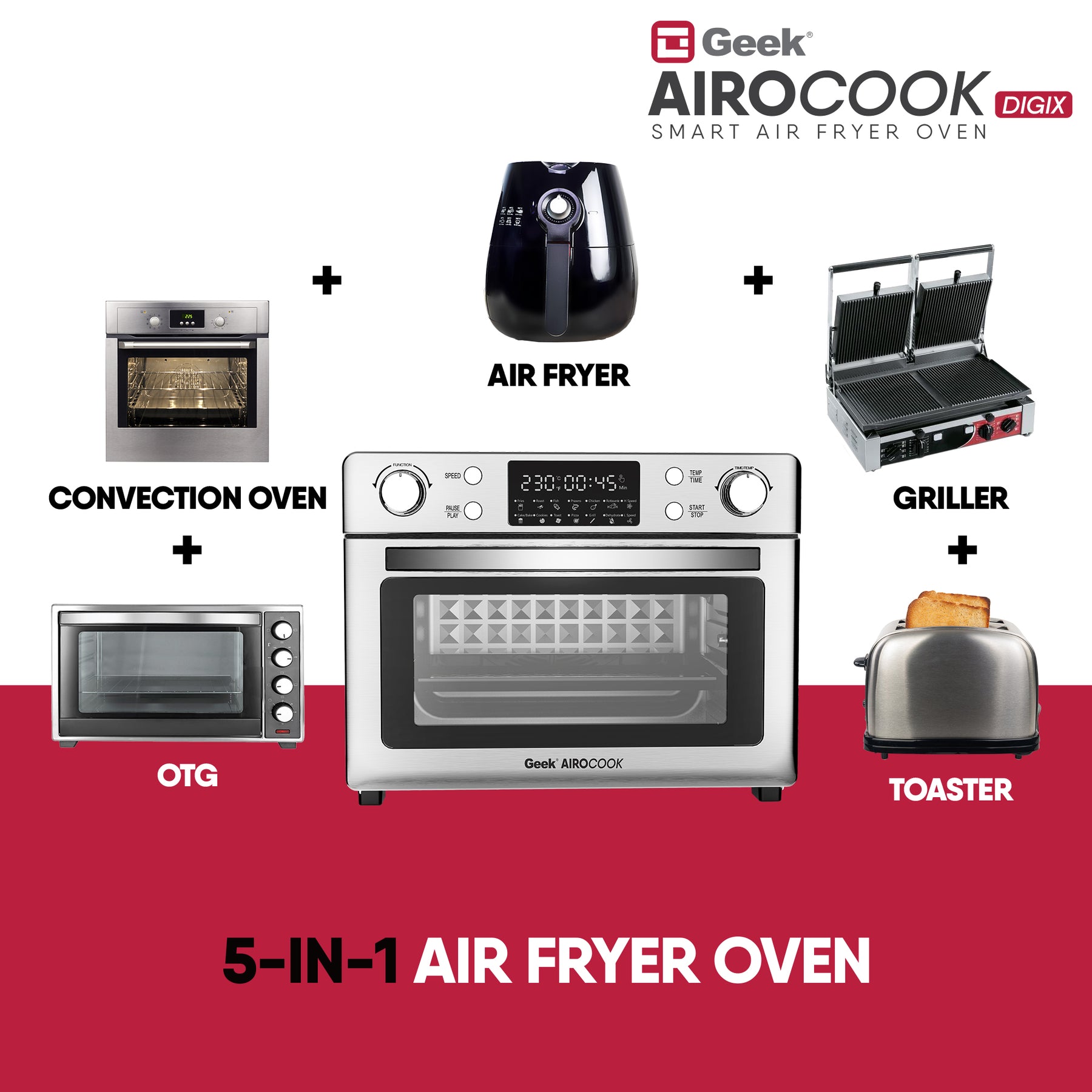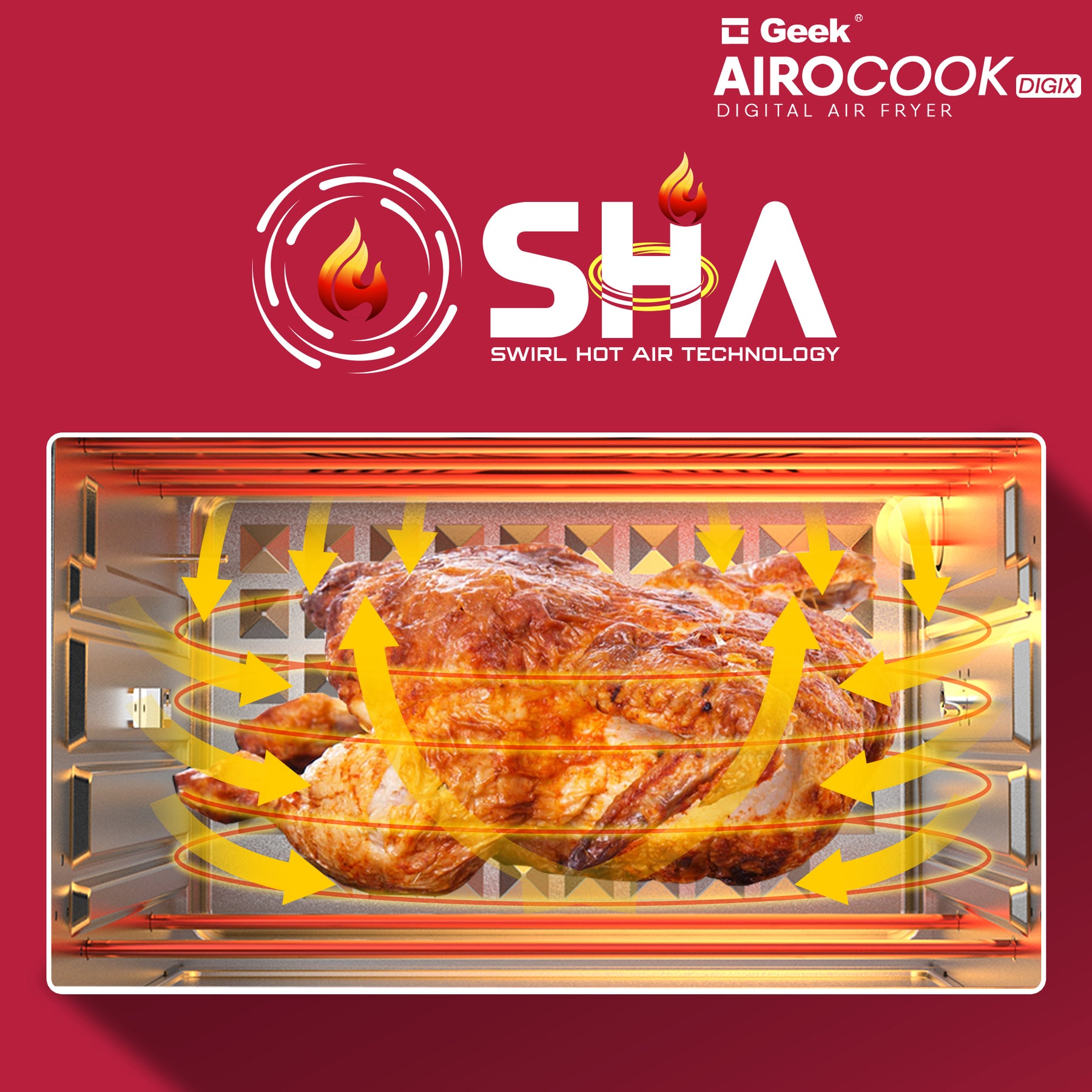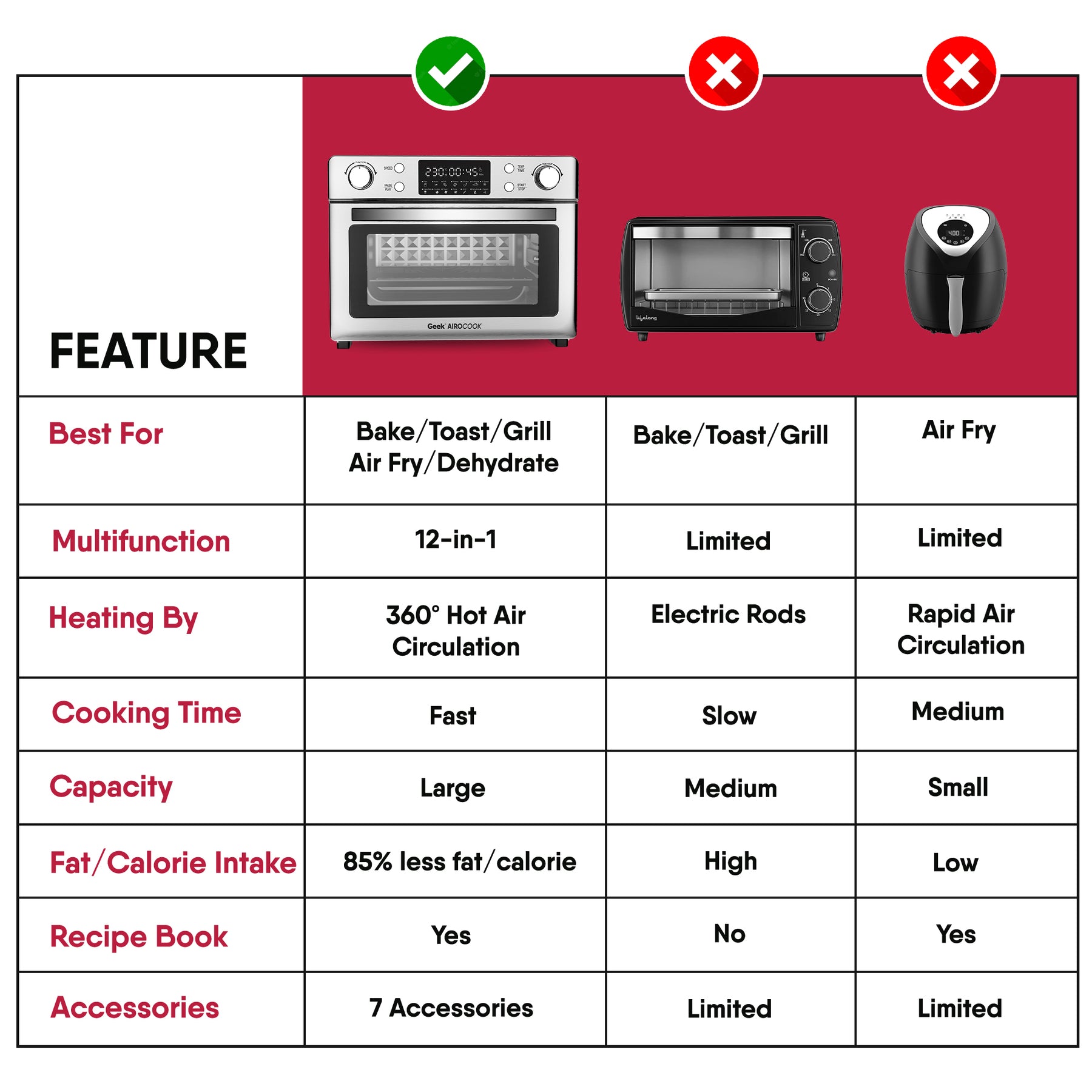 Geek AiroCook Digix 30L Air Fryer Oven
Inclusive of all taxes
Virtual Demo Timing Every Monday - Friday 5.00 PM
Order now and get Free Shipping
COD
Available
EMI
Available
Shipping
Free
Service @
Doorstep

Virtual Demo - Pre & Post Purchase
Still sceptical about the product? Attend our Virtual demo session with our product specialist and get a detailed brief about the product in 1-1 interaction.
Assured with 2 years warranty. Just register the product and stay worry-free.
Get free door step service covering 28+ States, 440+ Cities, 19000+ Pin-codes.
Geek Products is ranked as the best sellers on Amazon with 4500+ Reviews and 4.2 Star Rating.
1000+ Home chefs/Influencers
Genuinely Recommended by multiple Celebrities/Chefs/Entrepreneur's/Doctors/Moms/Working Professionals/Dieticians and Fitness Enthusiast's
Cook Better
Related Videos
12 COOKING FUNCTIONS:
Just choose what you want to cook and how! without needing to set a timer/temperature. Geek
AIROCOOK DIGIX does Air fry, Grill, Roast, Bake, Toast, Pizza, Cookies, Rotisserie, and Dehydrate all
in just the selection of the menu.
XTRA LARGE CAPACITY:
Cook & serve for 6-8 people with a large 30L capacity which exhibits spacious space that fits whole Chicken with Rotisserie function, 12-Inch Pizza, 6 slices of bread, French fries, and much more.
DIGITAL DISPLAY + SPIN CONTROL KNOB:
Merely tune the easy spin knob to select the cooking options and set your desired time, and
temperature and customize air speed & light as per your convenience along with the visual check through a large LED display.
360° HOT AIR CIRCULATION TECHNOLOGY:
Prepares healthy defatted & oil-free foods with advanced 360° Hot air circulation technology that spreads hot air evenly all over the food and makes the entire dish even crispier, crunchier, and
fluffier in accordance with the selected preset.
6-IN-1 MULTI AIR FRYER OVEN:
Geek AIROCOOK DIGIX helps in replacing the Air fryer, OTG, Griller, toaster, convection oven, and
Dehydrator as all in one Kitchen appliance which helps in saving monies and also your kitchen space.
WHAT'S IN THE BOX:
The 1700W Geek AIR FRYER OVEN Comes with a baking tray, oven rack, Air fry basket, crumb tray,
rotisserie spit assembles, fetch rack, oven mitt, Manual and Warranty card.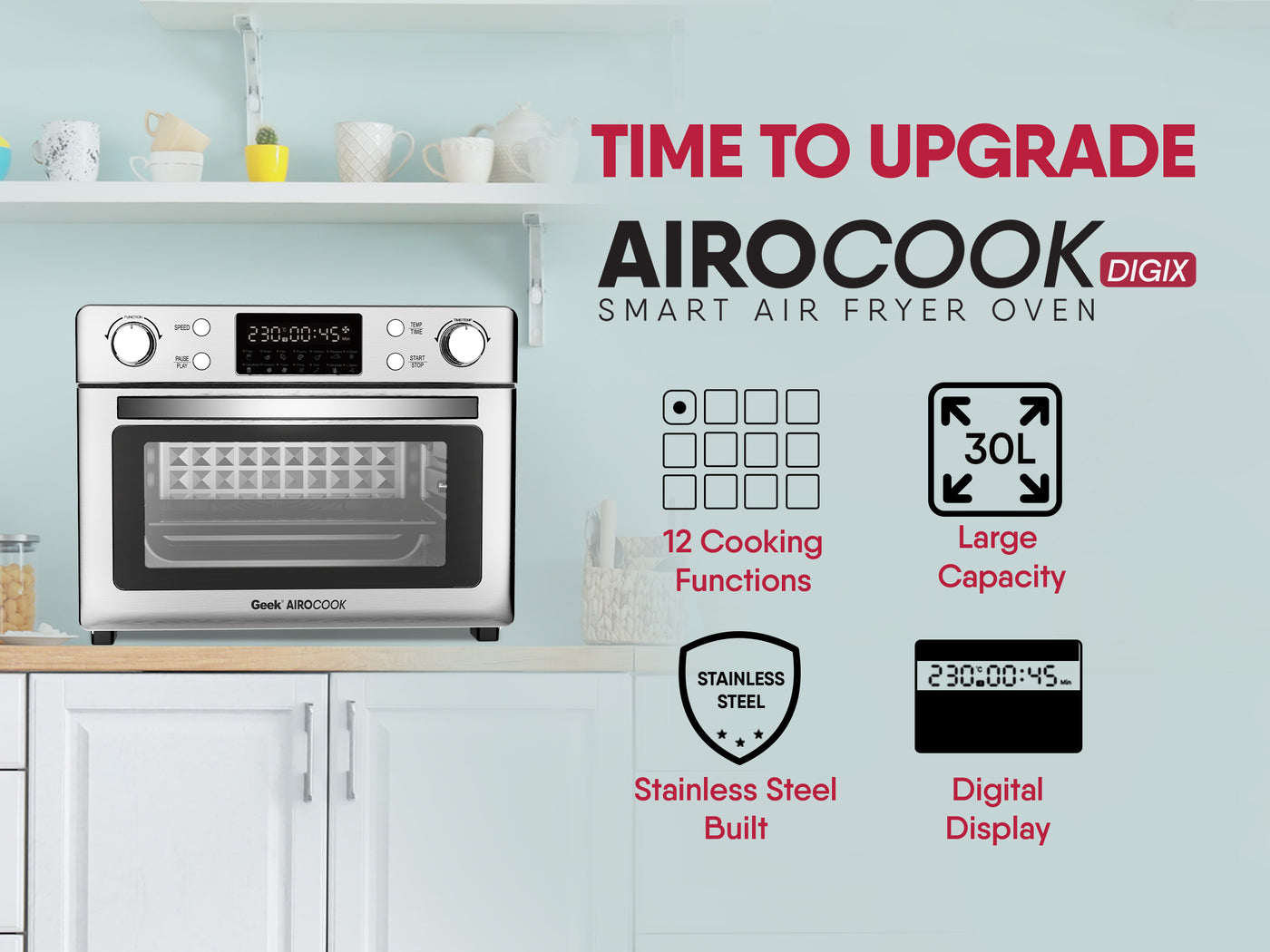 TIME TO UPGRADE
AiroCook DigiX is the fully loaded model with the advanced features of 12 Pre-set cooking functions, 30L Large capacity, Superior Stainless Steel Built and Large Digital Display monitor to view.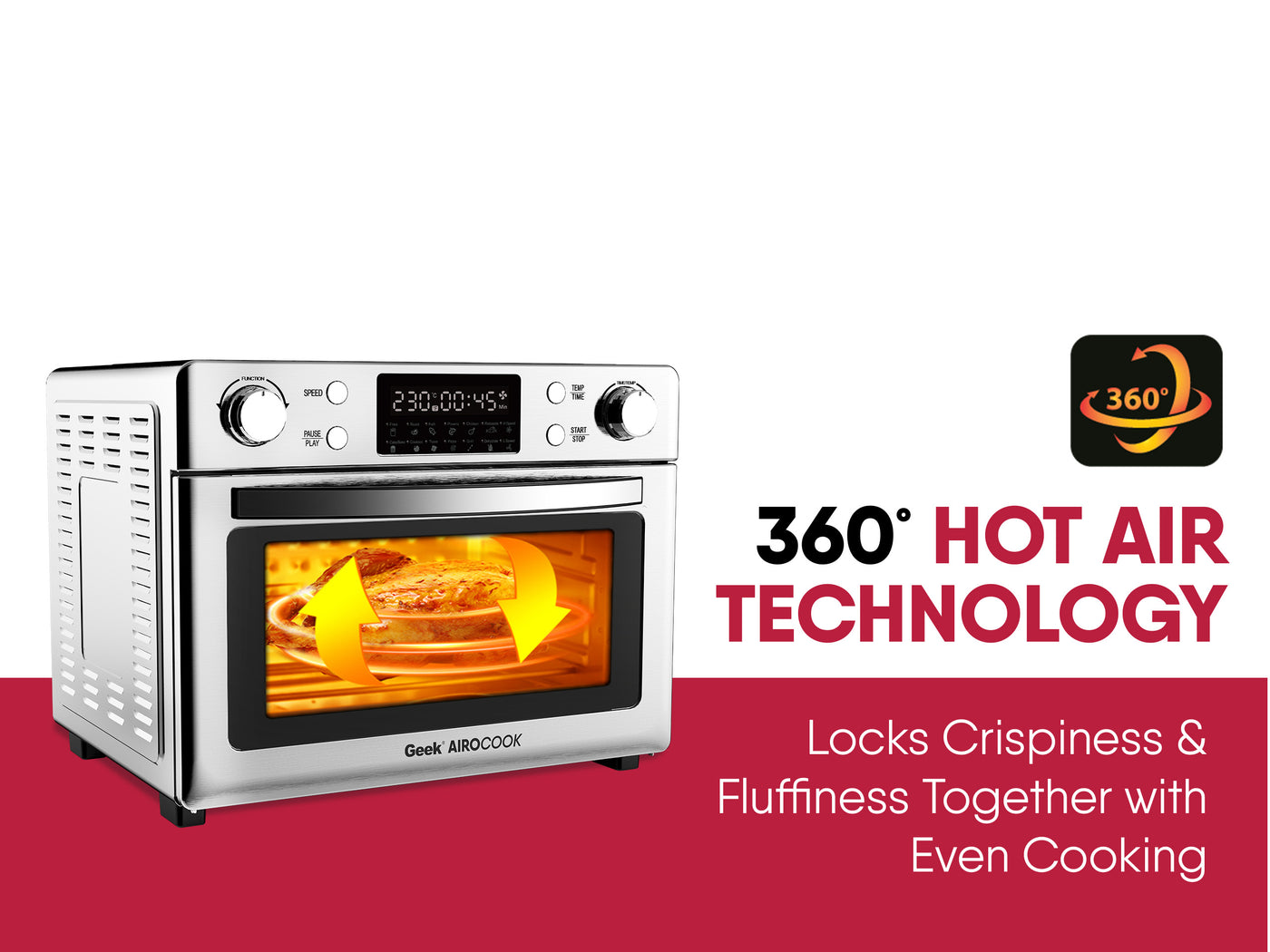 360 HOT AIR TECHNOLOGY
Built with the latest 360 Hot Air Technology helps in quick and uniform heating in less turnaround time for tender cooking.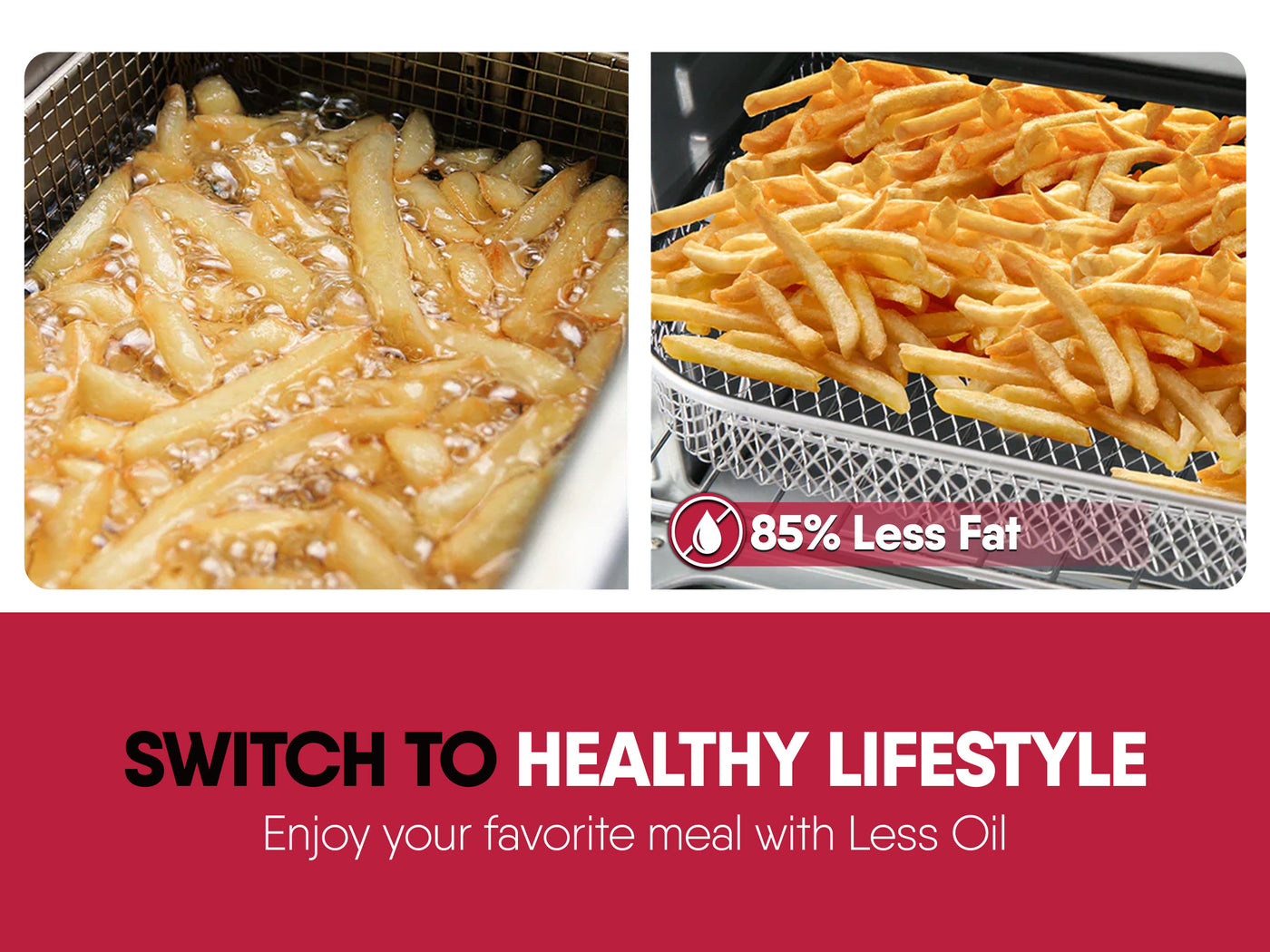 SWITCH TO HEALTHY LIFESTYLE
Fan of Deep Fried foods and worried about the calories then AiroCook DigiX is your perfect partner cooks your favourite snacks/meals with less than 85% less Oil/Fat.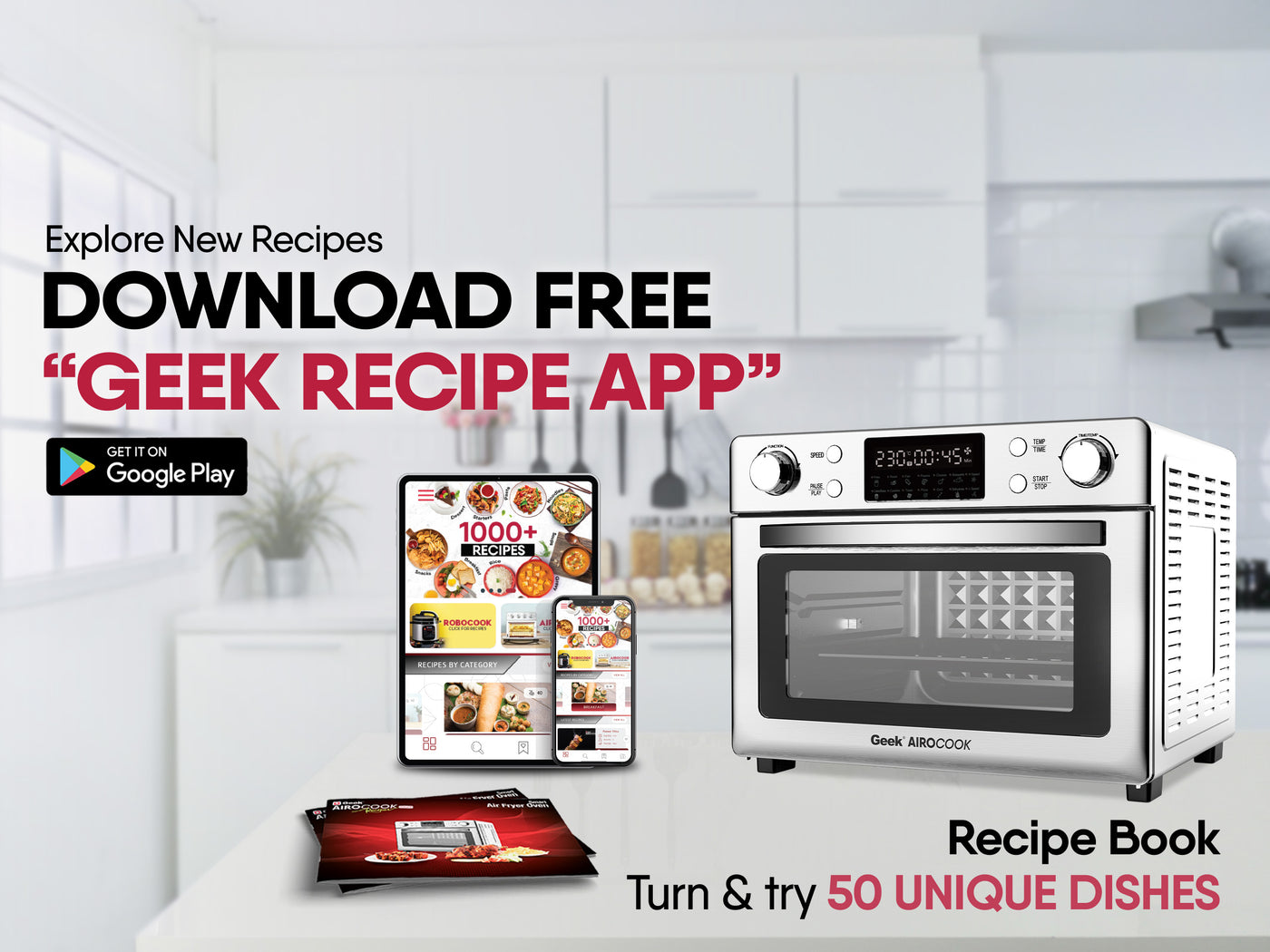 RECIPE BOOK + APP
Comes with 50+ handy recipe book containing recipes for Baking, Frying, Chicken, Pizza, Fish and Veggies. Also find more recipes from the Geek – Recipe App free to download from Play Store.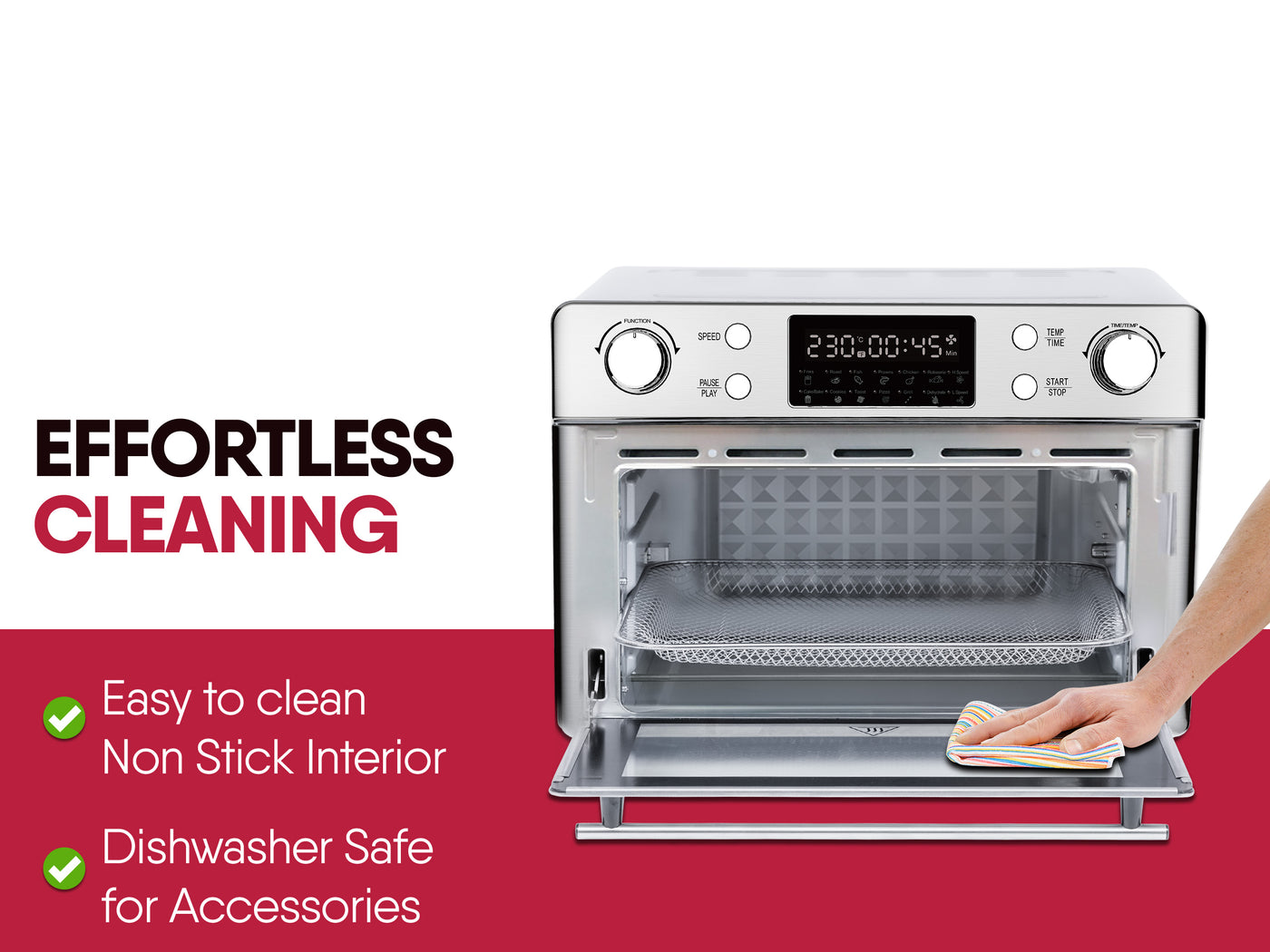 EASY CLEANING
Cooking is done next cleaning is simple than it. Switch Off/Unplug the appliance clean the inside and outside of the product with the damp cloth. Use the crumb tray at bottom to collect the excessive Oil and leftovers.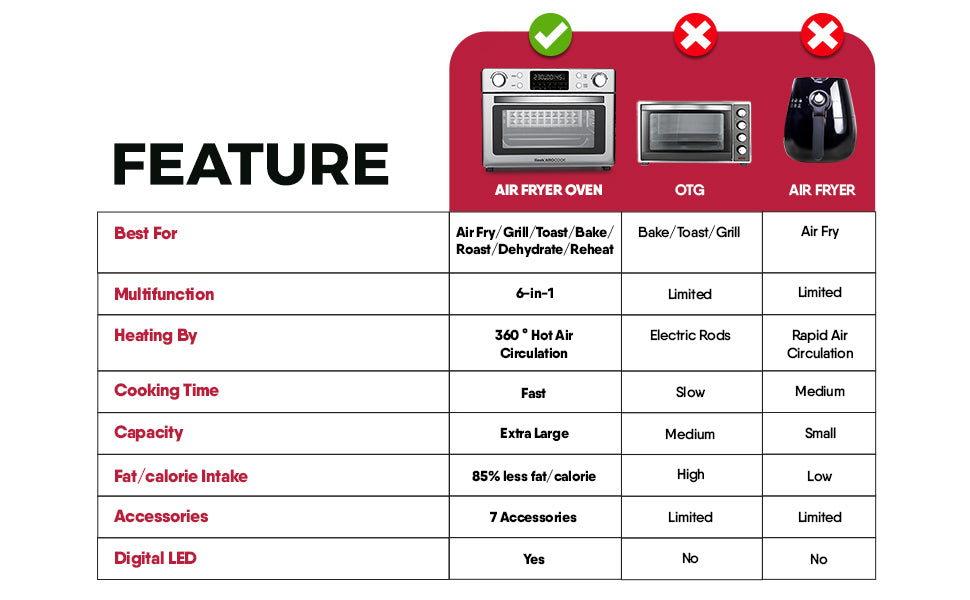 COMPARISON CHART
Still Sceptical about buying Geek AiroCook DigiX 30L Air Fryer Oven this comparison chart provides the feature benefits over the conventional OTG and the Air Fryer.
About Geek
Geek was founded in 2017 in New Jersey, USA and has its presence in 5 Countries - USA, Canada, Australia, China & India.

Our main objective is to disrupt the Home & Kitchen space through emphasis on customized smart integration and technical innovation in our products/solutions.
Vision: Bring the Future Home
Achievements
In The News/Awards
Best D2C Game Changer Brand
Home Appliances
Most Promising D2C 100 Brands
2023
India's Fastest Growing D2C Brands
2023
Most Prestigious Brands of Asia
2023
Awards
Best D2C Game Changer Brand
Home & Kitched Appliances
Most Promising D2C 100 Brands
2023
India's Fastest Growing D2C Brands
2023
Most Prestigious Brands of Asia
2023
Best product
This product is very nice. Helps in your day to day kitchen work. Easy to operate. Must buy as it has not only option of fryer but also baking, roasting n many more.
Basket shown in pic is different .
Oven becomes very hot .. and untouchability of buttons
The basket shown is small and different
Geek Air fryer with oven
I want to buy Geek Air fryer with oven,Please provide me the address of service station in Delhi NCR
Good quality and Affordable
Best in quality and performance. Value for money . can go for it.