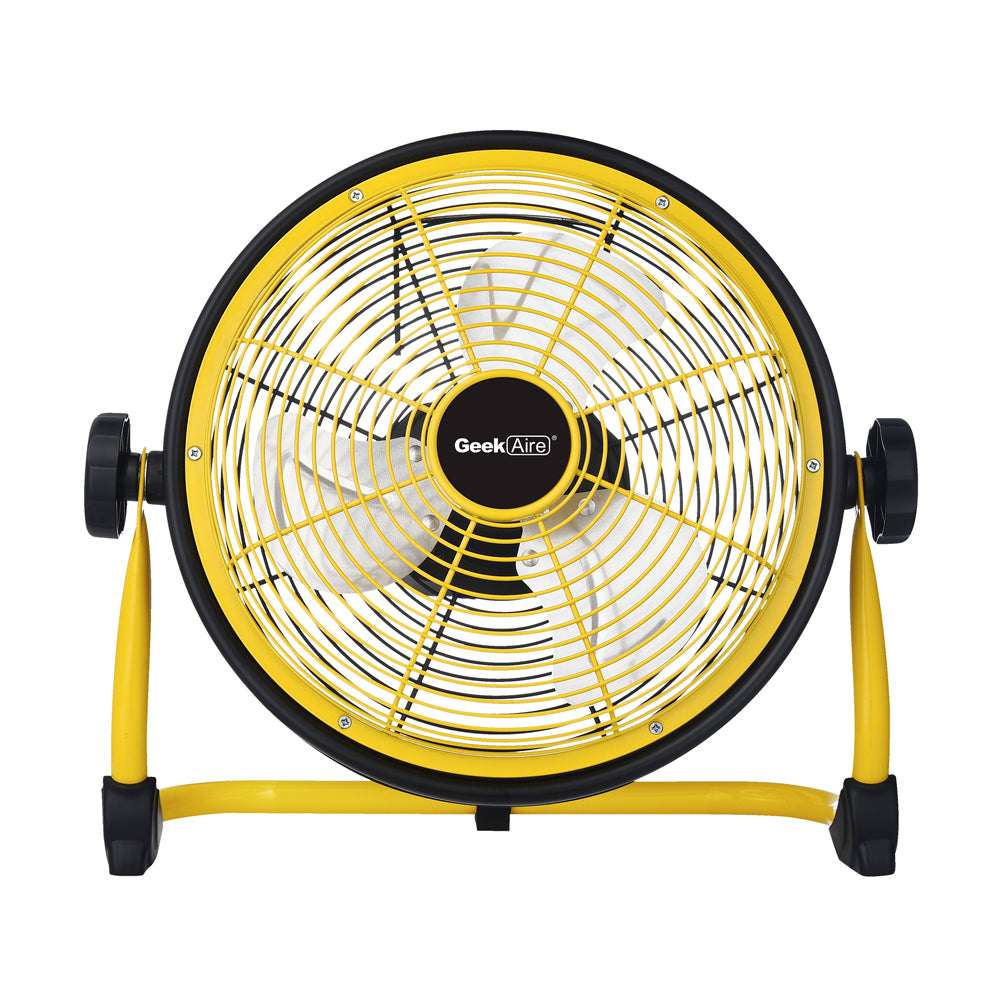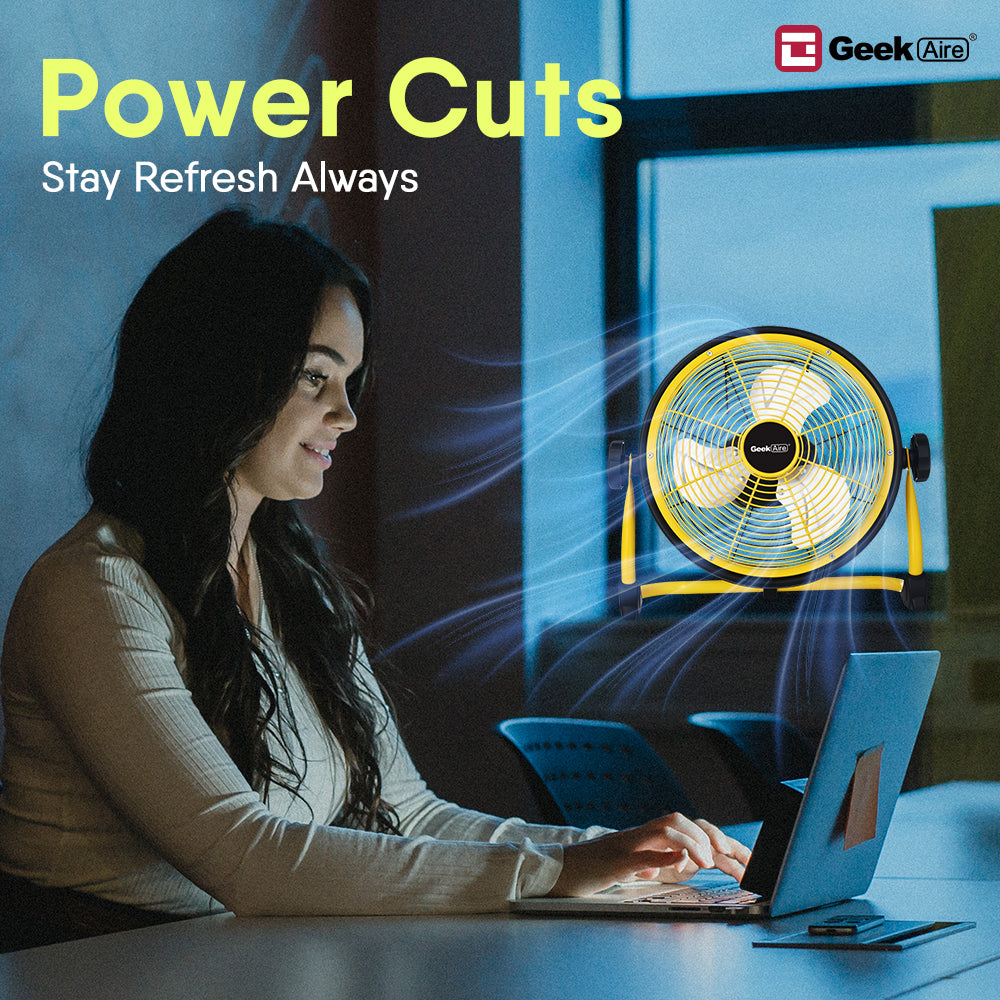 Geek Aire CF3SL Rechargeable 11 Inch Portable Outdoor Metal Fan, 6000mAh
Inclusive of all taxes
COD
Available
EMI
Available
Shipping
Free
Service @
Doorstep
IDEAL FAN FOR HOME AND KITCHEN, SUMMER SEASON, POWER CUTS, CAMPING, FISHING, AND ALSO FOR OTHER TRAVEL, OUTDOOR, AND SPORTS ACTIVITY.  

EXEMPLARY BATTERY QUALITY: The Geek Aire 11-inch rechargeable outdoor fan has an inbuilt long-lasting battery of 6000mAh high-quality lithium-ion battery. This provides a long run time of 4 - 24 hours, with a quick recharge time of 2 – 2.5 hours using the included 15V AC adapter.
STURDY METAL BUILD: This battery-operated floor fan boasts a sturdy metal frame with a durable painted surface designed with aerodynamics in mind. The non-slip rubber feet ensure stability, while the thickened Metal handles allow for easy portability.
POWERFUL BRUSH-LESS DC MOTOR: The Geek 11-inch portable outdoor Fan operates quietly with its powerful brushless DC motor, capable of delivering a maximum of 600 CFM per minute to keep you cool and comfortable. The BLDC motor also means low noise as low as 58db.
360-DEGREE ADJUSTABILITY: With 360° adjustable angles, the fan's movement is precise, directing the flow of air exactly where you need it.
STEP-LESS SPEED CONTROL: Control the fan with ease using the rotary control options, and enjoy customized comfort with variable speed control Without the hassle of step controls.
UNLEASH THE POWER OF VERSATILITY: The Floor fan has been upgraded to provide a soft and comfortable breeze with its innovative pitched propeller blade design. It's cordless and battery-operated design makes it suitable for use anywhere, whether as an indoor floor fan, an air circulator, or an outdoor
fan.

WHAT'S IN THE BOX: Geek Aire CF3SL Main Unit, Adapter, and User Manual with 1-Year Warranty.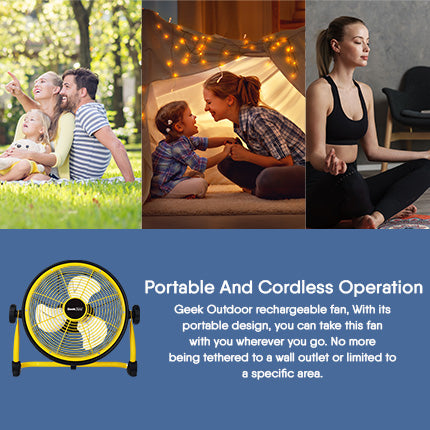 Go Portable and Cordless
Wireless and portable design means, you can carry the fan wherever you go without any hassle of tangled wires.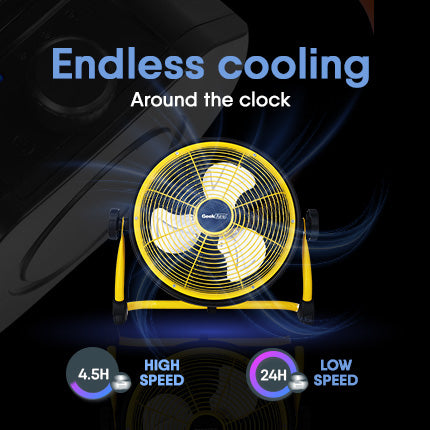 Boundless cooling
The Fan Lasts longer providing endless cooling Through out the day with a Run time Upto 24 Hours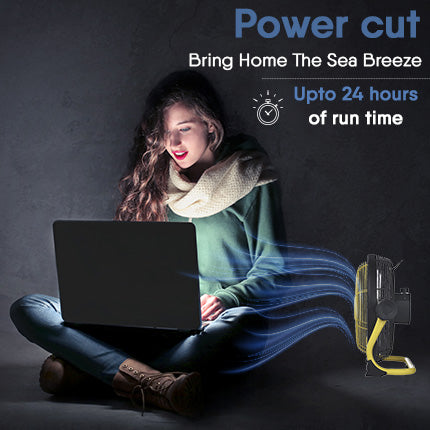 Power fails, But We don't
Don't Break a sweat even during power outrages.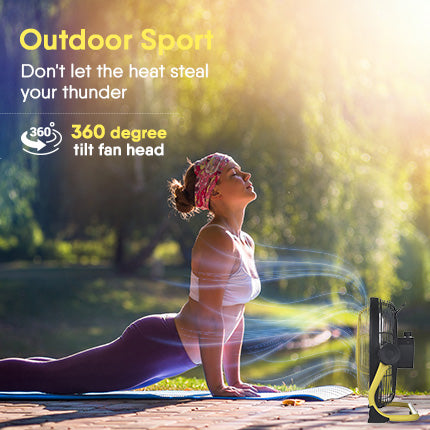 Keep Heat at Bay
With maximum cooling, Forget about sweating through your sporting session.
Carol's turquoise fan
I love my geek air fan. My problem if there is such a thing with this fan is that I unscrewed by accident one of the big adjuster things on the side. The screw is inside and I am unable to get it to come out one of the slots in the fan cover. Is there a way for me to take something off so I'll be able to get it out? I use this 24/7 and I'm still able to use it but I need to be able to adjust the angle. Please advise.carol193975@ Gmail.com
OR
6618602086
Battery backup is not impressive!!!!
Died after 11 months
Purchased the fan June 2022, Died May 2023.
Before fan died, ran great, quiet. It looks good, but if it dies less than a year, not worth the money.