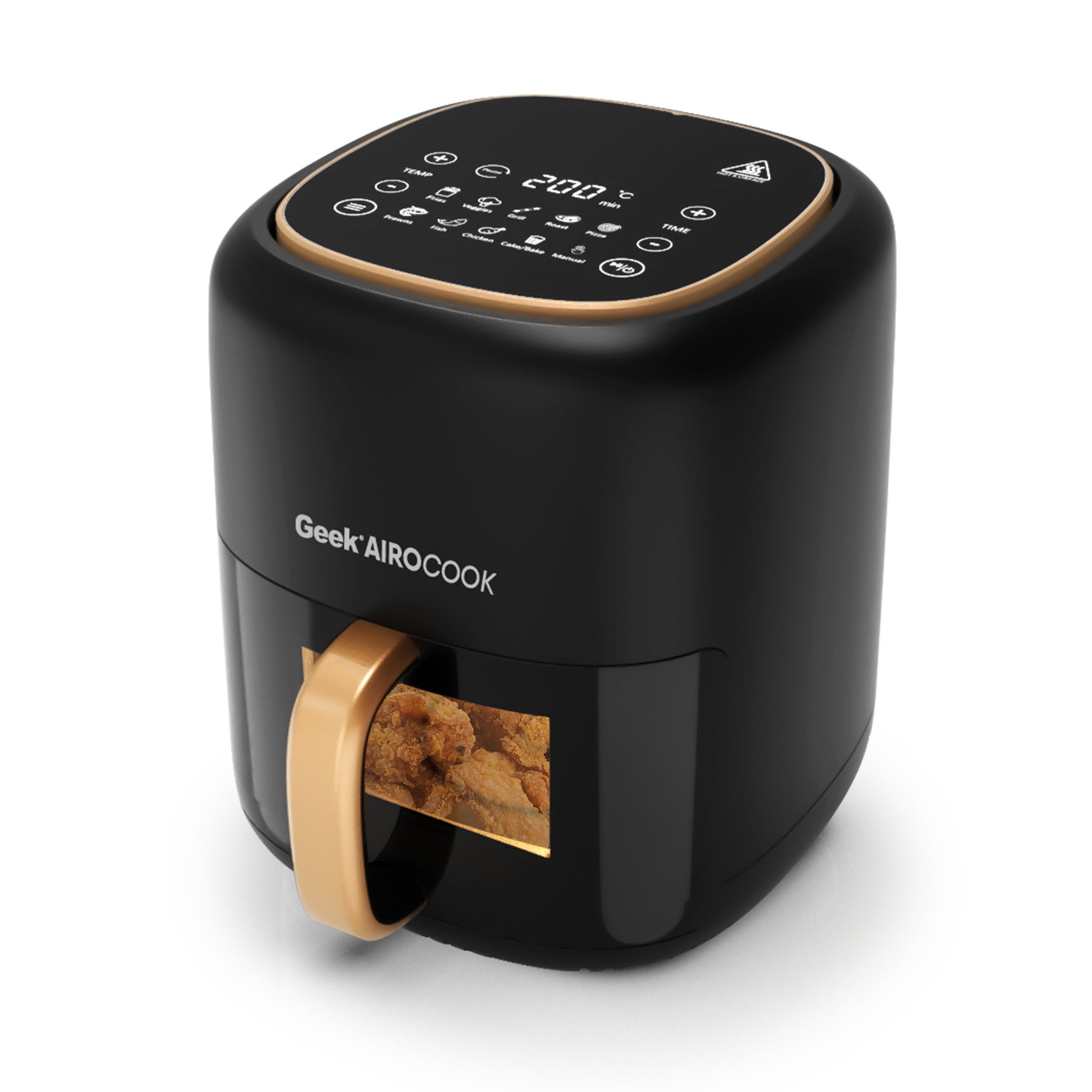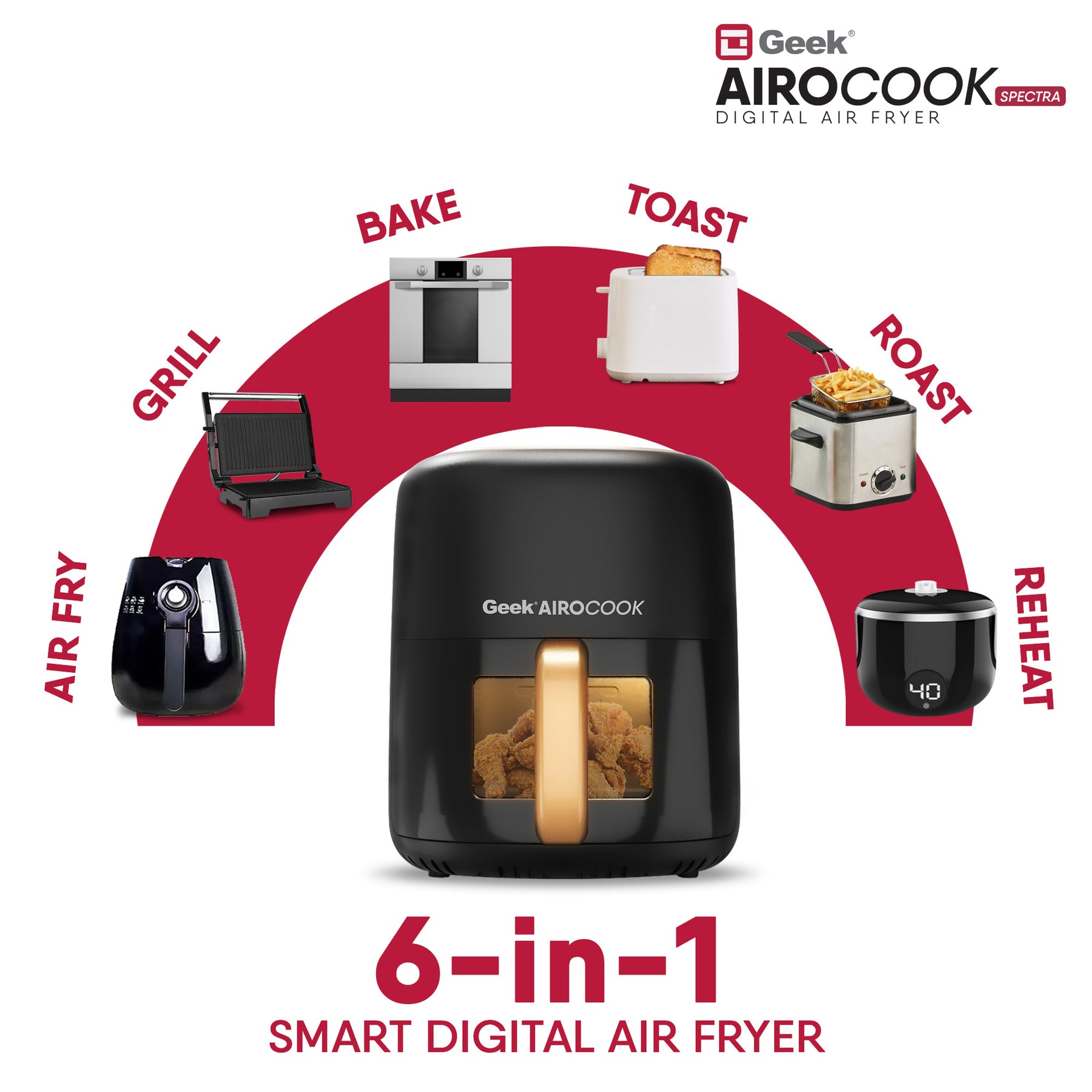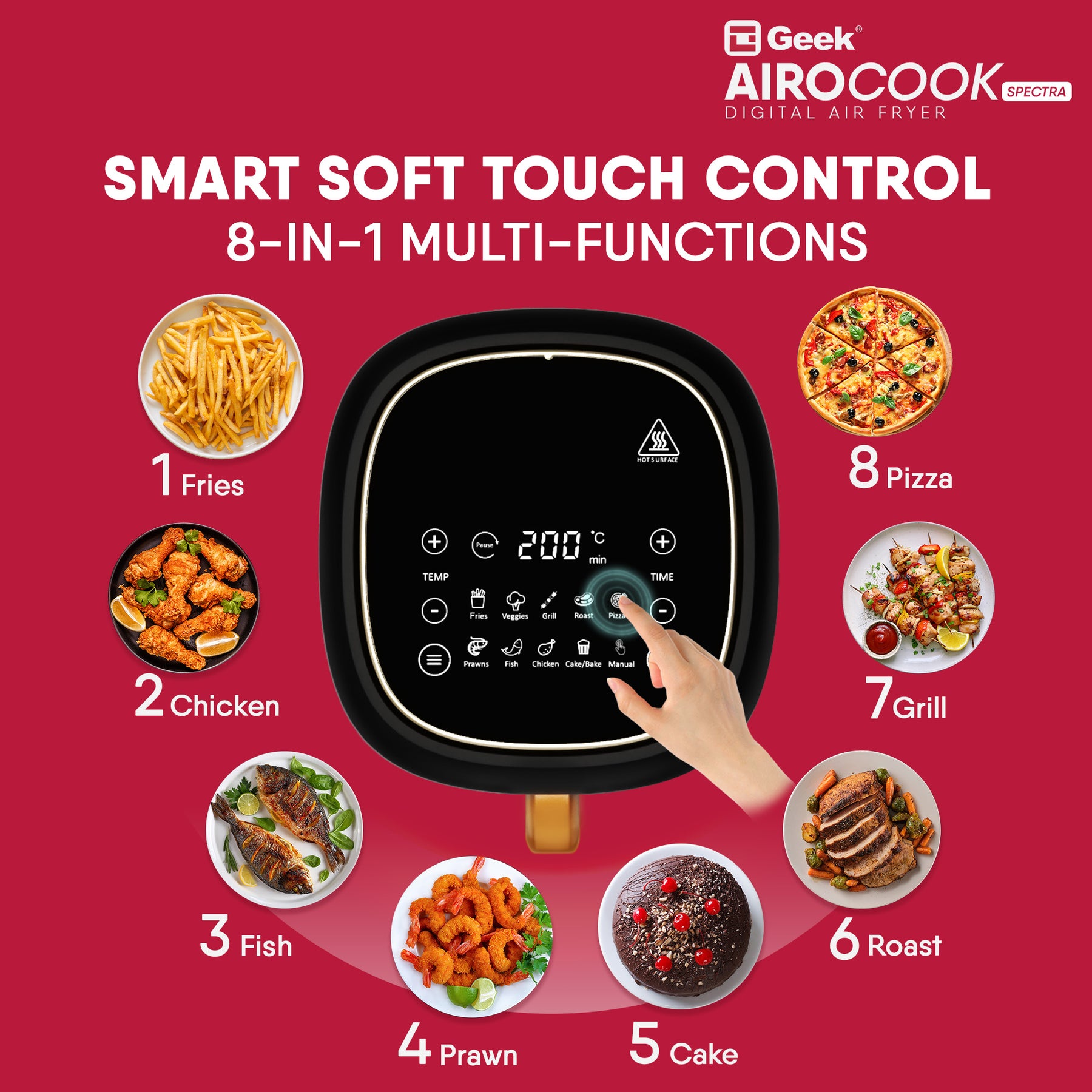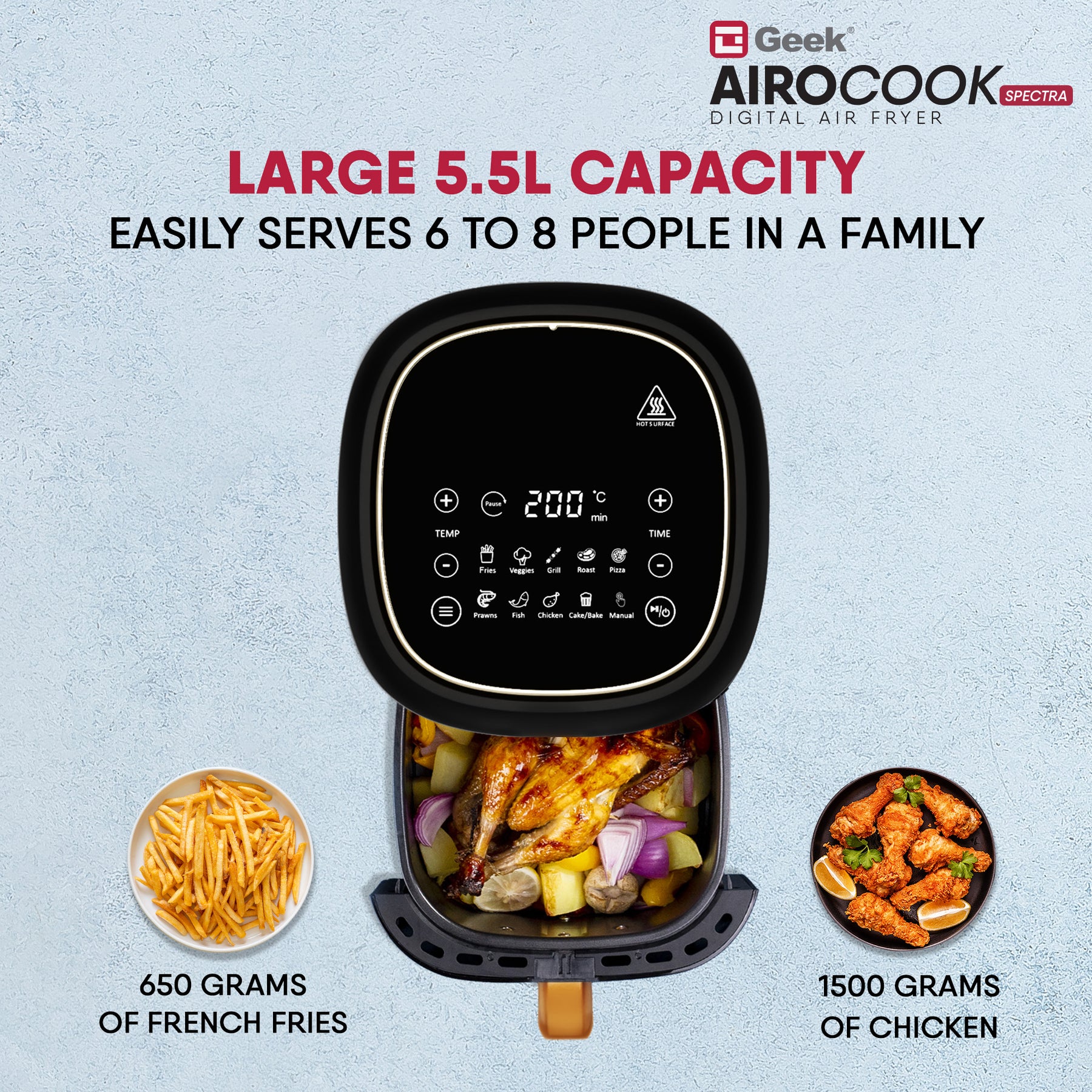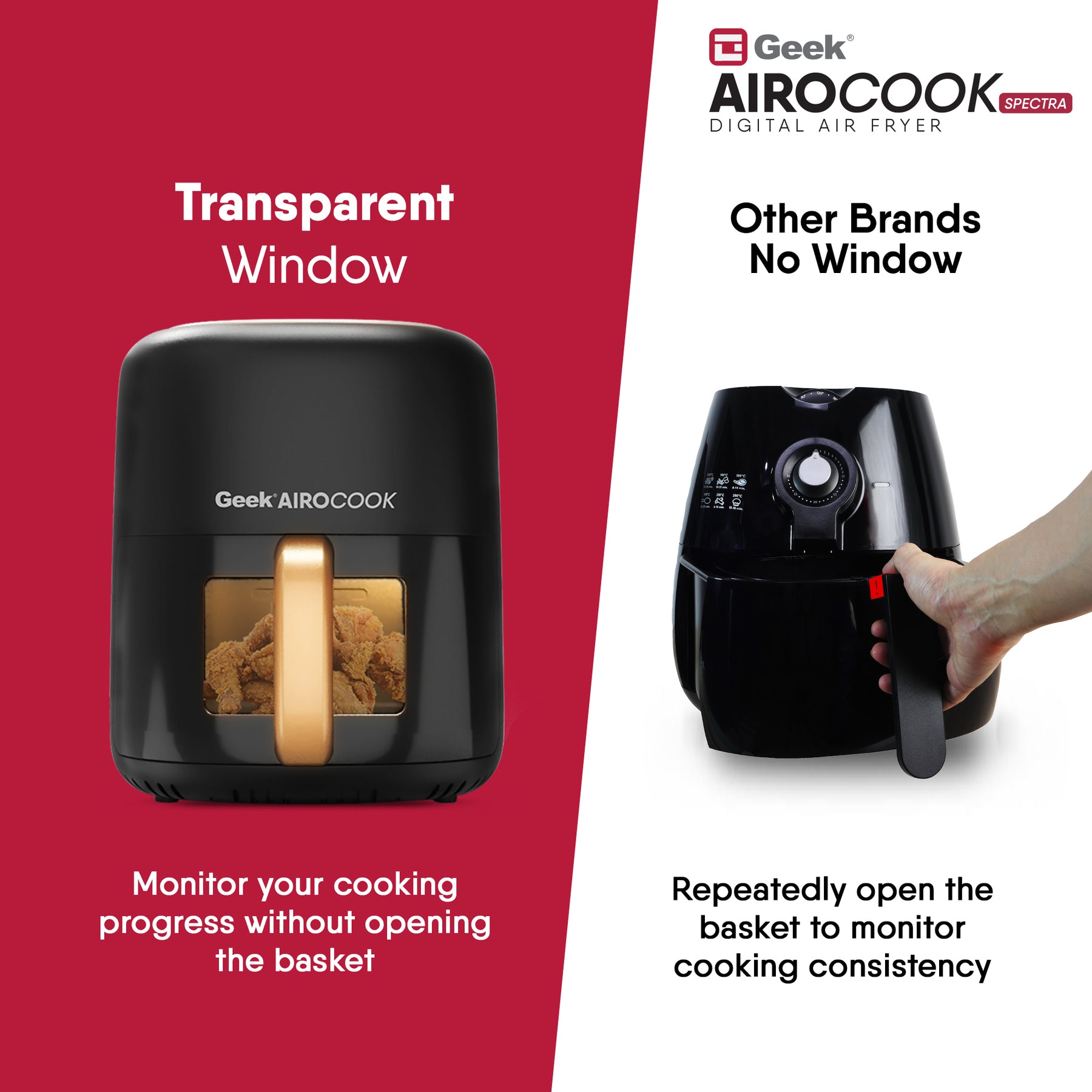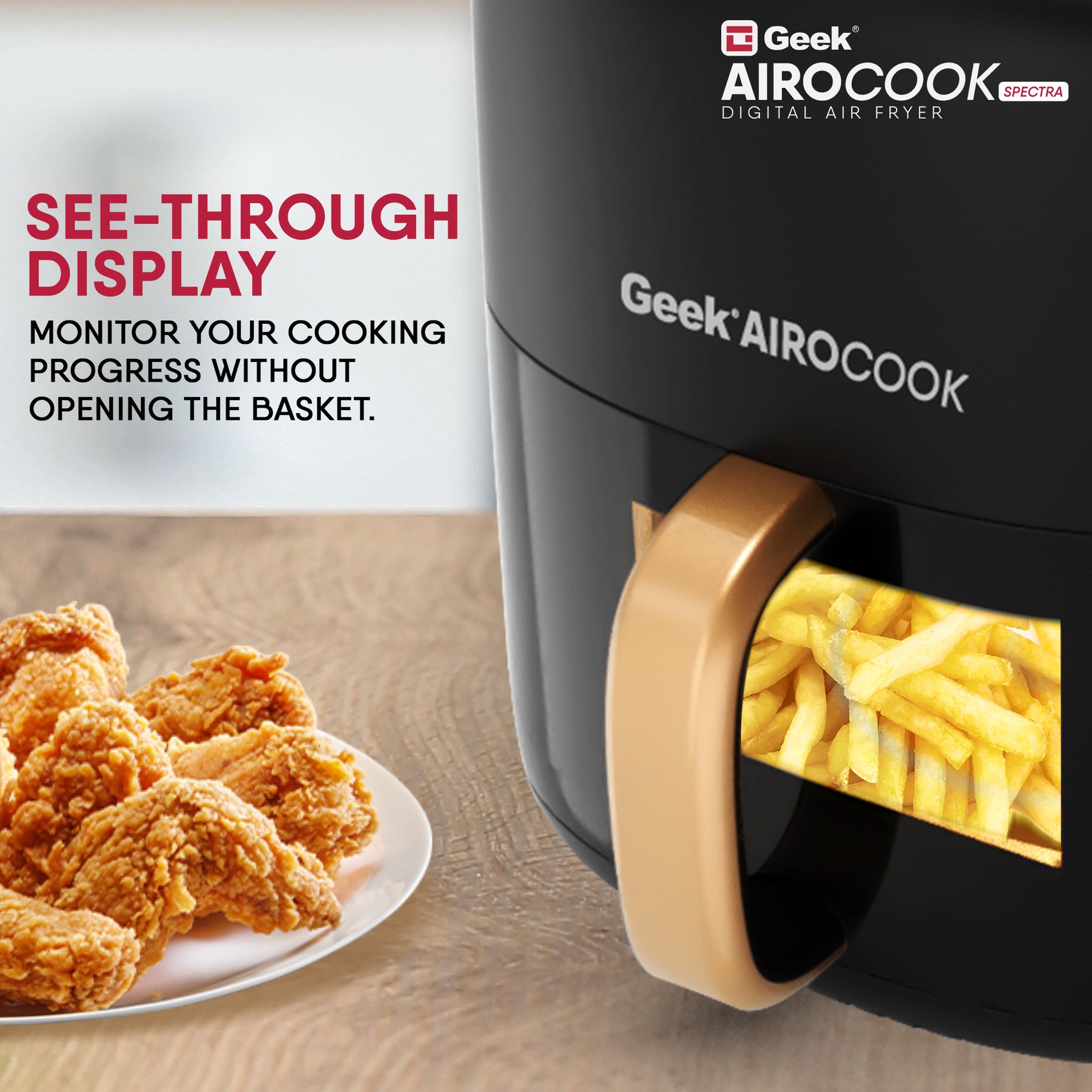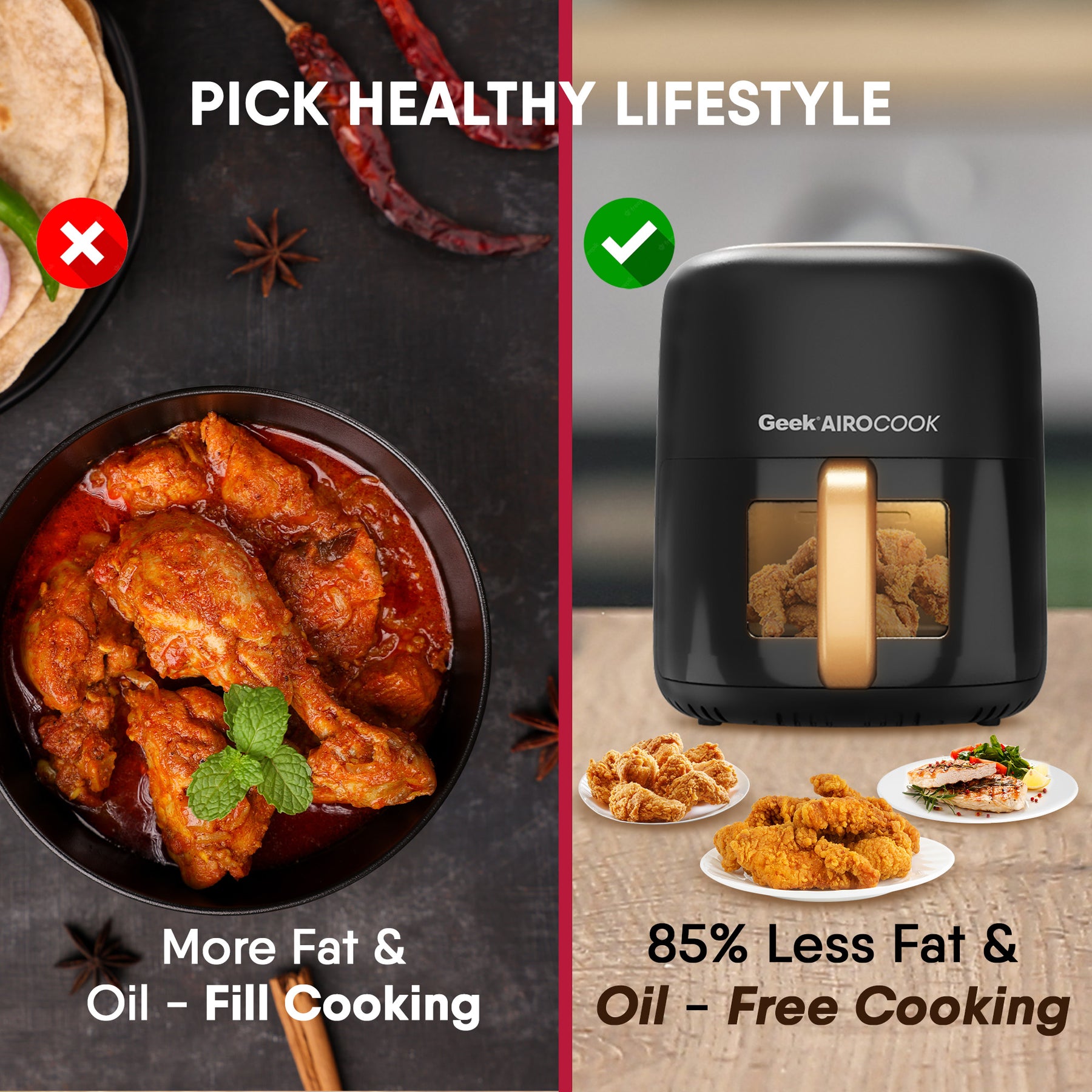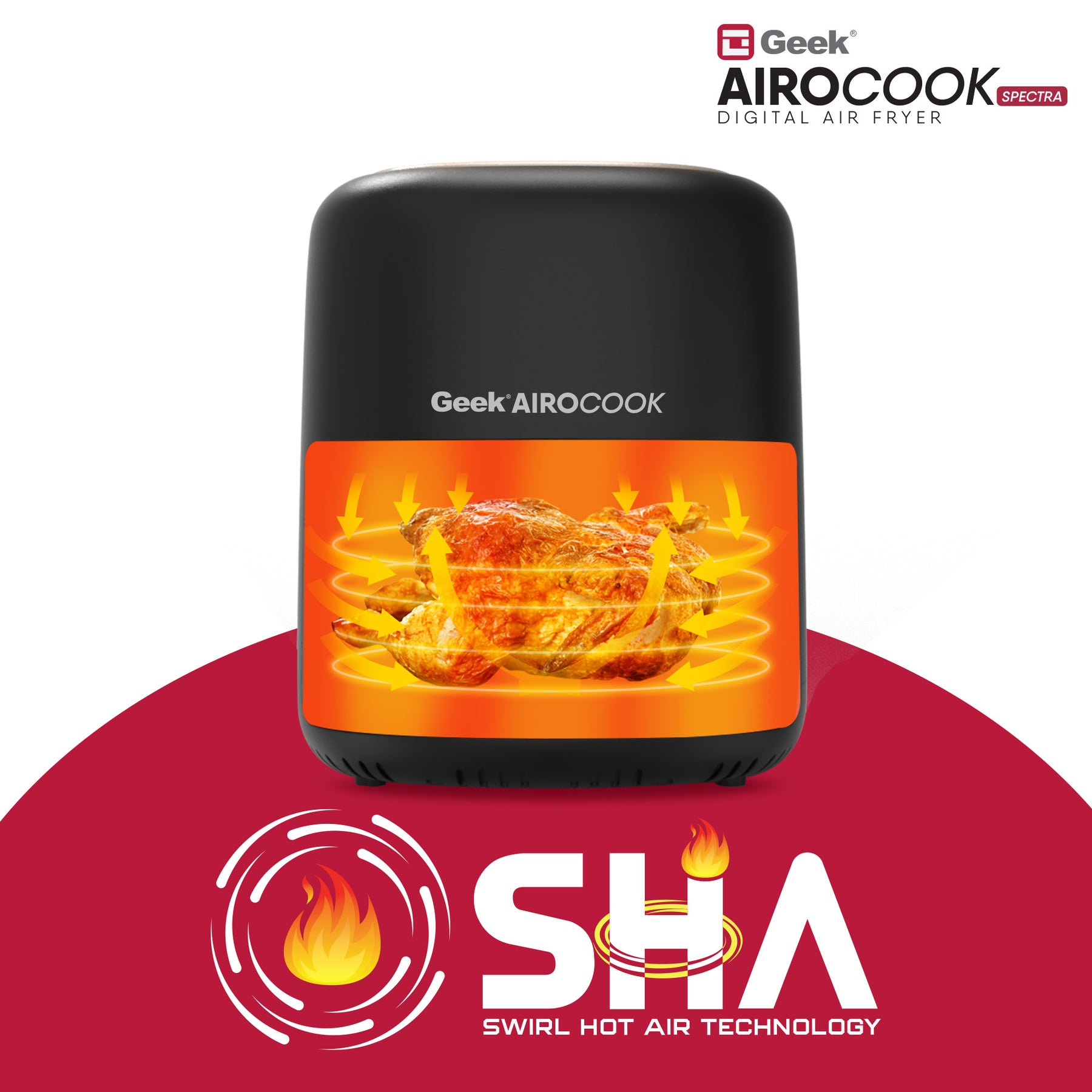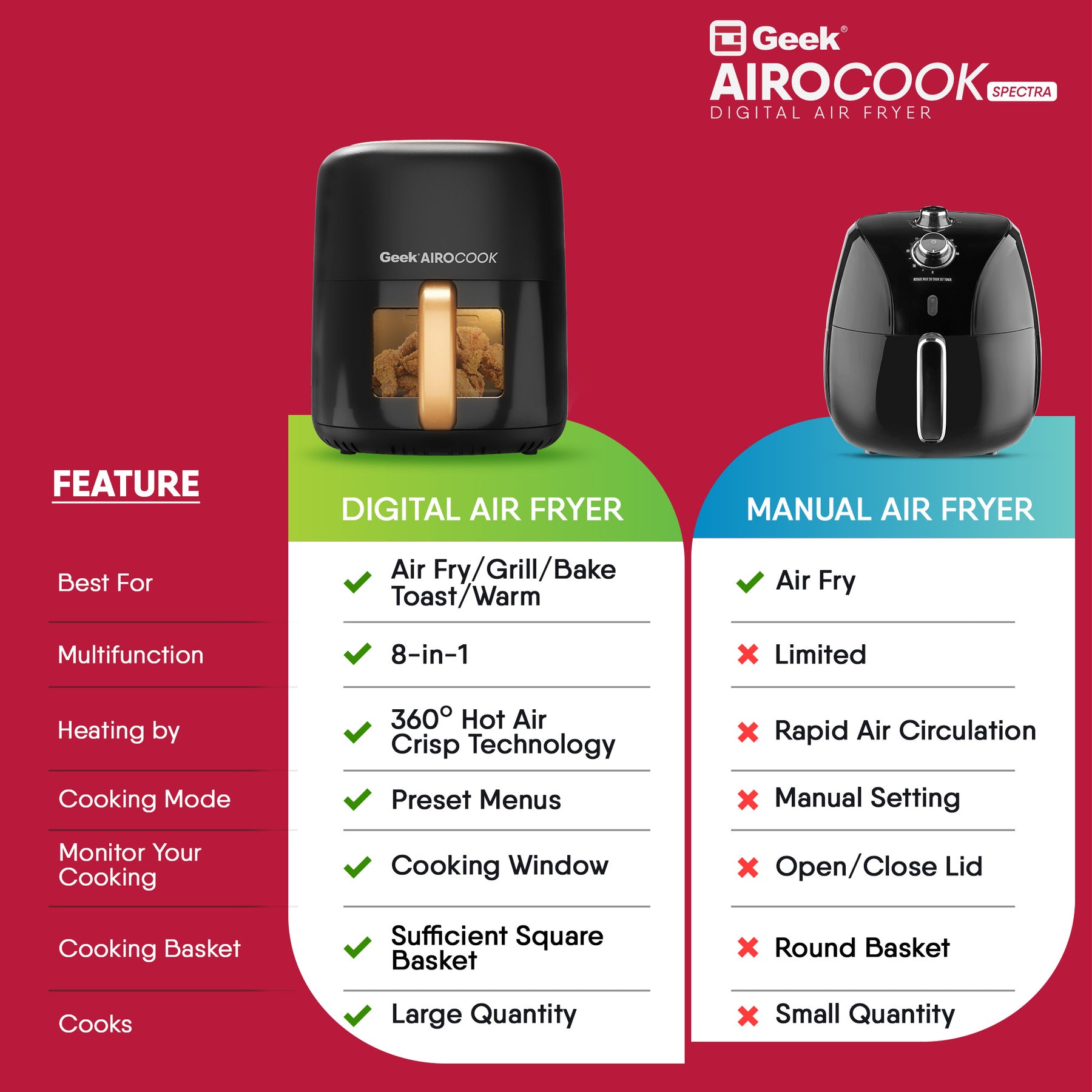 Geek Airocook Spectra 5.5L Digital Air Fryer
Inclusive of all taxes
COD
Available
EMI
Available
Shipping
Free
Service @
Doorstep
NEW-AGE MODERN AIR FRYER: Geek AiroCook Spectra 5.5L Smart Window Digital air fryer, built with the latest technology and modern design allows you to cook your favorite recipe at home with 85% less fat & less Oil than traditional deep oil-fried foods. The large capacity allows you to serve for 6 to 8 members.
ONE TOUCH COOKING: The 8 Preset cooking menu that lets you cook all kinds of veggies, fries, chicken, desserts, pizza, fish, and prawns and much more in a soft feather touch Digital Panel. Explore the wide category of recipes by setting your desired temperature (ranging from 85°c to 200°c) and time (ranging from 1-60 minutes) to your preference.
VIEW & Cook : (New 2023 Feature) Geek Airocook Spectra has the see through window and the inbuilt light which allows you to monitor the progress of cooking without removing the fryer basket each time to check the consistency of cooking.
360° SWIRL HOT AIR TECHNOLOGY: The 360° Swirl Hot Air(SHA) Technology locks the Crunchiness, Fluffiness &; Crispiness of your food for even cooking.
EASY CLEANING: No Stress or Mess! The detachable air frying basket is featured with a friendly non-stick coating which is easy to wipe and clean with a soft damp cloth
RECIPE APP: Download Geek Recipe App from play store that contains exclusive Recipes with Videos covering Fillets, Butternut Squash, Tacos, Bacon &  Scotch Eggs and many more.
WARRANTY & SUPPORT: Geek AiroCook Spectra Comes with 1-year warranty and FREE Door step service is provided covering 28+ States, 440+ Cities, 19000+ Pin-codes
WHAT'S INSIDE? The Geek AiroCook Spectra includes Smart window digital air fryer Body with LED touch screen, 5.5L Non-Stick Cooking Basket, Recipe Book & Manual.
Geek Airocook Spectra
Why Geek Airocook Spectra
Very nice
It works perfect. I made few things like garlic bread, chicken Tikka etc and result was delicious. 😁. Go for it..
Great Deal
I recently purchased this Geek air fryer through Amazon. The delivery from amazon was smooth and packaging was excellent with a double carton boxInitially we were a little worth every money spent. For a family of 3 to 4 this is sufficient and serves the purpose of instant healthy cooking. It's very easy to use and the menus areapprehensive about buying an Air fryer online for home use. But based on first hand experience, I would say, it's an all-rounder and self-explanatory. Touch controls are superior and also accurate. This saves a lot of my time and also feels better than cooking using a gas stove. Regarding the outcome, I tried cooking French fries and chicken roast. Both came out very well and tasted much better than the normal gas cooking,So far, we have always avoided eating fried items due to health considerations, but this Air fryer is very helpful in almost oil free cooking and works great. So far it's an excellent buy and makes sense in terms of value for money.
Top class
Sleek & elegant design. High in performance, low in Price.
Top class
Sleek & elegant design. High in performance, low in Price.