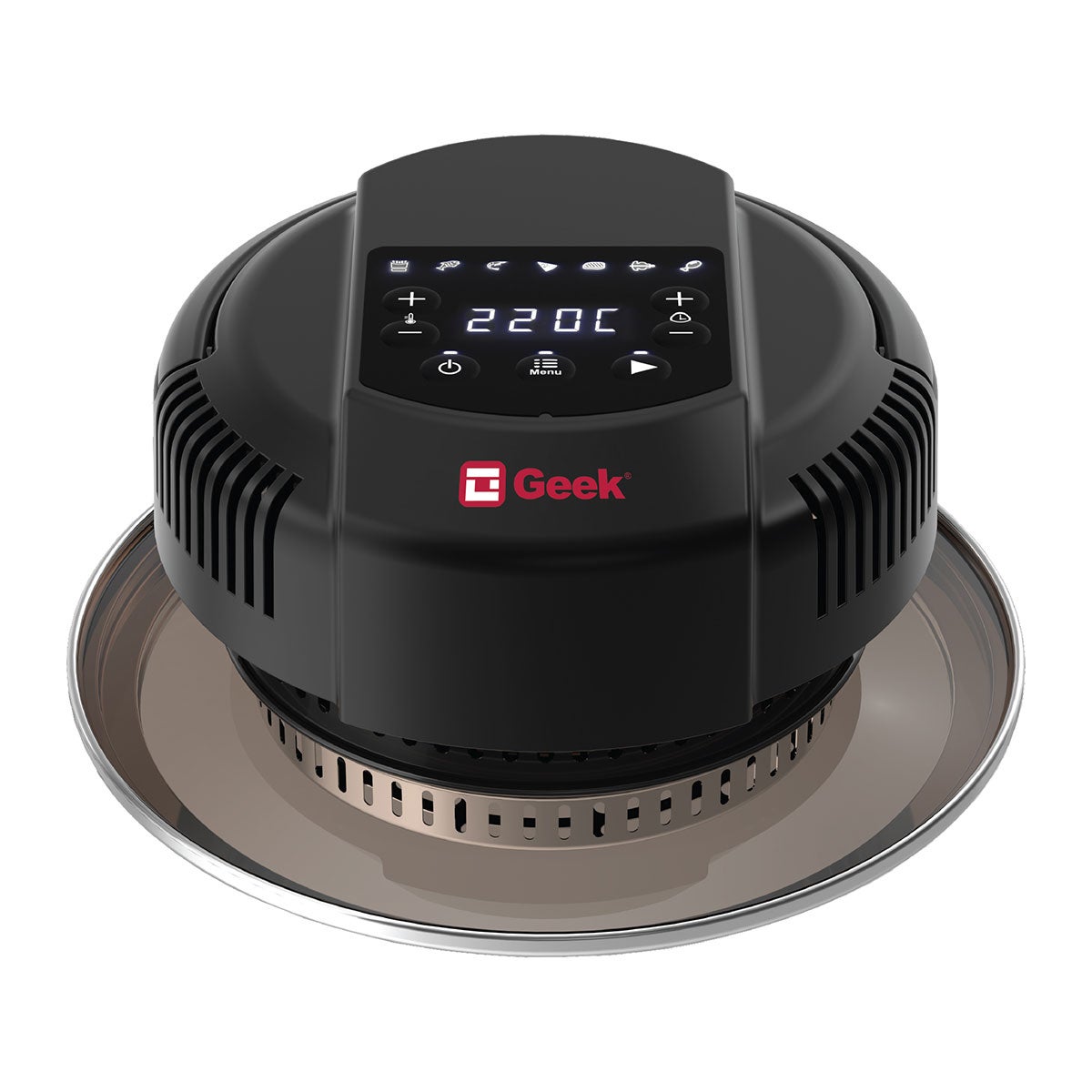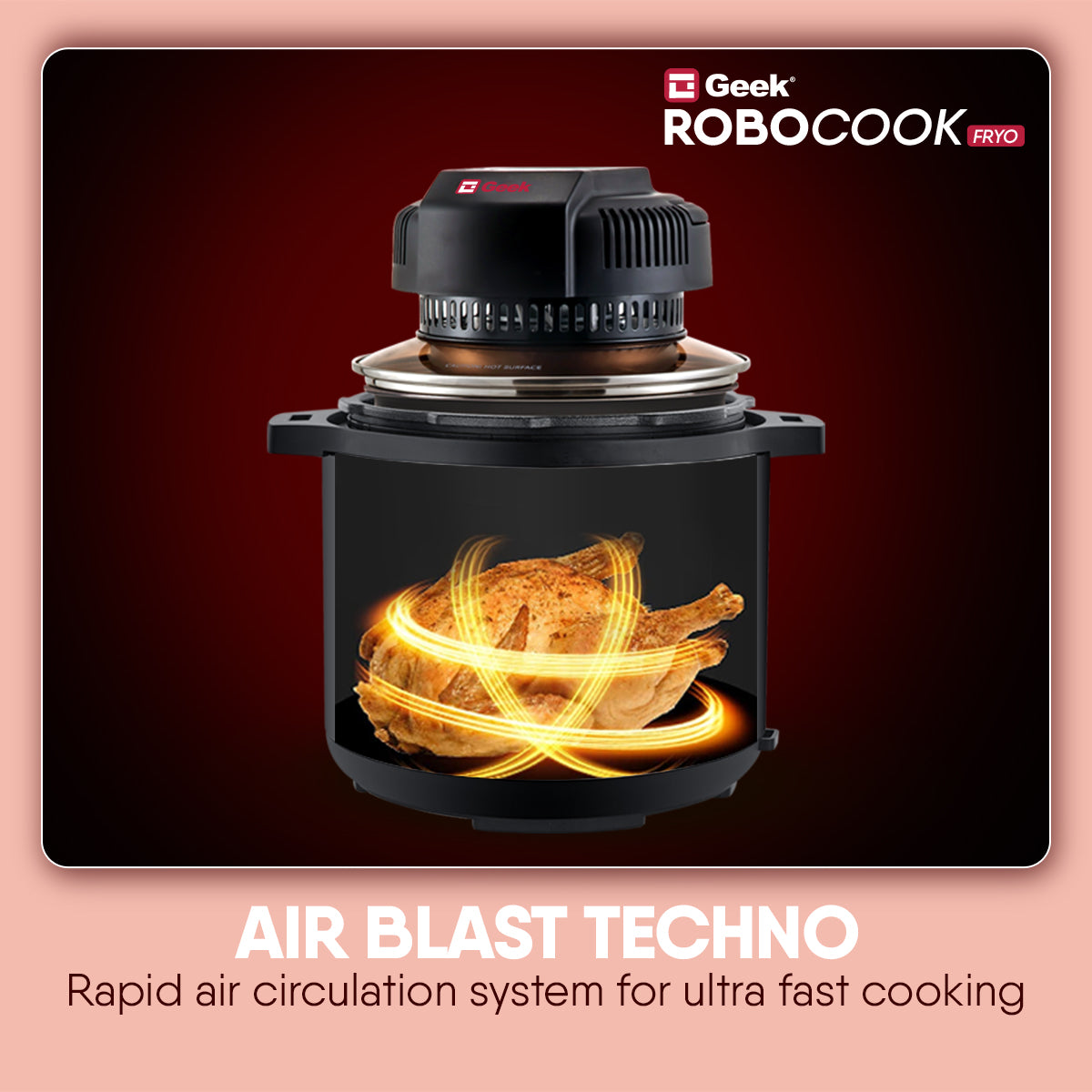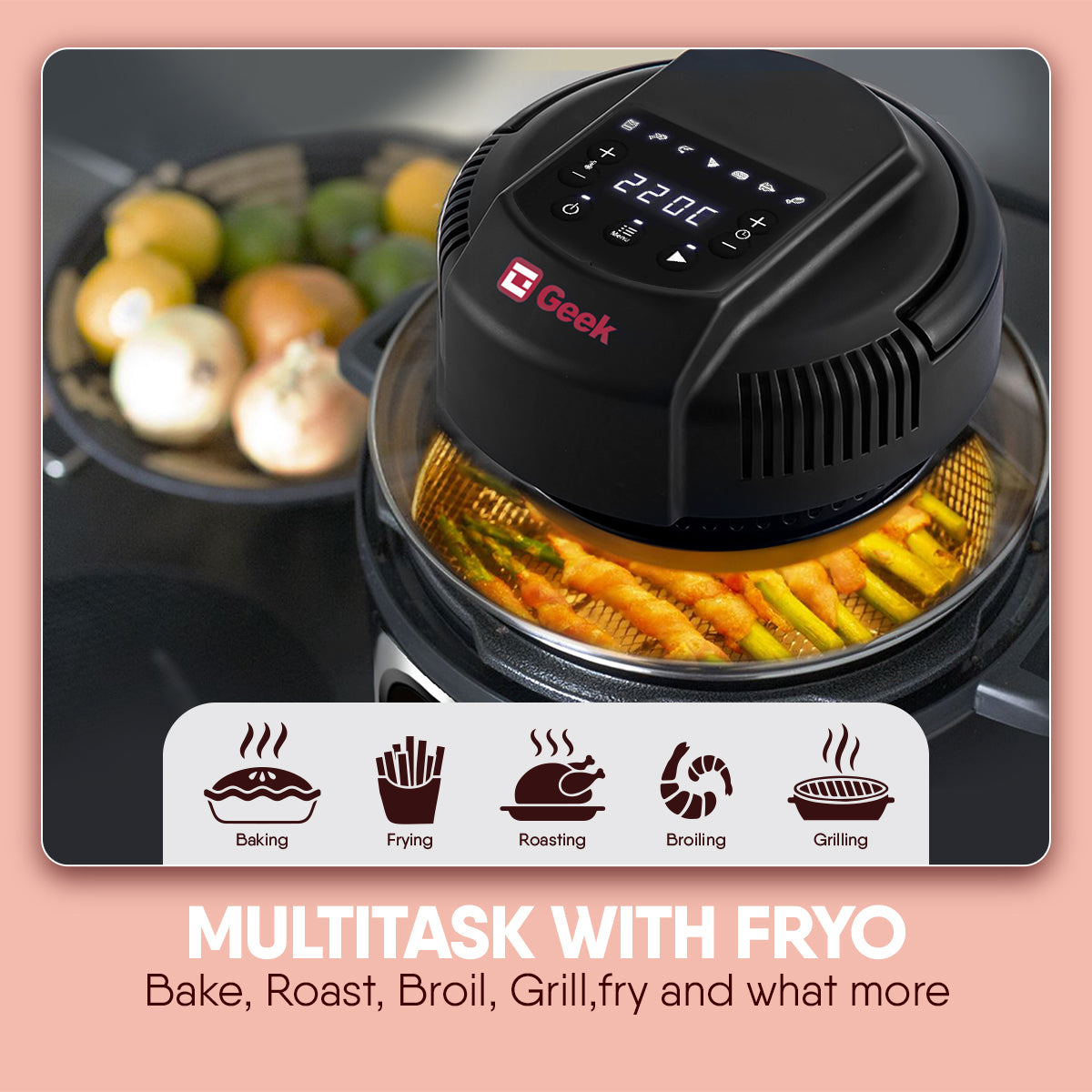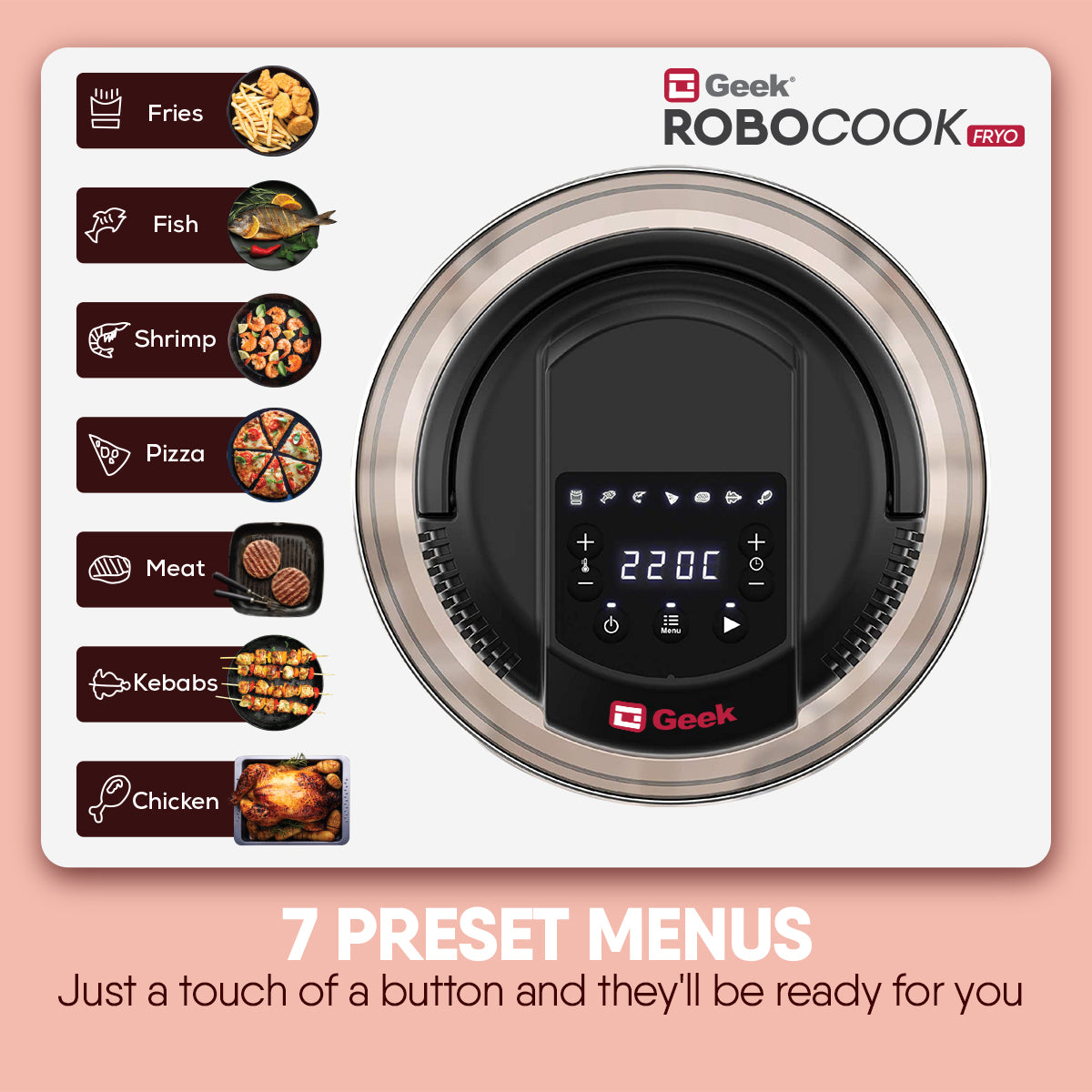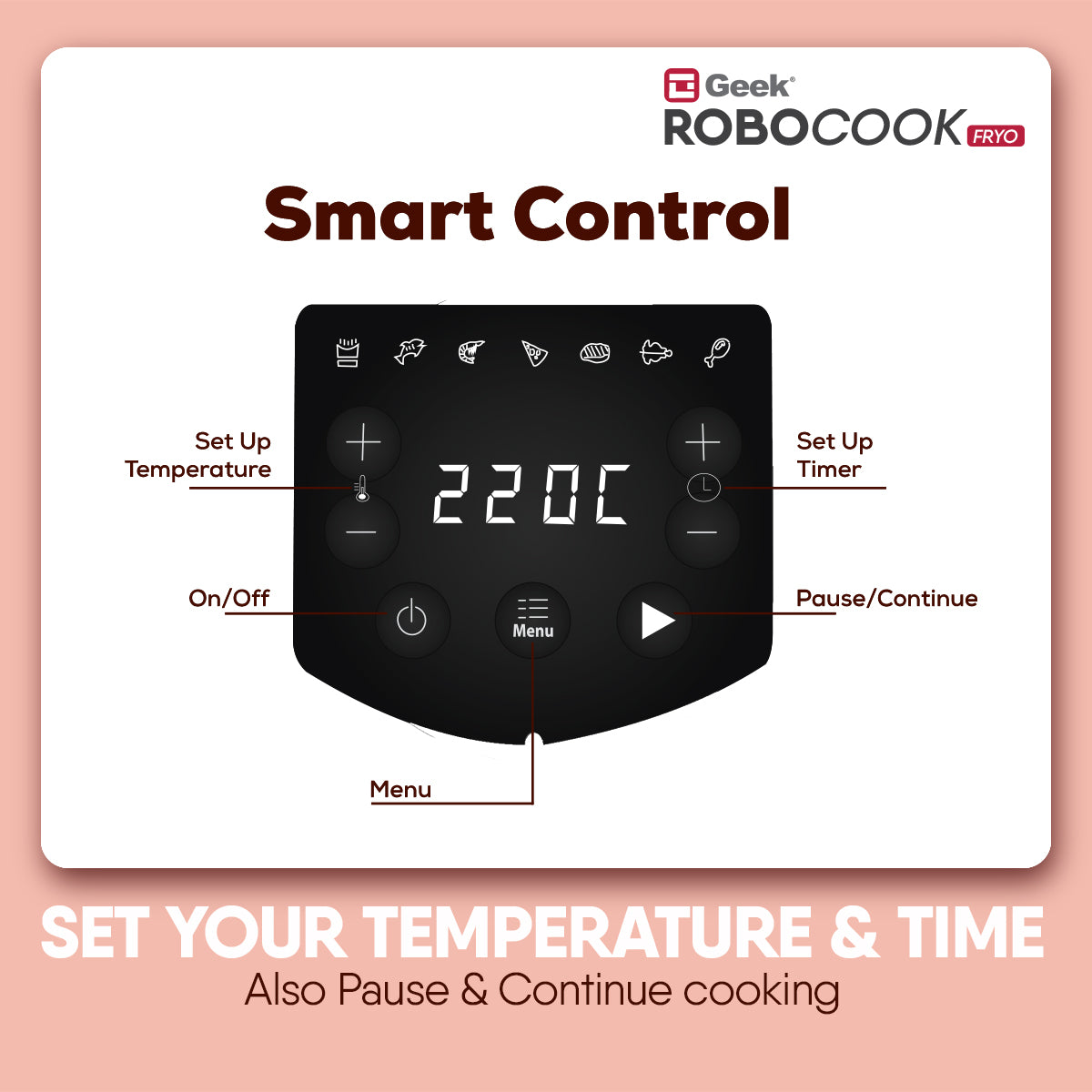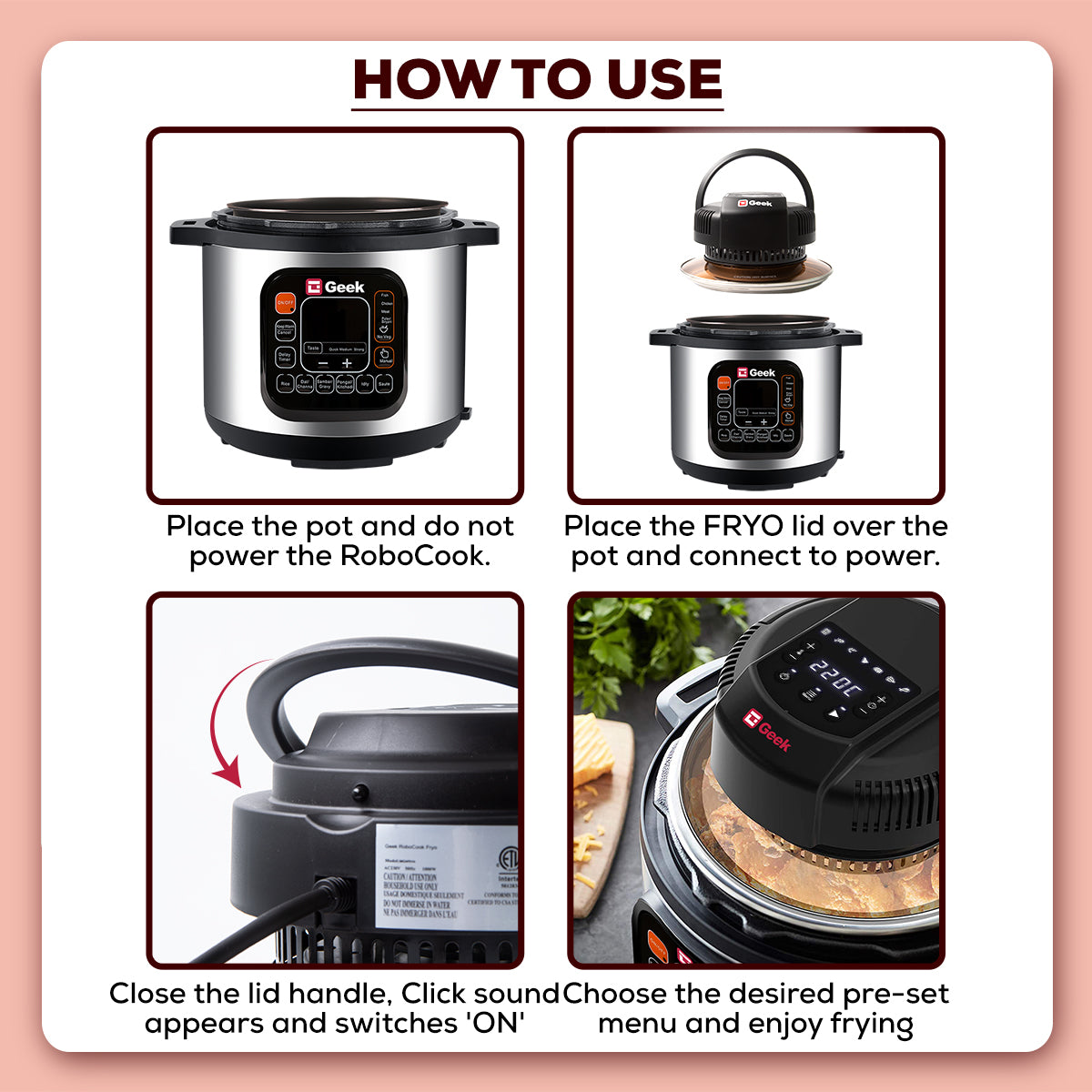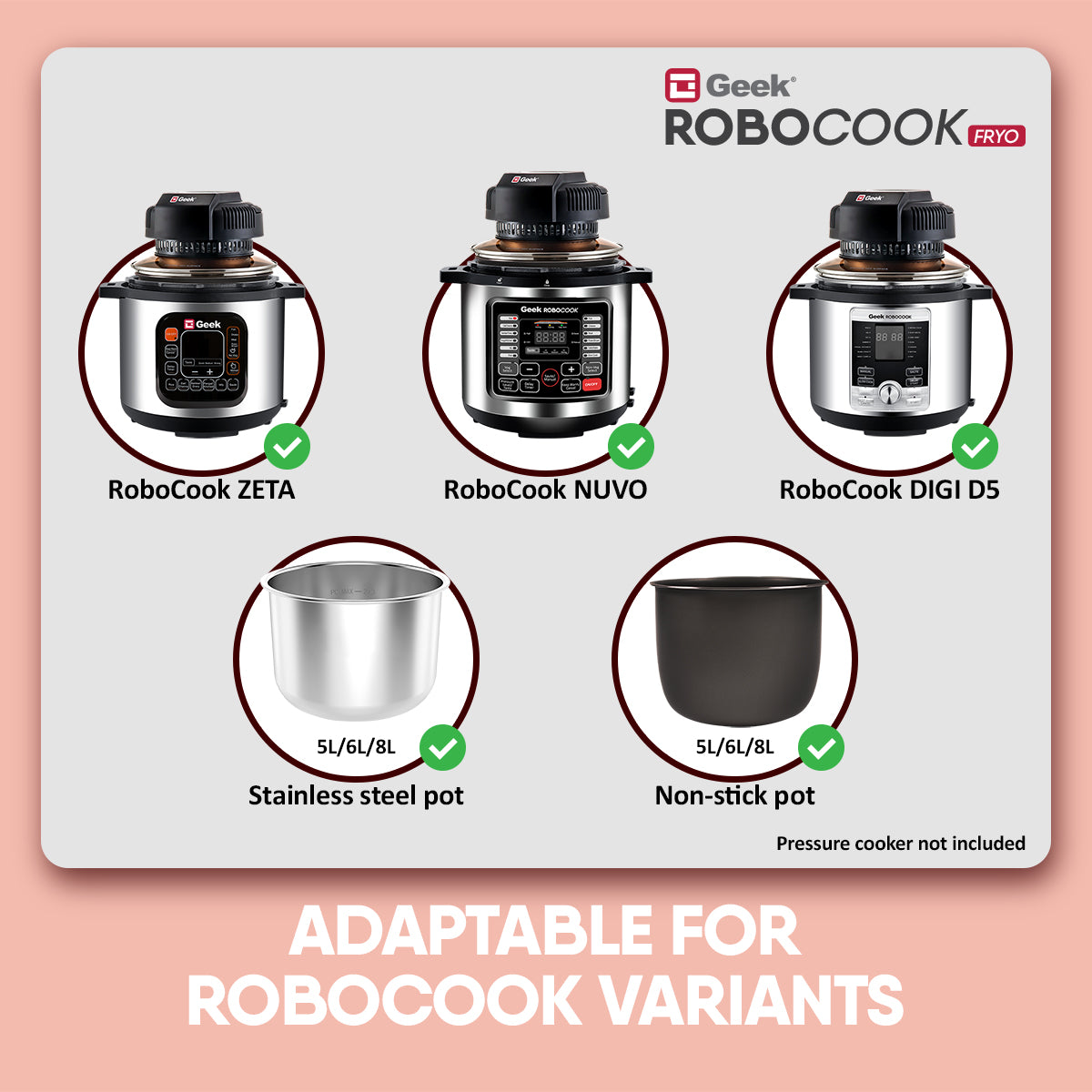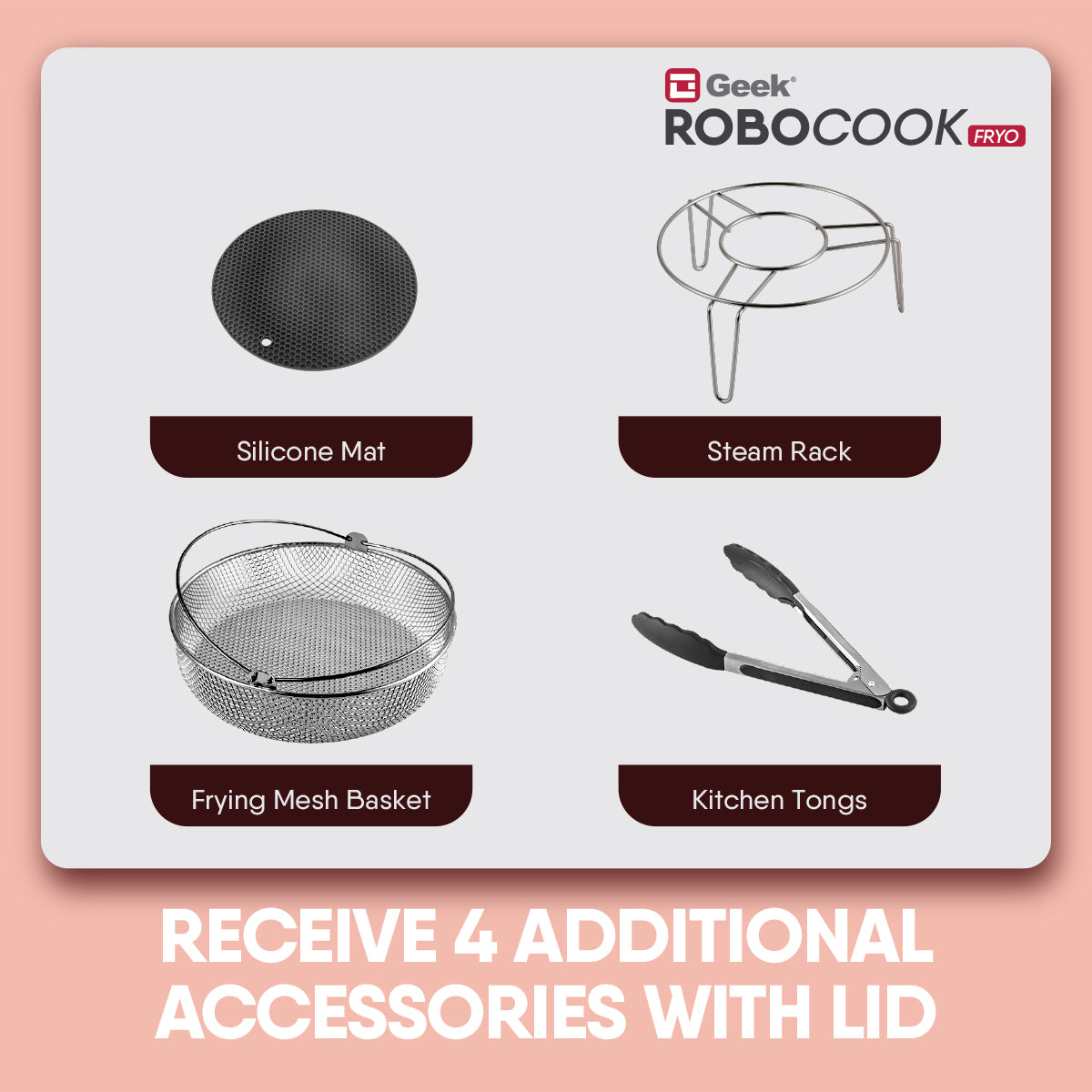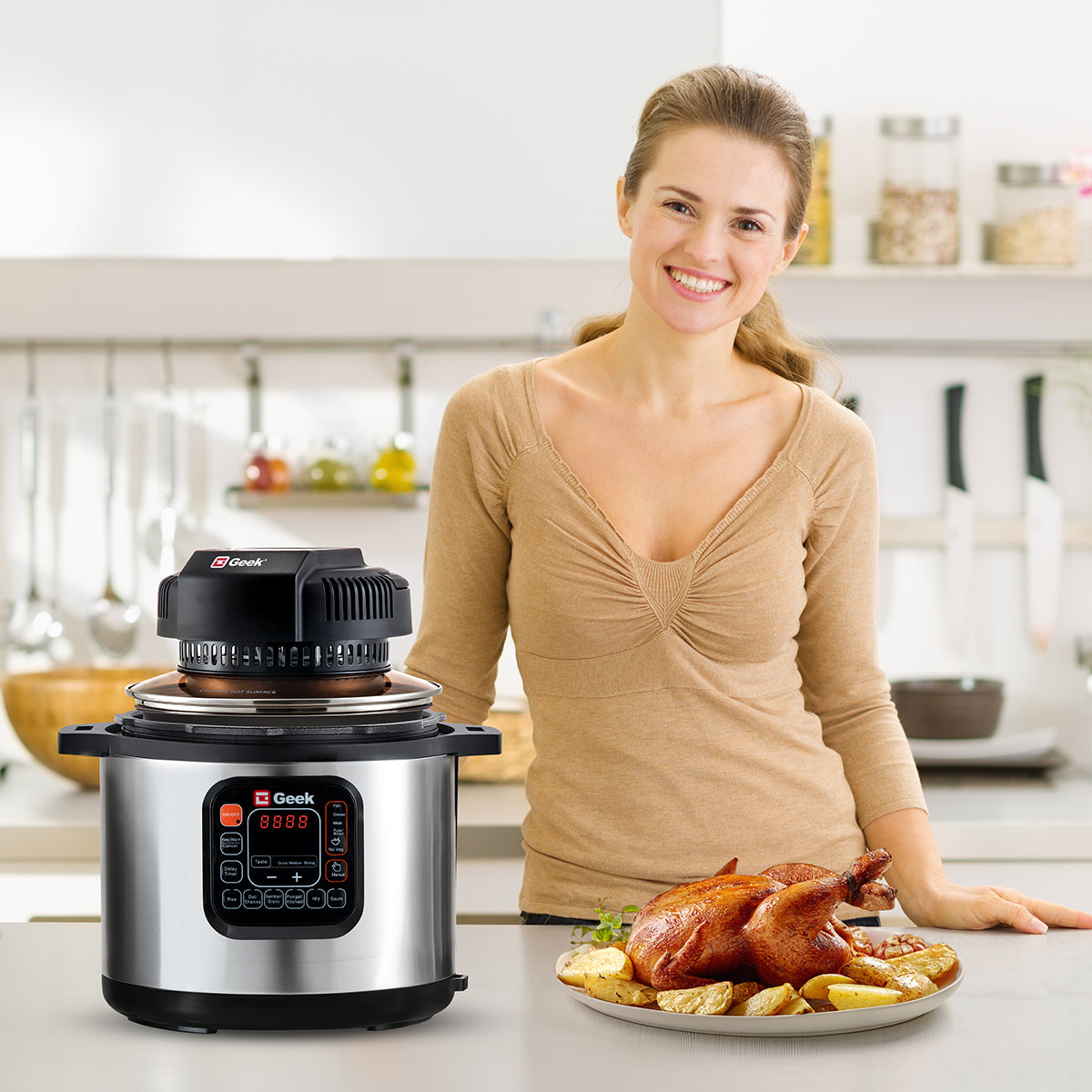 Geek Robocook Fryo - Smart Air Fryer
Inclusive of all taxes
COD
Available
EMI
Available
Shipping
Free
Service @
Doorstep
UPDATE YOUR ROBOCOOK: Lets add a crown to our Robocook! Geek Robocook Fryo turns your electric pressure cooker to air fryer. Baking, frying, roasting, broiling, grilling and what more? - Multi-task your electric pressure cooker with fryo, adaptable with Geek Robocook Zeta 5L, Zeta 8L, Digi D5 and Nuvo models.

AIR BLAST TECHNO: Cook your favorites in your kitchen with Geek Robocook Fryo, built in with air blast technology and rapid air circulation system for ultrafast cooking with optimal energy usage.

7 PRESET MENUS: Fryo makes cooking simpler with preset menus. Make your favorite pizza, chips, fish, shrimp, chicken, steak and roast at home with just one press. Transparent lid with light is an added advantage to view your cooking.

SMART CONTROL: Set your desired temperature and required timer using the smart control panel. Also pause/continue cooking to your convenience. Add silicone mat, steam rack, frying mesh basket and kitchen tongs to your list with Fryo.

HEALTHY COOKING: Never have to give up your favorites to be healthy. Geek Robocook Fryo Smart air fryer help you cook with less or no oil, cuts 85% less fat and 70% of calories yet retaining nutrition and delivering healthy fried foods.

| | |
| --- | --- |
| Country of Origin | China |
| Brand | Geek |
| Length (CMS) | 31 |
| Breath (CMS) | 23.5 |
| Height (CMS) | 29 |
| weight (in KGS) | 2.4 |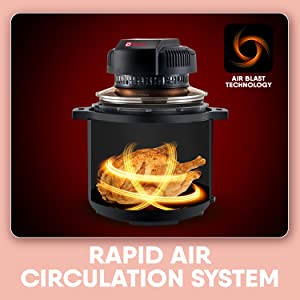 AIR BLAST TECHNOLOGY
Lets make it quick with optimal energy! Enjoy Ultrafast cooking using Fryo infused with Air Blast technology and rapid air circulation system.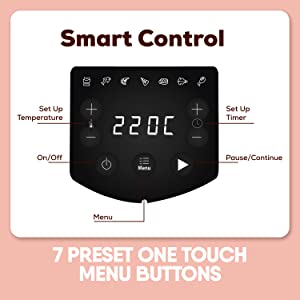 7 PRESET ONE TOUCH MENU BUTTONS
Treat yourself at home with roasted potatoes, crispy corn/fries, grilled chicken, broiled shrimp, steak fish, baked pizzas, zesty paneer kebabs with just one touch preset menu buttons.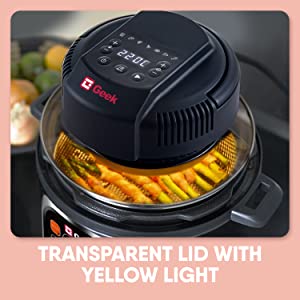 VISIBLE COOKING
Transparent lid with ambient yellow light and LED panel provides you a clear visibility while cooking. Add space saving Geek Robocook Fryo to your kitchen and enjoy instant cooking.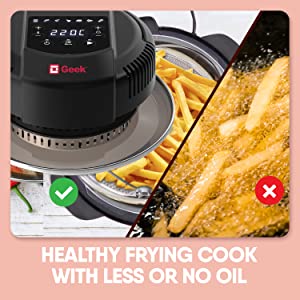 HEALTHY COOKING
Why not cook healthy fried foods? Cook your favorite food with oil less or no oil, also cut 85% less fat and 70% of calories yet eating your favorite foods with nutrition.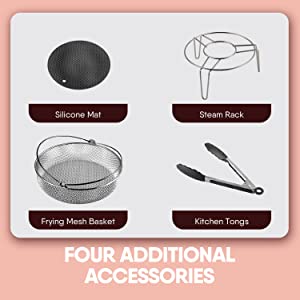 ACCESSORIES
Add on to your list Geek Robocook Fryo smart air fryer lid reaches you with additional accessories which includes silicone mat, steam rack, frying mesh basket and kitchen tongs.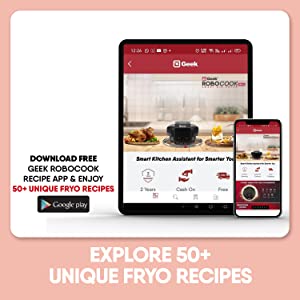 DIGITAL CONNECT
Introducing Geek Robocook Recipe App as your new kitchen companion! Get exclusive access to 50 plus unique air fryer recipes and start exploring various recipes at your kitchen.
Related Video
For Geek Robocook Fryo
Turn Your Electric Pressure Cooker into Air Fryer
The product carries a rated wattage of 1000W.
The product comes with 2 years Standard Replacement Warranty.
The Geek Robocook Fryo comes with a silicone mat, a kitchen tongs, a steam rack, and a frying mesh basket.
In this Geek Robcook Fryo, you can set a maximum temperature up to 220 degrees Celsius.
The Geek Robocook Fryo fit with the Electric pressure cooker of size varies from 5L – 8L.
With this Geek Robocook Fryo you can bake, grill, roast, broil, and fry.
The Mesh fryer can hold the weight of half to one kilograms of vegetables.
Yes, you can choose your own manual timing for cooking. But it's advisable to use the pre-set menus available initially while using this air fryer.
The Geek Robocook Fryo comes with a 7 pre – set menus.
Yes, you can pause and resume the cooking whenever required by just clicking the pause button.