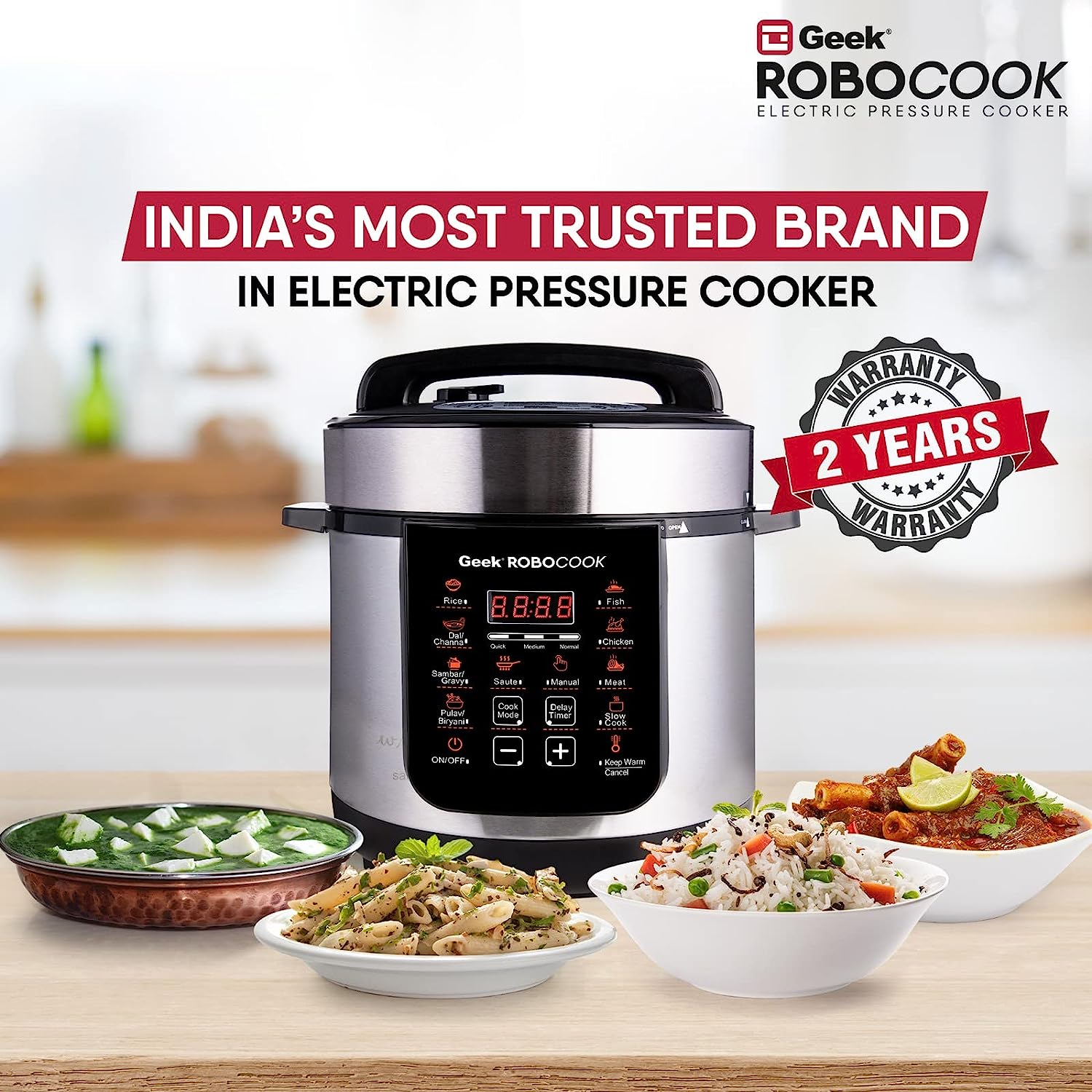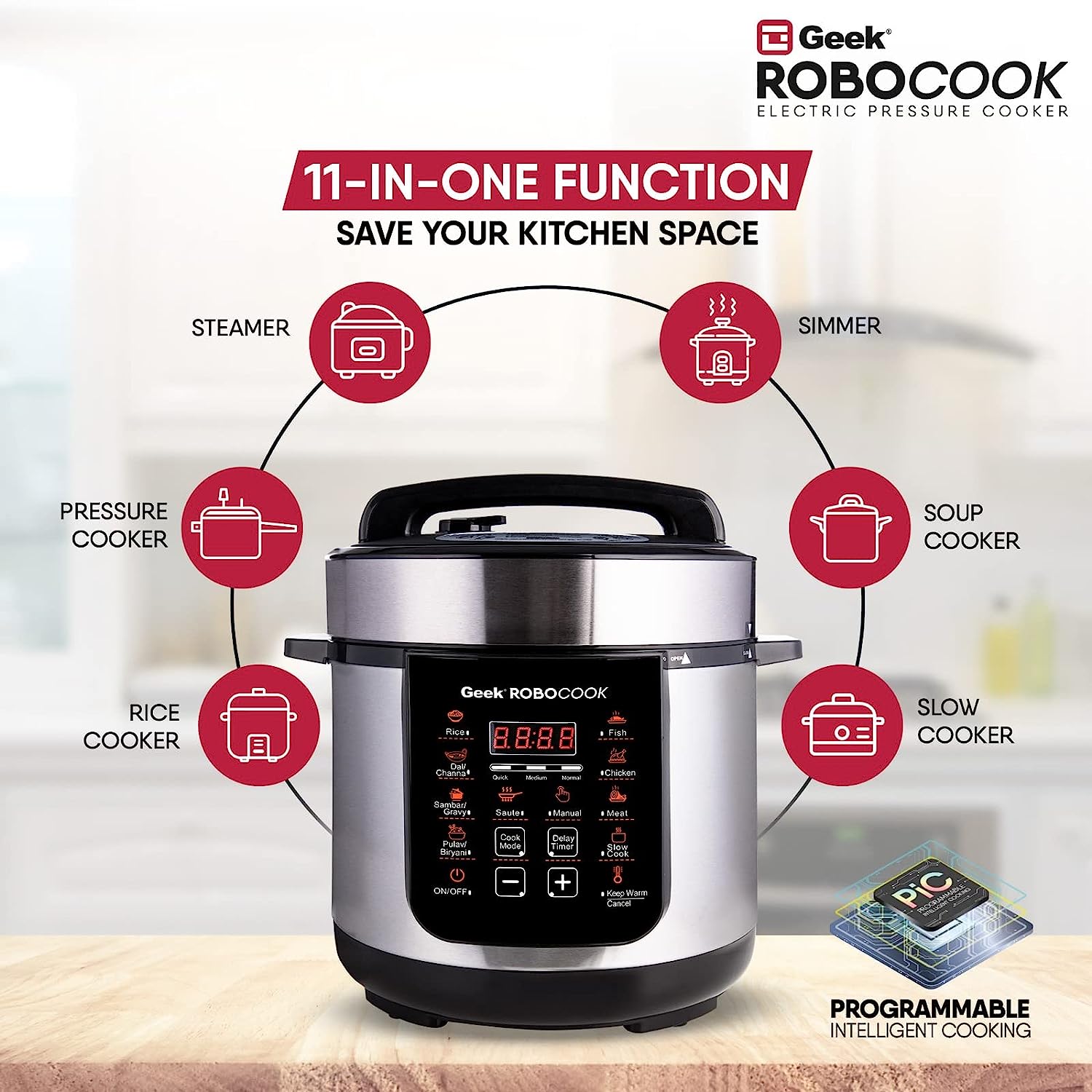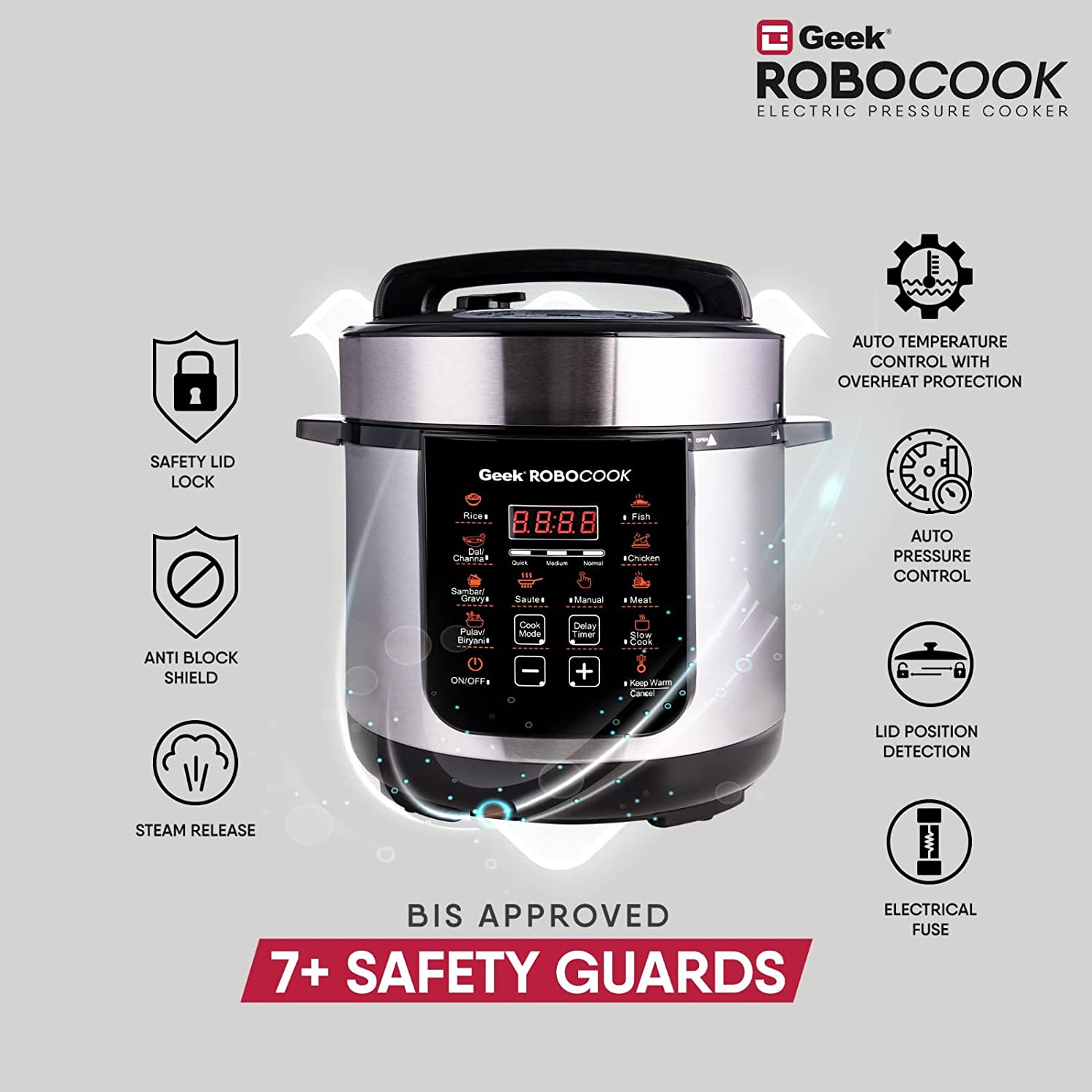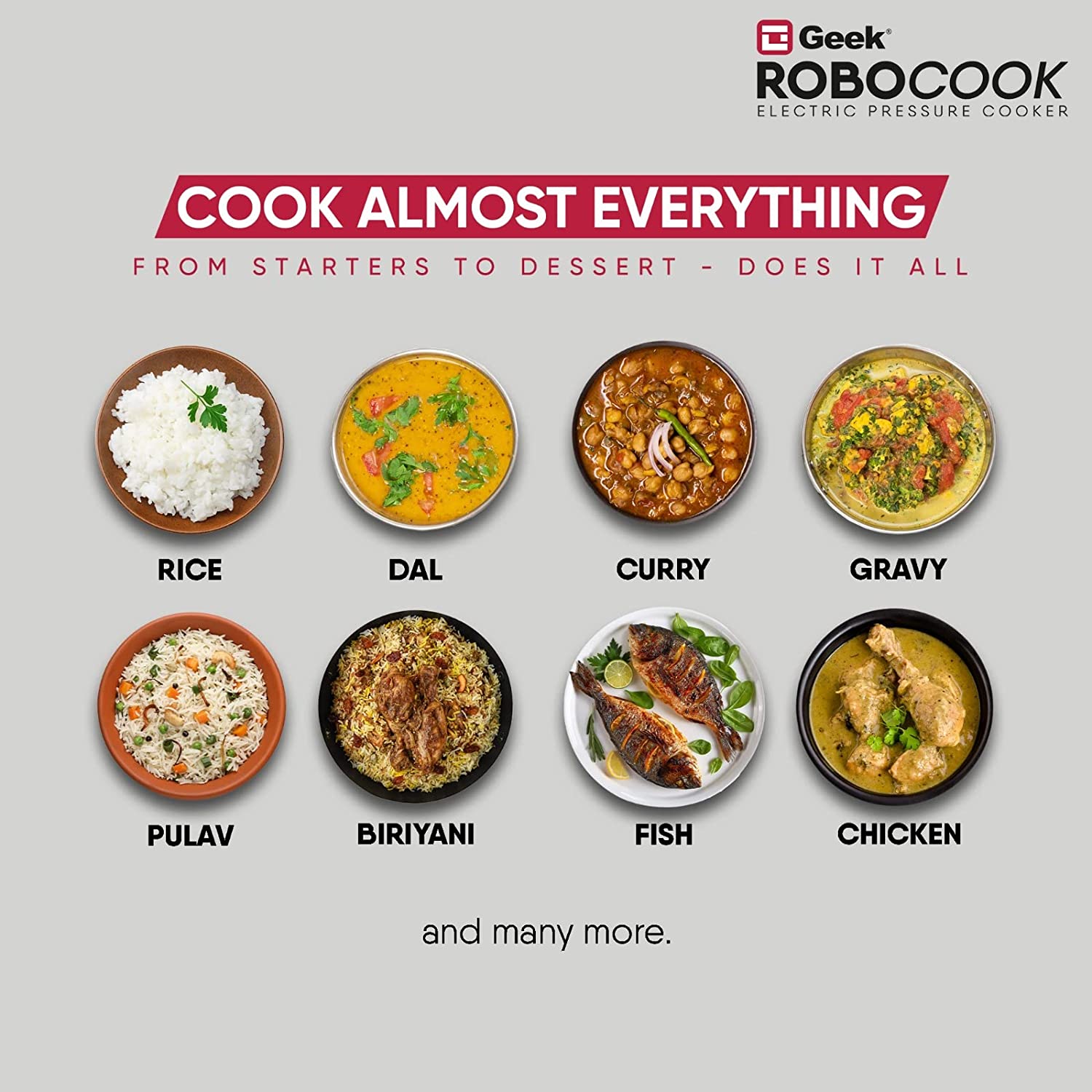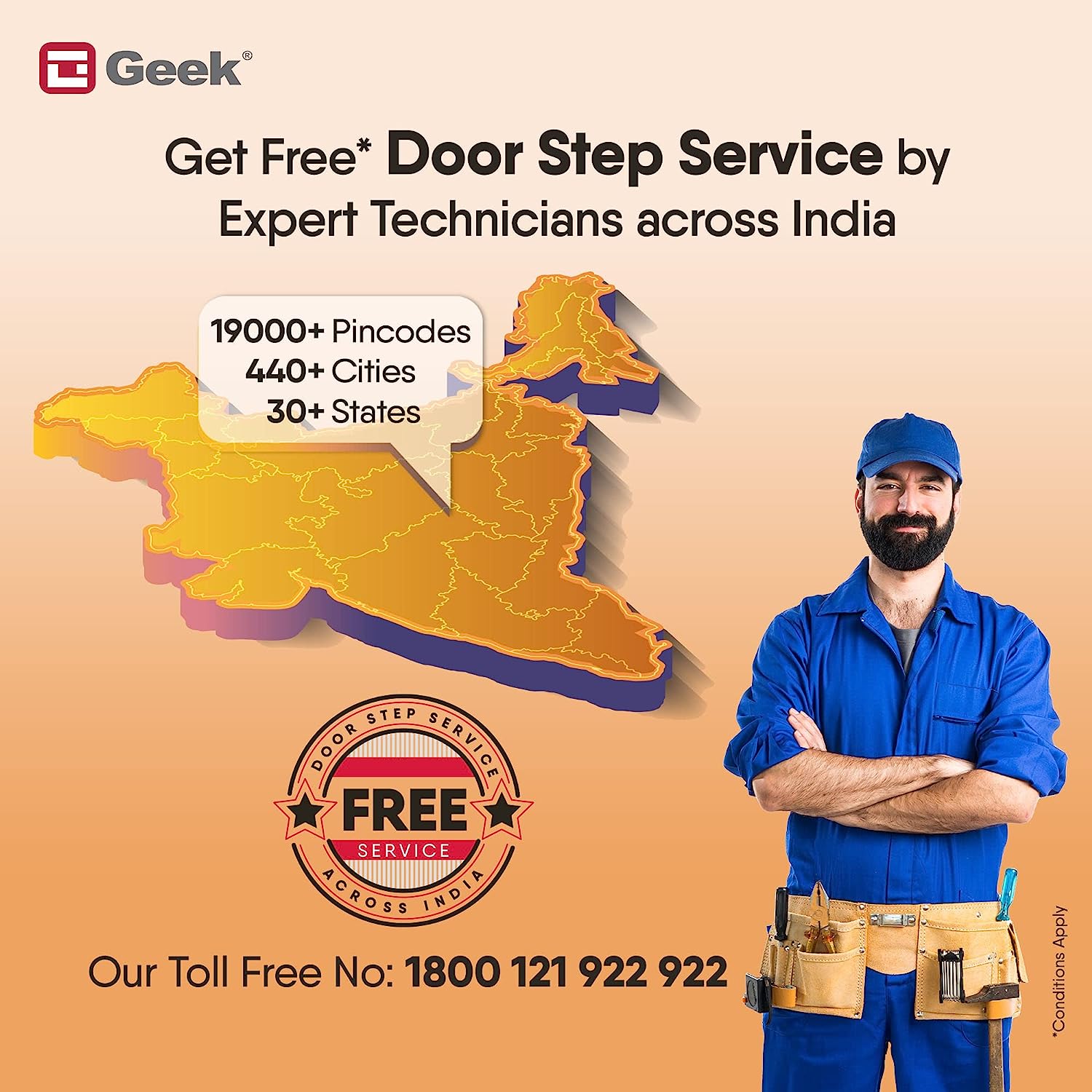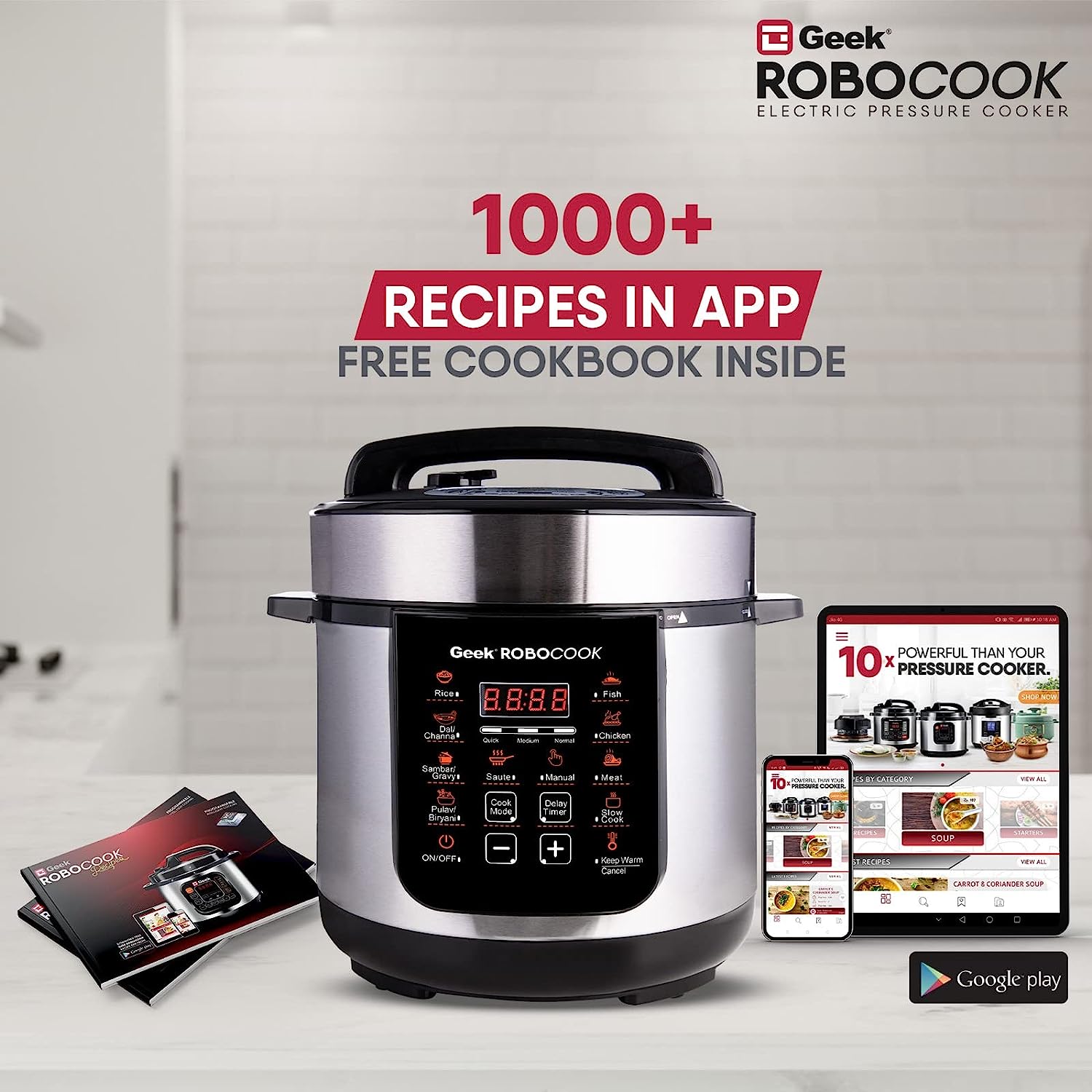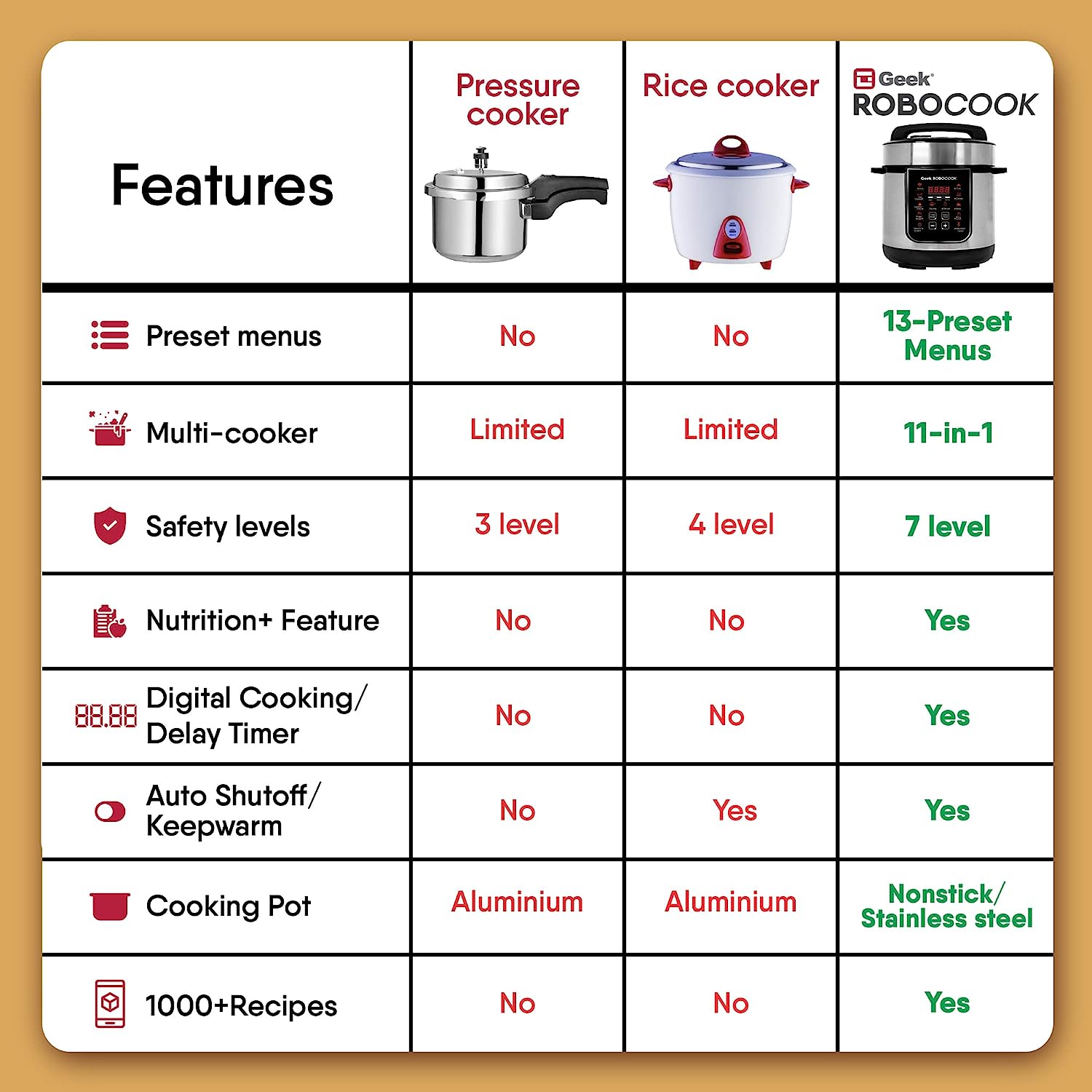 Geek Robocook Zest 3 Litre Electric Pressure Cooker | Non–Stick Pot
Inclusive of all taxes
This Offer/Promotion is applicable in select areas of Chennai only. Conditions Apply*
To know the Selected Areas & other Conditions Please Visit the Terms & Conditions page
COD
Available
EMI
Available
Shipping
Free
Service @
Doorstep

Virtual Demo - Pre & Post Purchase
Still sceptical about the product? Attend our Virtual demo session with our product specialist and get a detailed brief about the product in 1-1 interaction.
Assured with 2 years warranty. Just register the product and stay worry-free.
Get free door step service covering 28+ States, 440+ Cities, 19000+ Pin-codes.
Geek Products is ranked as the best sellers on Amazon with 4500+ Reviews and 4.2 Star Rating.
1000+ Home chefs/Influencers
Genuinely Recommended by multiple Celebrities/Chefs/Entrepreneur's/Doctors/Moms/Working Professionals/Dieticians and Fitness Enthusiast's
Related Video
For Geek Robocook Zest
13 INDIAN PRESETS – Make Rice, Gravy, Dal, Chicken, Chana, Pulao or Briyani, and a lot more varieties of veg & non-veg recipes with 13 customized Indian Presets controlled by the advanced microprocessor PIC Technology. Discover 1000+ new-exciting recipes with Geek RoboCooK Recipe App.

11 IN 1 MULTI-COOKER – Replace all 11 utensils in 1! Geek Robocook Zest automatic electric cooker functions as a Pressure Cooker/ Steamer/ Sauté/Rice-cooker/Soup Maker/Simmer/Slow cooker/Egg-Cooker/Sous- Vide/Insulation Warmer and Food Canner

3L ZEST – BIS Certified Geek RoboCook Zest electric pressure cooker comes with a Non-stick pot (Anodised Teflon coated) which holds a compact capacity of 3L that suffices perfectly for a small family

PIC TECHNOLOGY – With advanced PiC tech, Geek RoboCook Zest multi-cooker intelligently controls temperature, heat, time, and pressure while Circumvent cooking process preserves the nutritional quotient from pulses, grains, and vegetables

DIGITAL COOKING: –Control over to you! Press Delay timer, Sauté, keep warm, or set Manual timing to your convenience. Built with 7 safety guards, Geek RoboCook electric Cooker ensures effortless and safe cooking digitally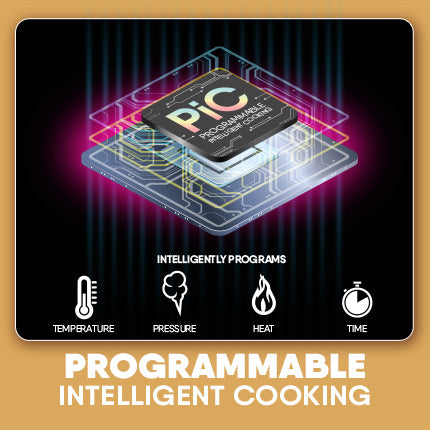 PIC INTELLIGENT COOKING
PiC intelligently manages temperature, heat, time, and pressure. Robocook Zeta improvises on the concept of a regular pressure cooker with the Circumvent cooking process which preserves rich nutritional quotient from pulses, grains, vegetables with cooking.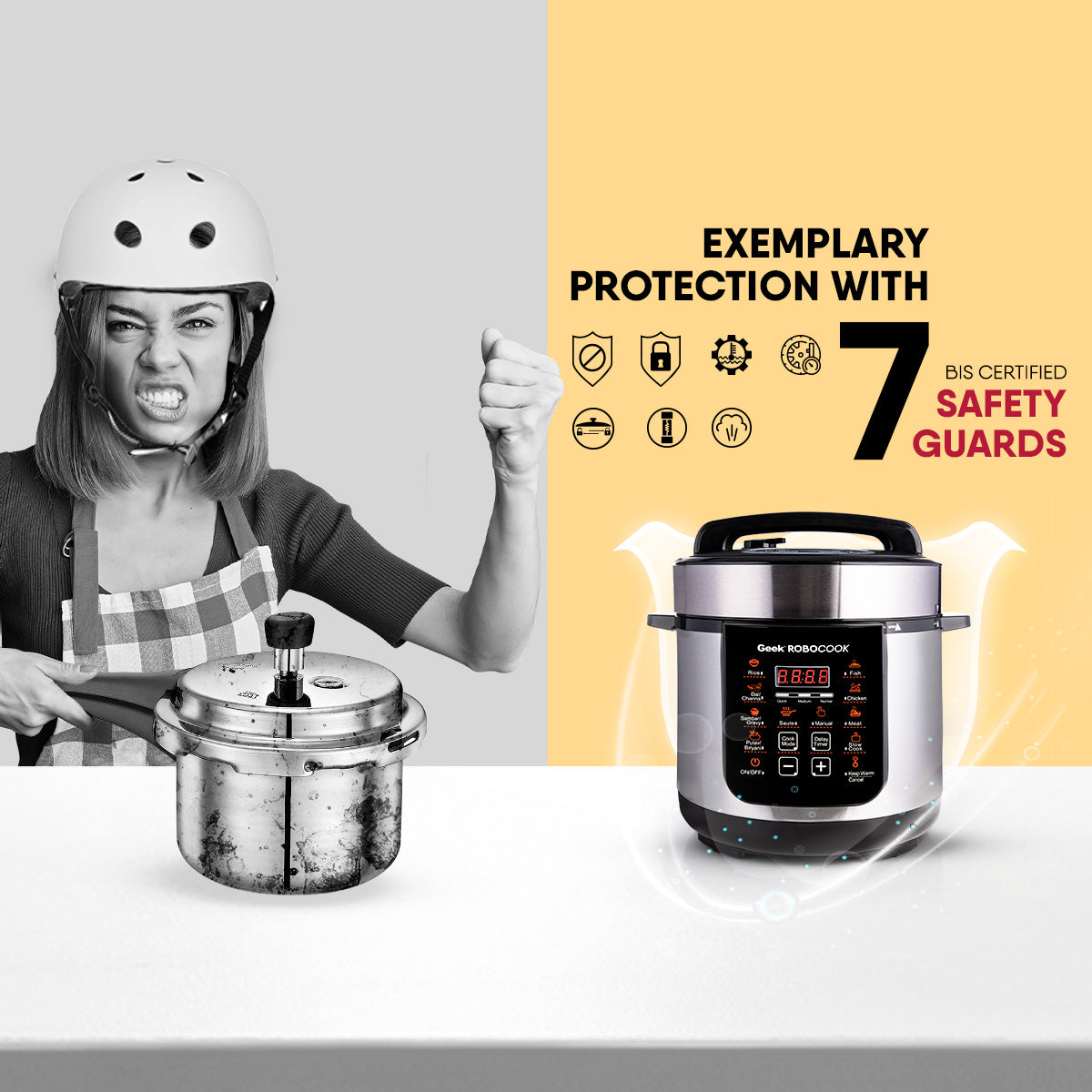 SAFETY AT ITS BEST
Geek Robocook is certified by BIS, the appellate safety authority in India. Compared to regular pressure cookers, Robocook is improvised with 7 safety guards and preset menus controlled by advanced microchips which gives you the guarantee of utmost safety.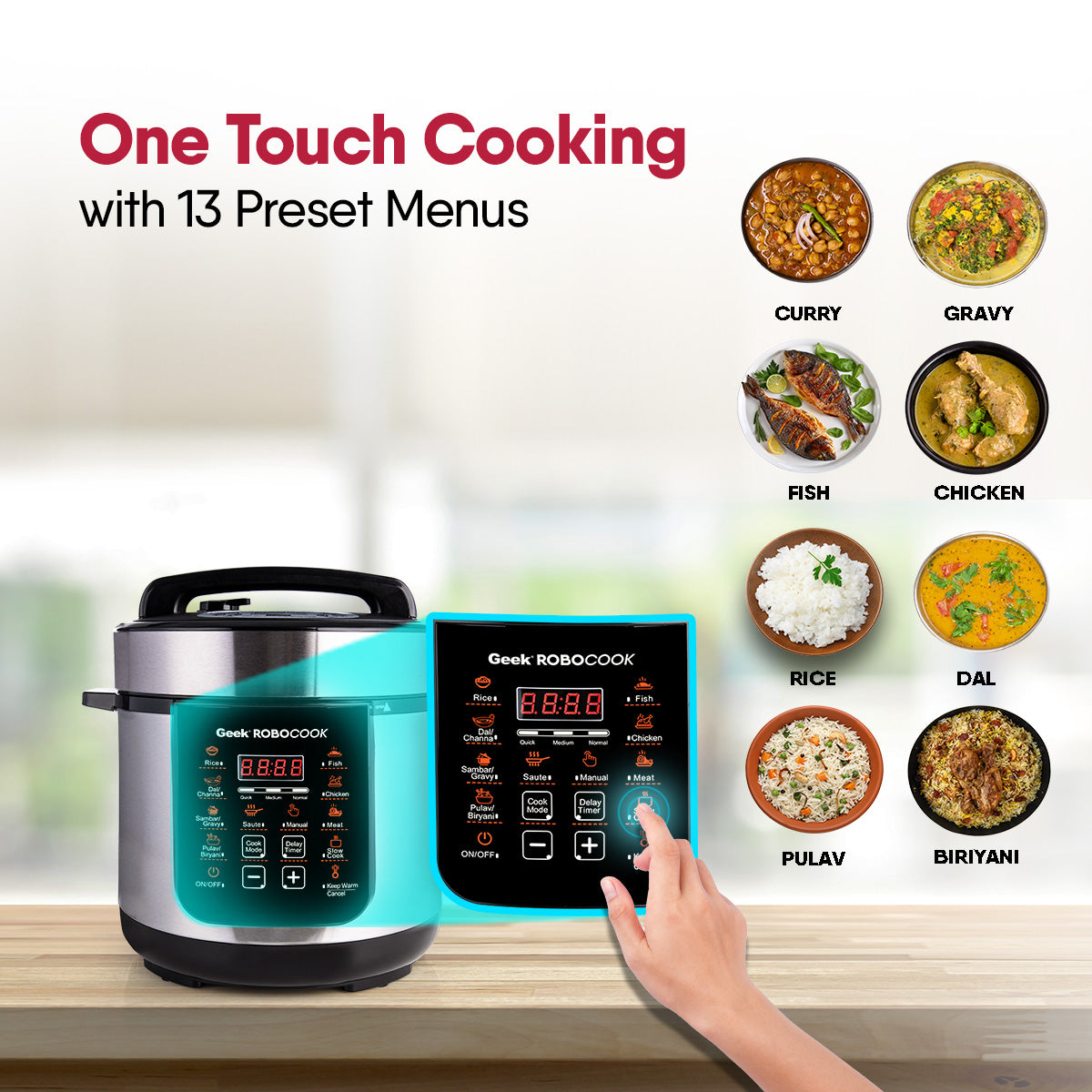 DIGITAL CONNECT
Cook your favorite Indian breakfast dishes like Sambar, Pongal or succulent Biryani, Pulao or any choice of non-vegetarian foods with Geek Robocook Zest.
MAKE YOUR DISH
The One pot cooking solution for your everyday breakfast, lunch and dinner which replaces all 11 utensils in 1. Not to forget it also saves space in your kitchen.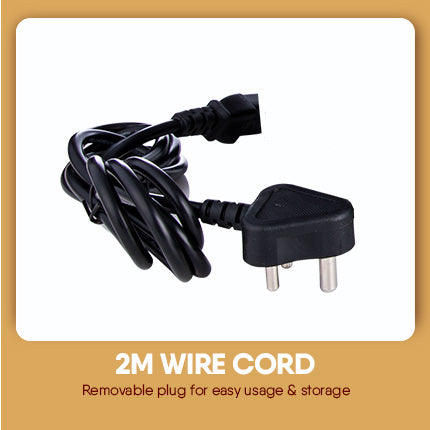 LENGTHY CORD
Cook with comfort. Geek RoboCook automatic electric pressure cooker comes with a 2M wire cord, that aids you with the utmost convenience to cook from a long set place other than the kitchen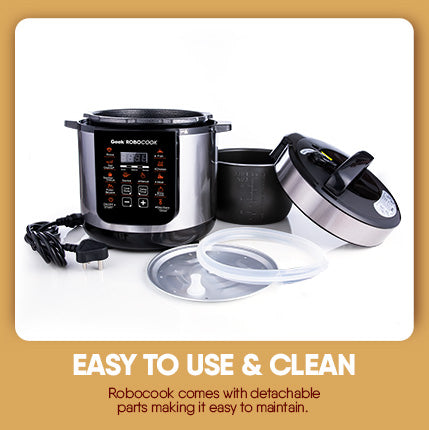 WIPE AND WASH
Cleaning made simple. Conveniently wash the Non-stick inner cooking pot along with the detachable sealing ring using running water. Use a soft cloth to wipe the outer body and the lid. Do not immerse them in water
About Geek
Geek was founded in 2017 in New Jersey, USA and has its presence in 5 Countries - USA, Canada, Australia, China & India.

Our main objective is to disrupt the Home & Kitchen space through emphasis on customized smart integration and technical innovation in our products/solutions.
Vision: Bring the Future Home
Achievements
In The News/Awards
Best D2C Game Changer Brand
Home Appliances
Most Promising D2C 100 Brands
2023
India's Fastest Growing D2C Brands
2023
Most Prestigious Brands of Asia
2023
Awards
Best D2C Game Changer Brand
Home & Kitched Appliances
Most Promising D2C 100 Brands
2023
India's Fastest Growing D2C Brands
2023
Most Prestigious Brands of Asia
2023