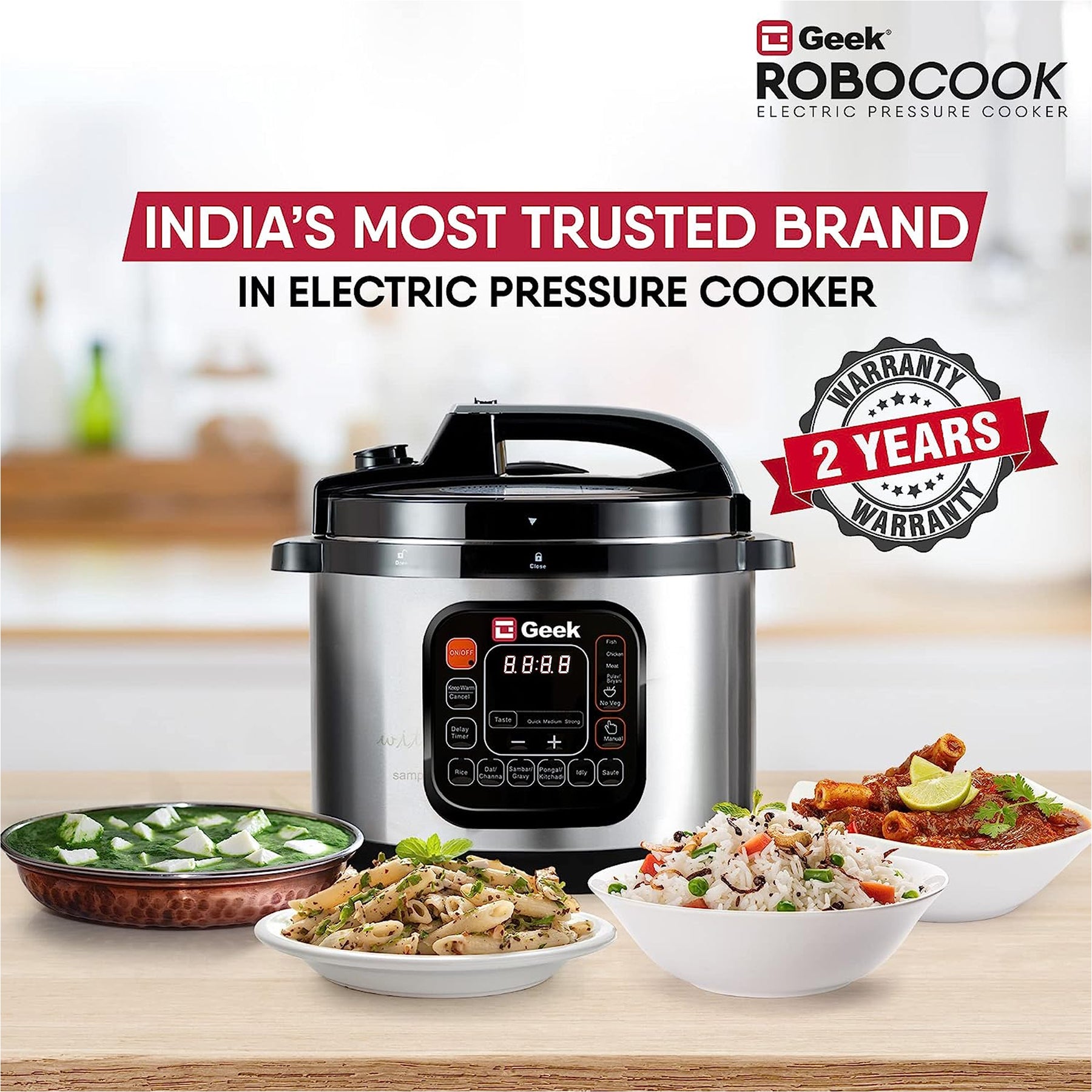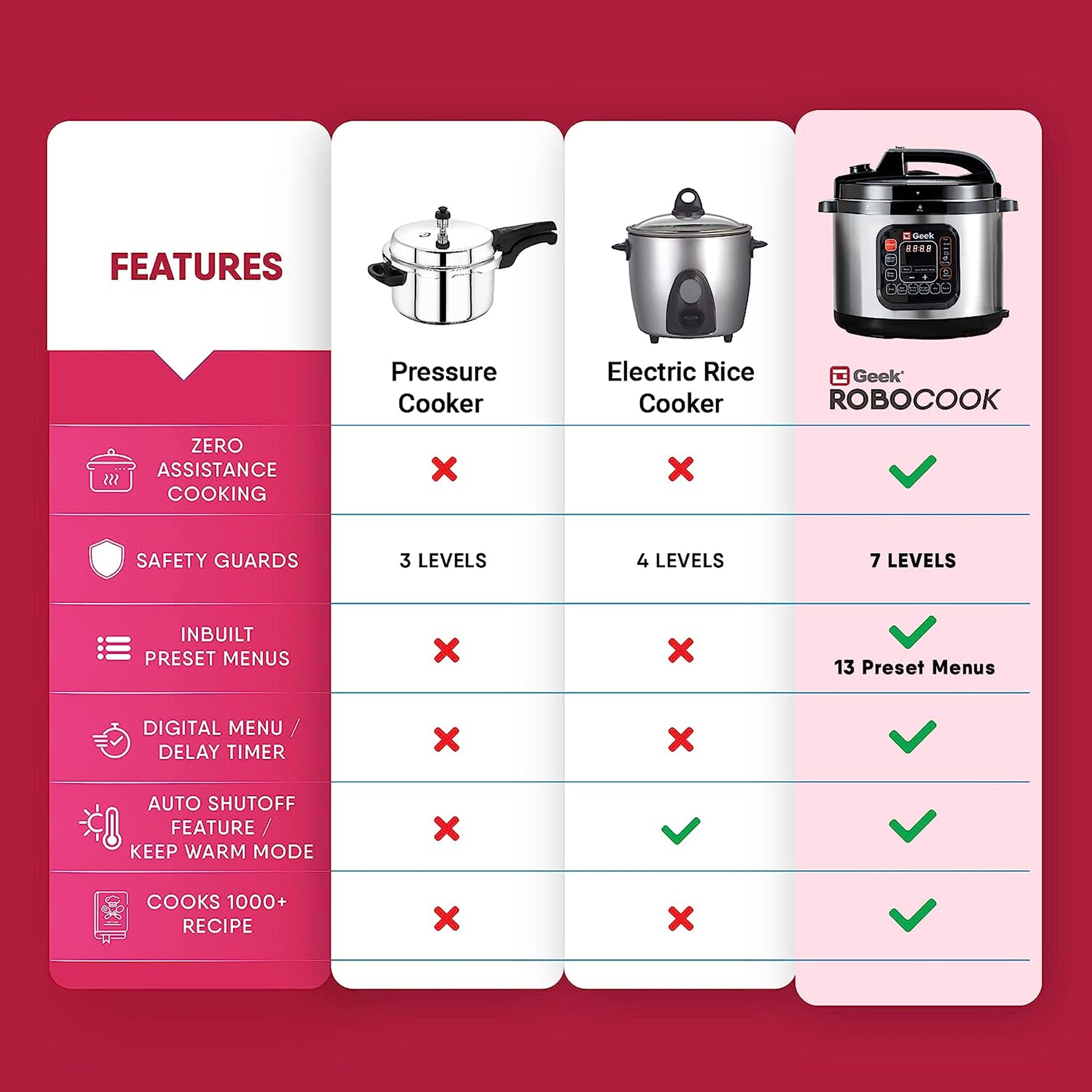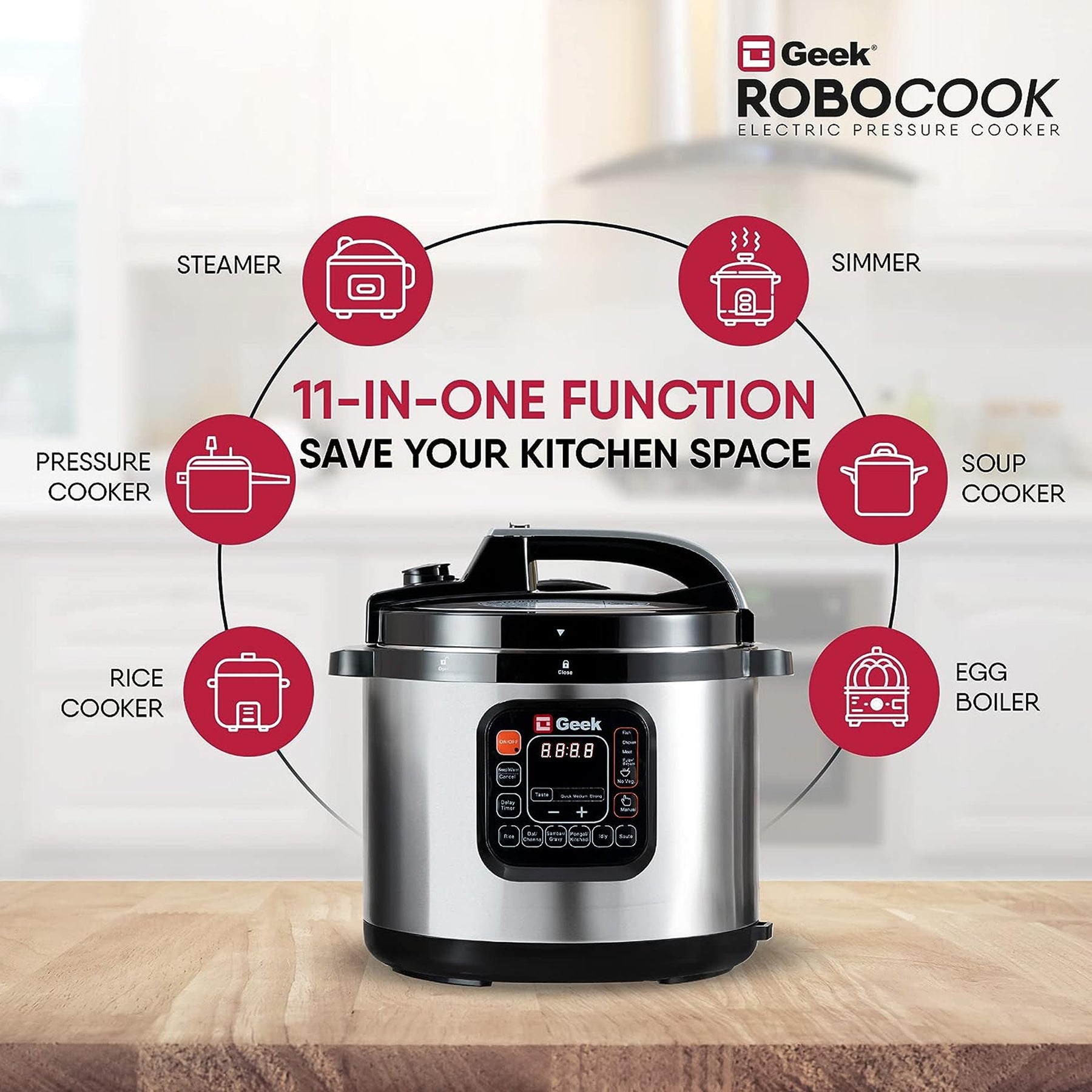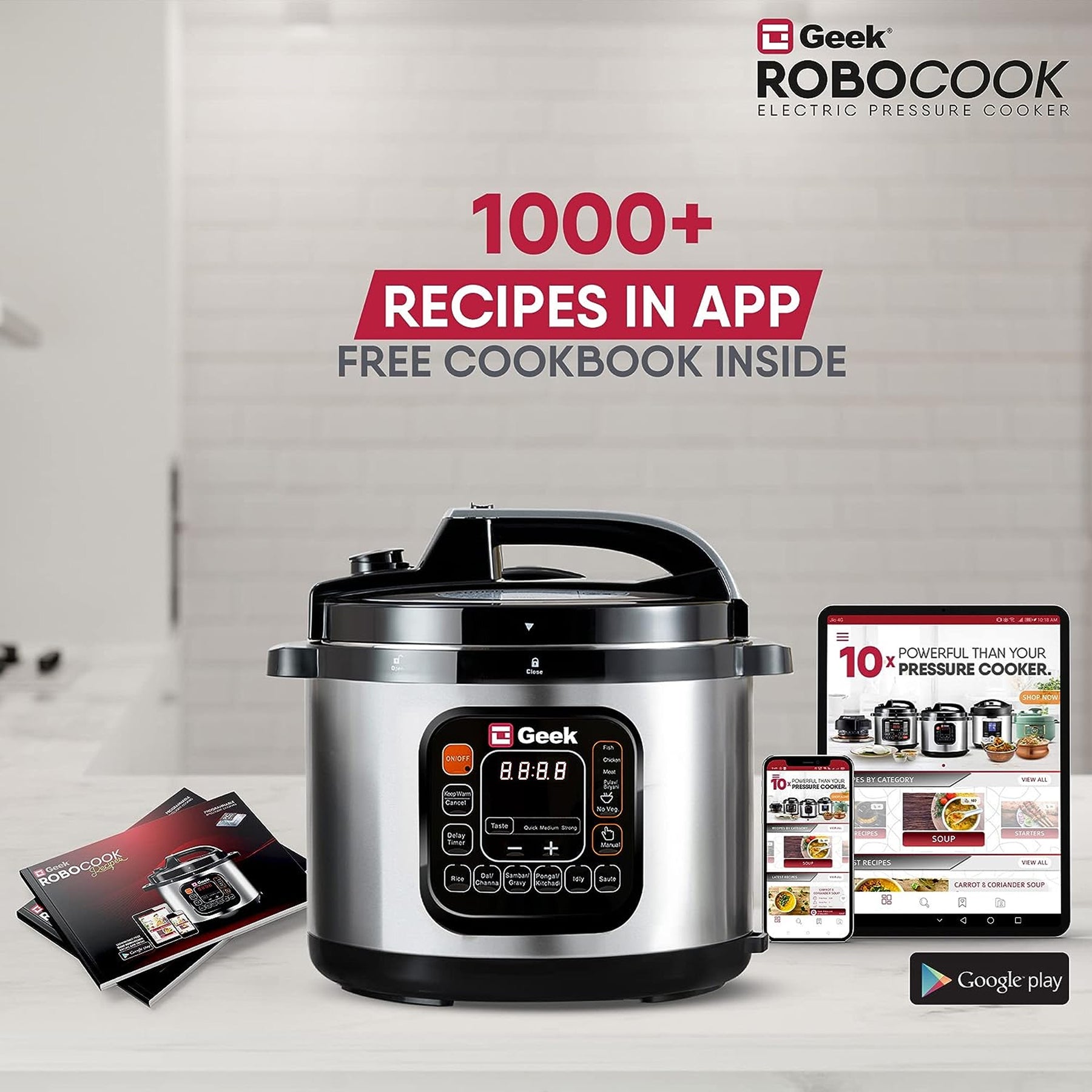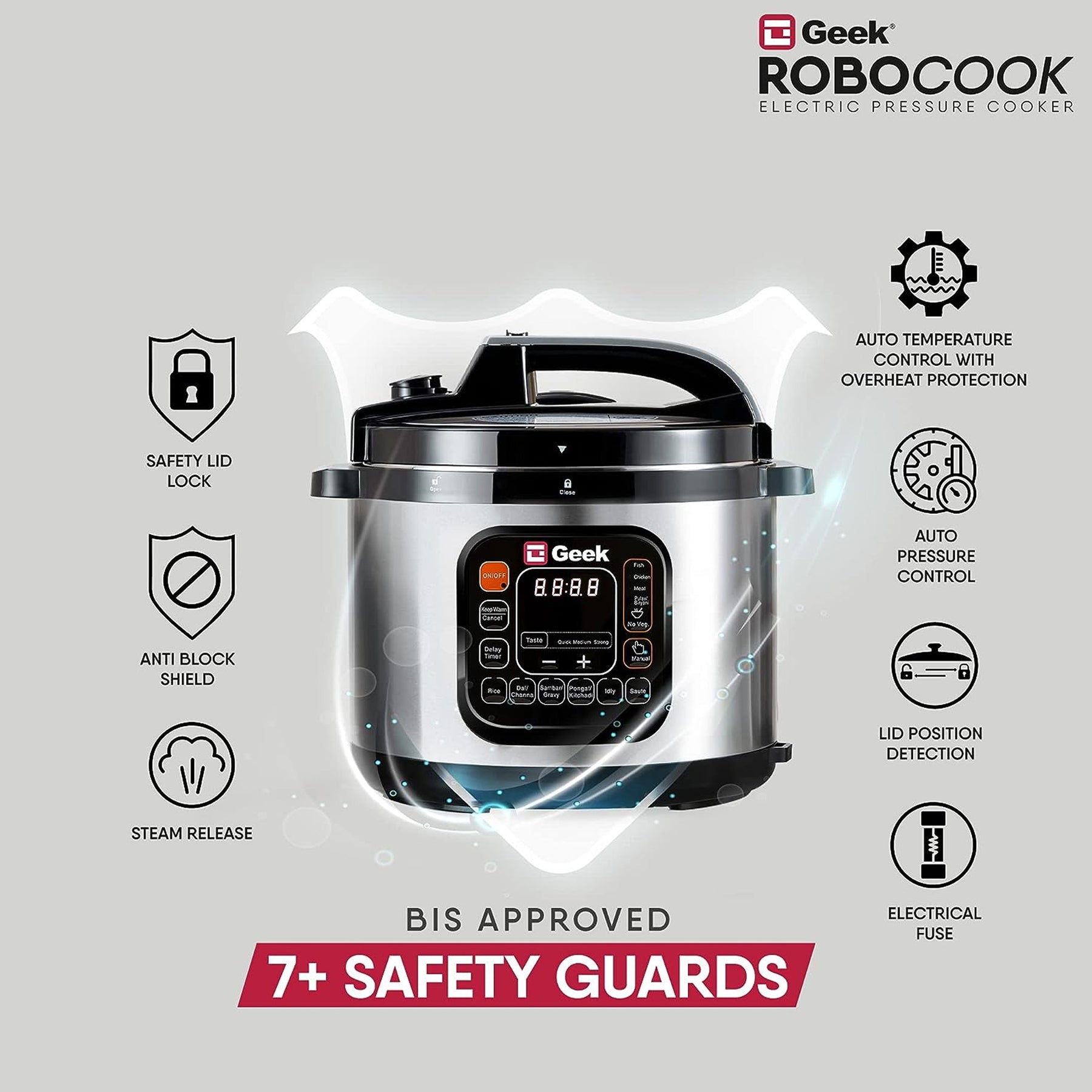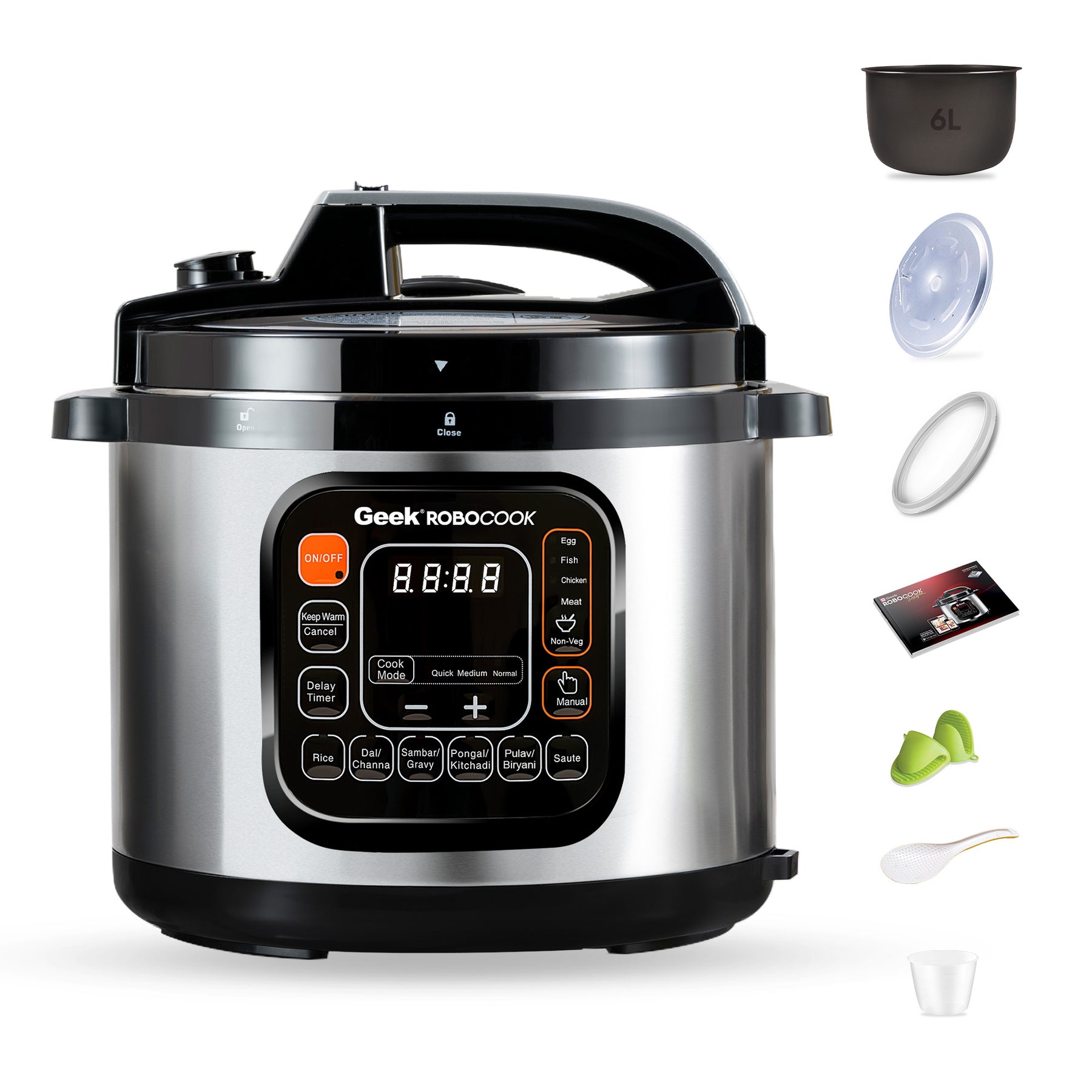 Geek Robocook Zeta 6L Non-Stick Electric Pressure Cooker
Inclusive of all taxes
What's in the box
COD
Available
EMI
Available
Shipping
Free
Service @
Doorstep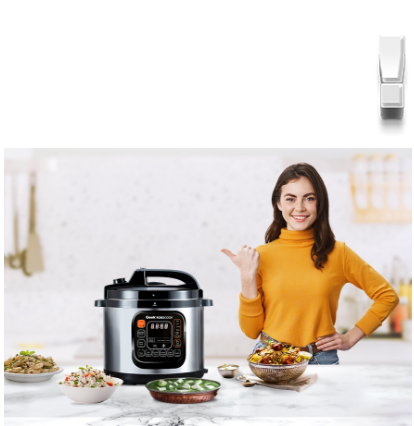 Specifications
How to use / Demo
Using Geek Robocook is as simple as using your smartphone. With just feather touch of the menus Your desired food will be ready in minutes.
5L/Family Size/Rice Capacity
11-in-1 Multi-Cooker
Replaces your existing 11 kitchen appliances in one go like Pressure Cooker/Steamer/Insulation Warmer/Egg-Cooker,etc.
BIS Certified/7 Safety Guards
Certified with "BIS Safety Standard" from the most trusted Apex Body for testing & certification of Electronic Appliances(India) and 7 in-built safety guards.
16-in-1 Accessories Kit
1 kit with 16 accessories to leverage the maximum usage of your Geek Robocook. Now easily Steam, Bake, boil...etc. with fully loaded tools & accessories.

Virtual Demo - Pre & Post Purchase
Still sceptical about the product? Attend our Virtual demo session with our product specialist and get a detailed brief about the product in 1-1 interaction.
Assured with 2 years warranty. Just register the product and stay worry-free.
Get free door step service covering 28+ States, 440+ Cities, 19000+ Pin-codes.
Geek Products is ranked as the best sellers on Amazon with 4500+ Reviews and 4.2 Star Rating.
1000+ Home chefs/Influencers
Genuinely Recommended by multiple Celebrities/Chefs/Entrepreneur's/Doctors/Moms/Working Professionals/Dieticians and Fitness Enthusiast's
Geek Robocook
Know More
South Style Mutton Chilli Gravy
How to Use & Maintain Properly
The product comes with rated wattage of 1000W. Using Geek Robocook for 2 Hours per day will cost around only Rs.10/-(Approx) per day.
Geek Robocook comes with 2-Years standard warranty and also FREE* Door step service is assured covering 28+ States, 440+ Cities, 19000+ Pin-codes.
The inner cooking pot capacity is 5 Litres and ideal for family of 3-4 members. 7 cups of rice(900gms) can be cooked in the Geek Robocook Zeta.
Both NS and SS pots are available as spares and also all other standard accessories like Gasket and Float Valve are available in https://geektechnology.in/collections/parts-accessories.
Our support agents will be happy to help and support through your convenient mode of WhatsApp – 860860 01666 (Or) Call – 1800-121-922-922(Toll-Free No. Mon to Sat -10 to 6)
(Or) E-Mail – care@harkin.in

We have our daily virtual demo session scheduled at 3PM/5.30PM our product specialist will provide a detailed LIVE demo of the product and also clarifies your doubts/queries in 1-1 interaction.
Geek Robocook Zeta Main Unit,5L Stainless Steel Inner Pot, Silicone Mitts, Plate with Gasket, 2M Power Cable, Rice Spatula, Measuring Cup, Recipe Book, and User Manual. Demo Video - https://www.youtube.com/watch?v=CBv4bjU3YL4
Geek Recipe App is available in Google Play Store and is completely free to download and access. 1000+ Geek Robocook recipes are available for your quick reference to cook.
Yes, Cooking will resume automatically once power comes. However, you can use the manual settings by adjusting the time for efficient cooking.
We provide Free-Shipping for all the orders and we accept all the modes of payment like Cash on Delivery/UPI/Wallet/All Debit & Credit Cards/ Net-Banking.

No-Cost EMI / Buy Now Pay Later is also available for your easy convenience.

About Geek
Geek was founded in 2017 in New Jersey, USA and has its presence in 5 Countries - USA, Canada, Australia, China & India.

Our main objective is to disrupt the Home & Kitchen space through emphasis on customized smart integration and technical innovation in our products/solutions.
Vision: Bring the Future Home
Achievements
In The News/Awards
Best D2C Game Changer Brand
Home Appliances
Most Promising D2C 100 Brands
2023
India's Fastest Growing D2C Brands
2023
Most Prestigious Brands of Asia
2023
Awards
Best D2C Game Changer Brand
Home & Kitched Appliances
Most Promising D2C 100 Brands
2023
India's Fastest Growing D2C Brands
2023
Most Prestigious Brands of Asia
2023
 Amazing.....too good...
Product users friendly, time saving, cooking time worry free
5.0 out of 5 stars Excellent product
Nice product and reduce most of our time. It cooks meat so nicely
 A class
This product have multiple options !! Good Easy to carry anywhere !! Overall good product !!
 Works like a charm ✨ been a month since I bought it
At first it will take you a while to get used to the cooker but once you get the hang of it you'll realize it's one of the best things you ever brought.. Rice gets cooked in less than 12 units on the timer and gets switched off automatically once it's done... and so does dal
 Useful product
This cooker makes cooking East and fun all you have to do is reading the manual book carefully and you can handle it without further problems. The cook book they gave has so many recipes with detailed note of how to operate the cooker to cook them. I tried some of the recipes and they came out well.